By Tom McCurnin
Leasing News Legal News Editor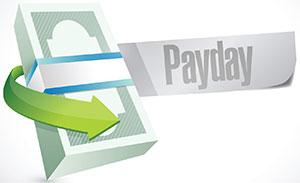 Justice Departments Institutes "Operation Choke Point" to Discourage Banks from Banking 30 Types of So-Called High Risk Businesses. Does the FDIC's Actions Make the Banks the Law Enforcement Arm of the Fed? Are These Businesses Deserving of the Discrimination?
United States House of Representatives Committee on Oversight and Government Reform-Staff Report on Operation Choke Point May 29, 2014
I don't get mad at the Government very often, but today will be an exception. The Government is using the banks to enforce its disdain of payday lenders.
Operation Choke Point was created by the Justice Department in 2013 to "choke out" companies the Administration considers a "high risk," even though the companies on the list are legitimate businesses. The operation works like this: the FDIC Bank Examiners inform the banks that a list of certain types of businesses are undesirable and are high risk, and if the Bank does not discourage this type of business activity, there may be repercussions in the form of higher reserves or audits. The Banks, ever compliant to the Federal Reserve, review account activity of these suspected businesses, and ask them out of the Bank, writing letters similar to the following:
• Bank of America: "[W]e reviewed the nature of your business in the light of current regulatory trends affecting your industry and after careful consideration we've decided to close your existing Small Business checking account…. (January 14, 2014)
• Bank of Hawaii "Bank of Hawaii has made a business decision to close your above-reference business deposit accounts. The primary reason for this account closure is the Bank's increasing business expense involved with servicing this type of account for a customer that operates as a money service business and/or payday lender." (December 6, 2013)
The List of inappropriate banking customers include:
| | |
| --- | --- |
| Ammunition and Firearm Sales | PayDay Lenders |
| Coin Dealers | Pornographic Sites |
| Dating Services | Medical Marijuana Sales |
| Debt Consolidators | Surveillance Equipment Sales |
| Escort Services | Tobacco Sales |
| Money Transfer Networks | Travel Clubs |
| Pharmaceutical Sales | BitCoin Conversion |
So in essence, the banks have become the lap dogs of the FDIC and because the Administration doesn't believe that payday lenders are a legitimate business, then the Banks should also come to this same conclusion. Essentially, it is up to the business to prove to the Banks that they are legitimate. This idea seems patently absurd. The Deputy Assistant Attorney General for the Consumer Protection stated, "We are looking into banks that deal with payment processors who work for payday lenders of all types."
In response to the criticism, the Department of Justice offered the following statement on Operation Choke Point: "Of course, we recognize that most of the businesses that use the banking system are not fraudsters. We're committed to ensuring that our efforts to combat fraud to not discourage the lawful conduct of these honest merchants." So if that is true, what consumer fraud complaints exist with respect to gun dealers, ammunition sales and medical marijuana dealers? And why are bankers being asked to enforce this policy decision? Why doesn't Congress just outlaw these businesses?
Operation Choke Point distorts Congressional intent and inappropriately makes bankers act as the moral arbiters and policemen of the commercial world. If Congress or the Department of Justice want to declare war on payday lenders, that's all well and fine-but don't make bankers act as the front line on this war.
Operation Choke Point:
http://www.leasingnews.org/PDF/OperationChokePoint_72014.pdf
Tom McCurnin is a partner at Barton, Klugman & Oetting
in Los Angeles, California.


Tom McCurnin
Barton, Klugman & Oetting
350 South Grand Ave.
Suite 2200
Los Angeles, CA 90071
Direct Phone: (213) 617-6129
Cell (213) 268-8291
Email: tmccurnin@bkolaw.com
Visit our web site at bkolaw.com
Previous Tom McCurnin Articles:
http://www.leasingnews.org/Conscious-Top%20Stories/leasing_cases.html
Disclosure: The author has no positions in any stocks mentioned, and no plans to initiate any positions within the next 72 hours.