By Edward Pershing and Sam Carr
SNL Financial Exclusive
Recent announcements by Bank of America Corp. and Citigroup Inc. bring the settlement tab for the largest six bank holding companies by assets to above $107 billion for credit crisis and mortgage-related settlements, according to data compiled by SNL Financial.
Citigroup on July 14 announced the terms of its anticipated $7 billion settlement with the U.S. Justice Department, several state attorneys general and the FDIC. Under the agreement, Citi will pay $4.5 billion in cash and $2.5 billion in consumer relief.
Citigroup CEO Michael Corbat indicated in a press release that the comprehensive settlement resolves all pending civil investigations related to Citi's legacy RMBS and CDO underwriting. He noted that with the settlement, the firm has now resolved substantially all legacy RMBS and CDO litigation.
In April, Citi agreed to pay $1.13 billion as part of a settlement with 18 institutional investors represented by Gibbs & Bruns LLP over private label securitization representation and warranty repurchase claims.
Bank of America disclosed with its second-quarter earnings July 16 that it reached a resolution to RMBS-related disputes with American International Group Inc. for $650 million. As a result, AIG will withdraw its objection to the previously announced $8.5 billion settlement with Bank of New York Mellon Corp. as trustee for certain RMBS trusts.
(click to enlarge)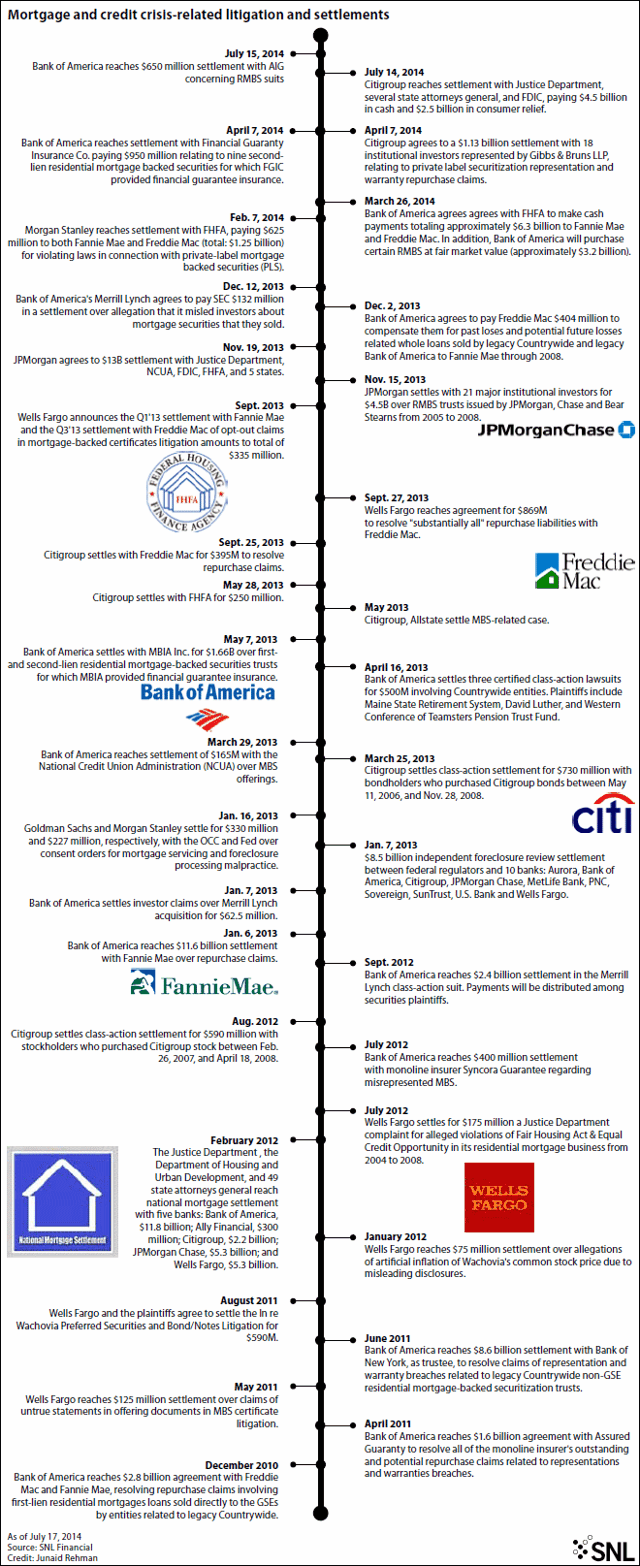 Click to enlarge
BofA CFO Bruce Thompson said on a July 16 earnings call that with the AIG settlement, Bank of America has resolved 95% of the unpaid principal balance of all RMBS that has been at the center of litigation or threatened litigation.
BofA is still participating in ongoing settlement discussions with the U.S. Justice Department, which, according to The New York Times' DealBook, is seeking as much as $17 billion. Executives on the earnings call declined to talk about those discussions.
In March, BofA announced an approximately $9.5 billion settlement with the Federal Housing Finance Agency regarding private-label RMBS sold to Fannie Mae and Freddie Mac. In April, BofA settled with Financial Guaranty Insurance Co. over second-lien RMBS trusts, which the latter insured, and separately settled with Bank of New York Mellon as trustee of seven of the RMBS trusts. Thompson said in April that BofA covered the cost of the FGIC settlement with previously established reserves.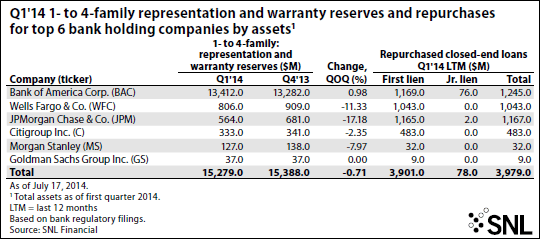 When considering the costs of the credit crisis and mortgage-related settlements, analysts also examine the amounts of loans previously sold that have been repurchased, or "putbacks," in addition to the settlements with regulators and investors. In addition to litigation reserves built, the six largest bank holding companies reported a combined $15.3 billion in representation and warranty reserves for one- to four-family mortgage loans sold in the first quarter of 2014, down sequentially from $15.4 billion at the end of 2013, and down from $20.7 billion year over year. During the 12-month period ended March 31, the largest six bank holding companies repurchased $4.0 billion in closed-end one- to four-family loans.
(click to enlarge)

Click to enlarge
(click to enlarge)

Click to enlarge
Disclosure: The author has no positions in any stocks mentioned, and no plans to initiate any positions within the next 72 hours.