SNL Financial Feature
By Salman Aleem Khan and Zuhaib Gull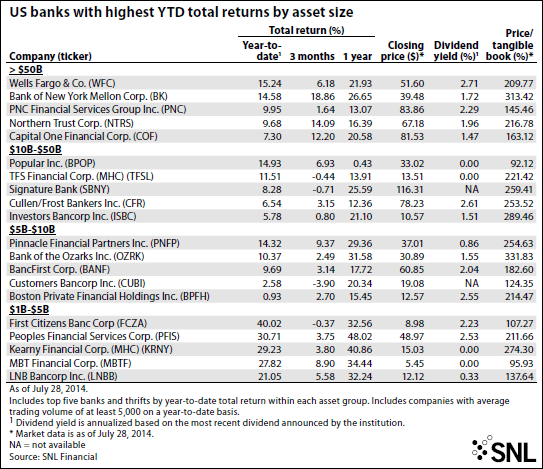 Stocks in the smallest U.S. banks and thrifts, those with less than $500 million in assets, have led the way in 2014, posting a total year-to-date return of 8.29%, through July 28. By comparison, the next two best-performing asset classes were banks and thrifts with assets between $500 million and $1 billion, which returned 6.28%, and banks and thrifts with over $50 billion in assets, which returned 5.09% through July 28.
The SNL U.S. Bank and Thrift Index returned 3.45% year to date, as of July 28, while the S&P 500 returned 8.27%
SNL also looked at the highest-returning individual stocks in each asset class that traded on the NASDAQ, NYSE or NYSE MKT and had an average daily trading volume of at least 5,000 shares year to date through July 28.
Among banks and thrifts with more than $50 billion in assets, Wells Fargo & Co. led the pack, returning 15.24% through July 28. Bank of New York Mellon Corp. was second with a return of 14.58%.
In the $10 billion to $50 billion range, Popular Inc.'s 14.93% return through July 28 took first place. The bank repurchased all $935 million of its TARP trust preferred securities after successfully issuing $450 million senior notes on July 1.
Investors Bancorp Inc. came in fifth place in the $10 billion to $50 billion group with a total return of 5.78% through July 28. The company recently completed a second-stage conversion offering in May.
Nashville, Tenn.-based Pinnacle Financial Partners Inc. took the lead among banks and thrifts with assets between $5 billion and $10 billion, returning 14.32% through July 28. Recently, Sandler O'Neill & Partners LP's Stephen Scouten upgraded Pinnacle to "buy" from "hold" and said the company was "THE bank to own in Tennessee." However, earlier this month, Merion Capital Group's Jason O'Donnell lowered Pinnacle to "neutral" from "outperform," stating that while Pinnacle is expected to post double-digit revenue growth, this expectation is "fully reflected" in the company's shares and that there are "few catalysts that would drive valuation multiples materially higher than where they are currently."
Among banking institutions with $1 billion to $5 billion in assets, Sandusky, Ohio-based First Citizens Banc Corp posted the highest return at 40.02% through July 28. In February, the company fully redeemed $22.9 million in preferred stock that was originally issued under TARP, but later sold to private investors in 2012. The company closed three branches in the second quarter and is in the process of closing another branch, according to a Form 8-K released by the company on July 18.

Disclosure: The author has no positions in any stocks mentioned, and no plans to initiate any positions within the next 72 hours.