SNL Financial Report
By Ken McCarthy and Robin Majumdar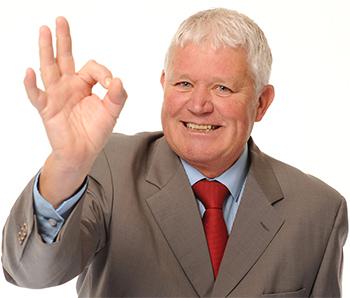 After a dismal first quarter in which loan growth was essentially flat, even the relatively small increase experienced in the second quarter could lead to "upbeat attitudes" in some regions around the U.S.
Median second-quarter loan growth among commercial banks with less than $10 billion in assets, when compared with the previous quarter, came in at 2.28%, an SNL analysis of regulatory filings found. Compared with a year earlier, median growth was up by 5.68%.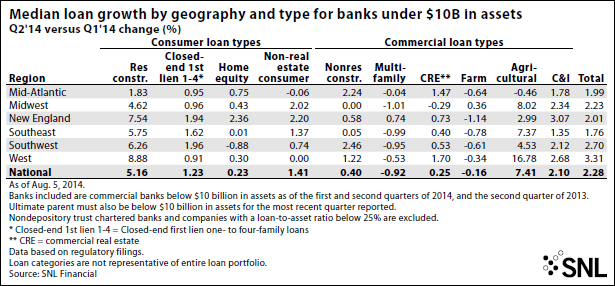 When compared with the linked quarter, the West showed the best growth, coming in at 3.31%, according to the SNL analysis. The Southwest region fared second-best with 2.70% growth, while the Southeast produced the weakest result, with a gain of 1.76%.
Growth in the Mid-Atlantic region was 1.99%, and New York-headquartered banks specifically saw quarter-over-quarter growth of 2.23% and year-over-year expansion of 8.94%.
Michael Jamesson, head of consulting firm Jamesson Associates, told SNL that growth for community banks in New York was spotty. He said some banks experienced a solid quarter and rebounded nicely from the winter-impacted first quarter. But at the same time, other institutions continued to labor. Jamesson said many of the second-quarter results were impacted by the degree to which banks were dependent on residential mortgages. He said the refinance business is now "almost nonexistent." Banks that were less dependent on that line in many cases did quite well in the quarter, he said. "I had some clients who had super second quarters," he said.
The commercial and industrial business in New York has been "difficult" because many businesses do not have enough confidence in their sales to expand in terms of equipment and inventory financing, Jamesson said. So many banks gravitate toward commercial real estate, which Jamesson called the key driver for community banks in the state. "That's the place where they get bigger-ticket items and they tend to have longer amortization periods, so they don't go off the books as quickly," he said. Multifamily is probably the strongest component within that line in New York as it is in many parts of the country, Jamesson said.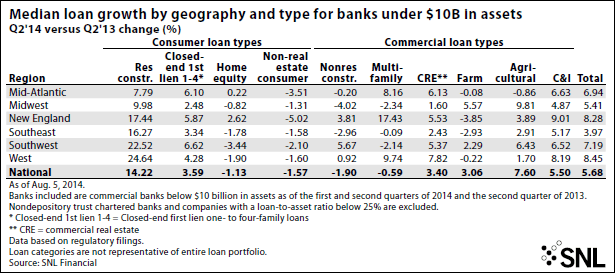 Median year-over-year growth was notable in some regions but still hovered mostly in the mid-single digits. The West region produced the strongest median expansion, at 8.45%, while the Southeast struggled the most, generating median loan growth of just 3.97%, SNL found.
The Southwest, including Texas, experienced 7.19% year-over-year growth. Danny Payne, a banking industry consultant and a former Texas Department of Savings and Mortgage Lending commissioner, told SNL that he is seeing comparatively "upbeat attitudes" in Texas and the greater Southwest region despite modest loan growth in the quarter. But banks still seem tentative in attempting to employ any major expansion efforts, he said. "Understandably, many are awaiting the midterm election results to assist in anticipating the political/regulatory factors before any serious longer-term planning," he said. "'Steady as she goes' seems to be the chant in the Southwest."
Payne said third-quarter loan growth should be "fair" and maybe a bit above the second quarter but not significantly so - at least in the Southwest. "There's not too much happening right now. I think we will be getting a much better feel for community banks' longer-term growth strategies [late in 2014 and in the first quarter of 2015]. The future political and regulatory effects are key to many banks in their planning efforts," he said.

Banks between $1 billion and $10 billion in assets had better growth than their smaller counterparts during the quarter and experienced total median loan growth of 3.11%. Residential construction loans were one of a few categories where all asset sizes saw positive results as it grew 2.27% for banks of less than $100 million is assets, 5.30% for those between $100 million and $1 billion, and 8.07% for companies of $1 billion to $10 billion in assets.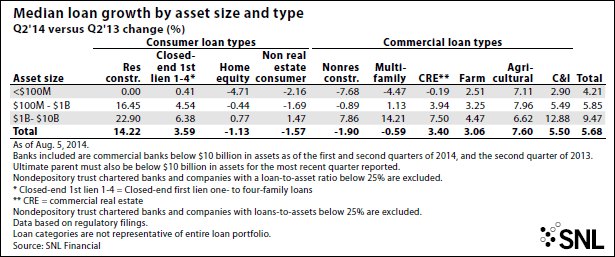 Jamesson of Jamesson Associates said there is an underlying concern among community bankers in New York about net interest margins. Many banks toward the end of 2013 realized their investment portfolios took a hit as rates rose, but they also saw stabilizing margins. Those banks believed that if rates continued to rise moderately they would be able to put assets on the books at levels at least similar to those that were exiting. "That optimism I think has pretty much evaporated over the last six months," he said. The 10-year Treasury yield has slipped and banks are not comfortable that margins will not fall as well. At the same time, regulators are "pounding on the table" saying rates will rise significantly, and therefore banks should not take any extension risk. "It's pretty tough for a community bank to generate much of a margin when longer-term rates are coming down and the regulators are saying don't take any risk," he said.
(click to enlarge)

Click to enlarge
Disclosure: The author has no positions in any stocks mentioned, and no plans to initiate any positions within the next 72 hours.