SNL Financial Exclusive
By Divya Lulla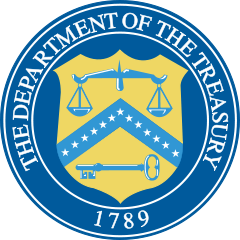 Twenty-six publicly traded banks and thrifts had outstanding TARP (Troubled Asset Relief Program) investments held by the Treasury as of Aug. 11. San Juan, Puerto Rico-based First BanCorp., which has $94.9 million TARP outstanding in the form of common stock, is the largest remaining holder of TARP, based on data compiled by SNL Financial.
Hato Rey, Puerto Rico-based Popular Inc. had previously been the largest remaining TARP holder as of May 1, having issued $935 million outstanding trust-preferred securities to the Treasury. It redeemed the securities July 2.
The list of 26 public banks and thrifts remaining in TARP includes Capital Purchase Program (NYSE:CPP) and Community Development Capital Initiative (CDCI) participants. It does not include Detroit-based Ally Financial Inc. because SNL classifies Ally as a "specialty lender" rather than a bank or thrift. Also, Ally received its outstanding funding through the Automotive Industry Financing Program, rather than through TARP's bank investment programs, according to SIGTARP's quarterly report to Congress dated April 30, 2014.
(click to enlarge)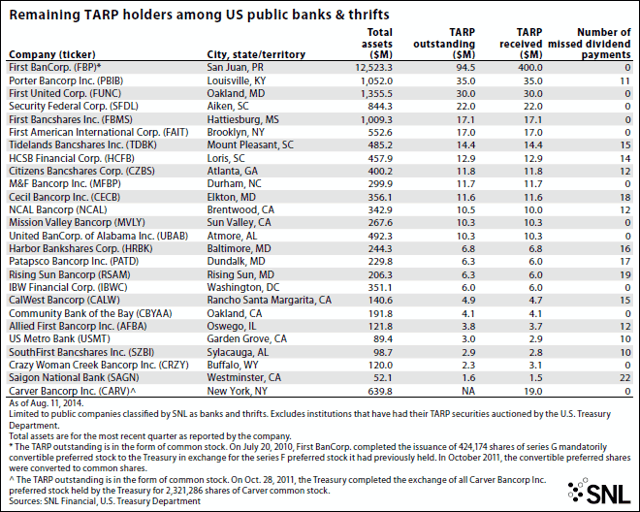 Click to enlarge
The Troubled Asset Relief Program was signed into law in October 2008. The original authorized cost of the program was $700 billion, with 707 financial institutions receiving $204.9 billion under CPP and 84 institutions receiving $570 million under the CDCI, according to the Treasury.
A total of 112 SNL-covered financial institutions, including privately held banks and credit unions, were still participating in the CPP and CDCI as of Aug. 5.
(click to enlarge)

Click to enlarge
Disclosure: The author has no positions in any stocks mentioned, and no plans to initiate any positions within the next 72 hours.