SNL Financial Report
By Tahir Ali
(click to enlarge)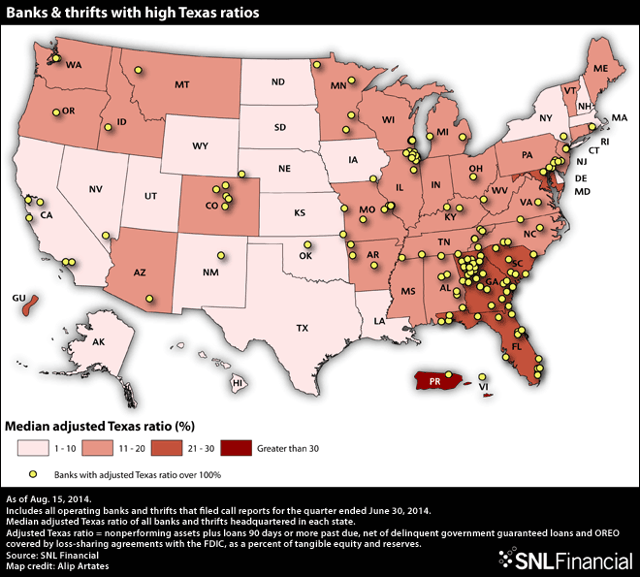 Click to enlarge
By state, Georgia continues to hosts the most institutions with an adjusted Texas ratio above 100% at 33 as of June 30, three less than in the first quarter of 2014. Illinois ranked second with 20 institutions and Florida was third with 18 institutions.
The number of banks and thrifts with an adjusted Texas ratio above 100% continued to decrease in the second quarter, falling to 157 at June 30, compared to 181 in the first quarter. The median Texas ratio among those institutions above 100% also improved to 155.38% at June 30, compared to 156.14% in the prior quarter. Since hitting a peak of 510 institutions above the 100% mark in the fourth quarter of 2010, the count has fallen steadily every quarter.
A high Texas ratio does not imply failure, but the ratio is a good measure of a bank's ability to absorb future losses. SNL defines the adjusted Texas ratio as nonperforming assets plus loans 90 days or more past due - excluding delinquent government-guaranteed loans and other real estate owned covered by loss-sharing agreements with the FDIC - divided by tangible equity plus reserves. Institutions that reported negative tangible equity are excluded from the analysis.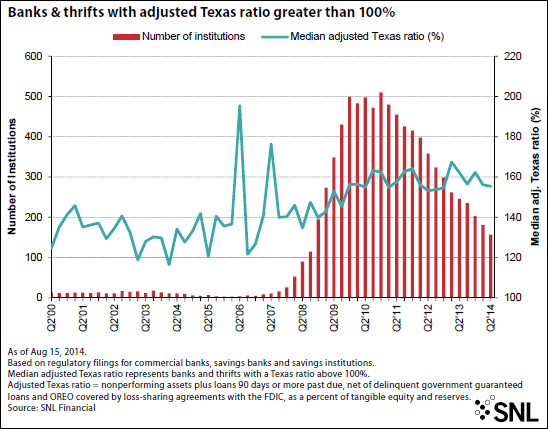 Of the seven bank failures during the second quarter, five reported an adjusted Texas ratio above 100% in the quarter prior to failure. Berwyn, Ill.-based AztecAmerica Bank, posted an adjusted Texas ratio of 606.96% at March 31, while Cincinnati-based Columbia Savings Bank came in at 348.73%; Fort Lauderdale, Fla.-based Valley Bank at 299.79%; Bel Air, Md.-based Slavie Federal Savings Bank (NYSEARCA:MHC) at 245.87%; and Moline, Ill.-based Valley Bank at 214.77%.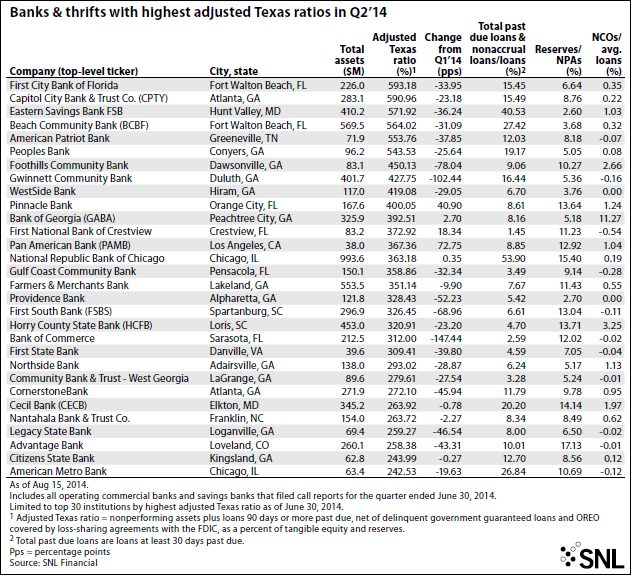 As of June 30, First City Bank of Florida reported the highest adjusted Texas ratio among active commercial and savings banks at 593.18%. However, this was down from 627.13% at March 31. The company's nonperforming assets fell by $3.0 million quarter over quarter and the bank reported a net income of $51,000, after six straight quarters of losses totaling $1.1 million.
Capitol City Bank & Trust Co. posted the second-highest adjusted Texas ratio at 590.96% at the end of the second quarter although this was a decrease from the first quarter's 614.14%. The bank reported an additional $1.3 million in adjusted nonperforming assets. However, this was offset by a $720,000 decline in adjusted loans 90 days past due and an increase in tangible equity of $537,000 quarter over quarter.
Meanwhile, Eastern Savings Bank FSB reported an adjusted Texas ratio of 571.92% for the second quarter, third highest on the list. The bank's adjusted nonperforming assets fell by $11.03 million in the quarter, which helped push the thrift's adjusted Texas ratio down from the 608.16% reported at March 31. The company has been steadily shrinking since the second quarter of 2010 when it reported $894.2 million in assets, compared to the $410.2 million it reported at June 30, 2014.
(click to enlarge)

Click to enlarge
Disclosure: The author has no positions in any stocks mentioned, and no plans to initiate any positions within the next 72 hours.