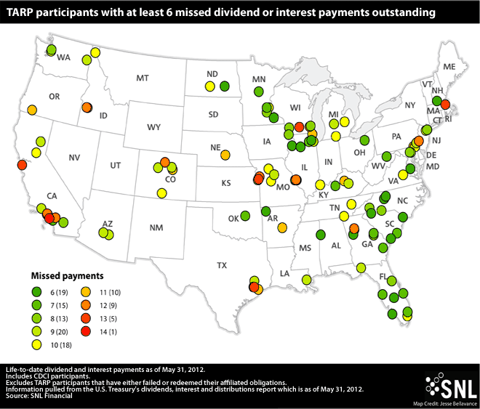 By Tyler Hall and Andrew Wolcott
SNL Financial

According to a June 11 Treasury report, 139 banks and thrifts missed their May 15 TARP dividend payment required under the Capital Purchase Program. This is a decrease of eight from the prior quarter.
In February 2012 and November 2011, 147 and 145 institutions deferred their dividend payments, respectively. In August 2011, 147 deferred payments.
The 139 institutions that deferred the latest TARP dividend payment received a total of $3.2 billion in CPP funds, which comprises 1.6% of the $204.9 billion received by the 707 institutions under the CPP. Of the 139, only three companies were previously current on all dividend payments. BancTrust Financial Group Inc., Community West Bancshares and Severn Bancorp Inc. combined owed the Treasury $1.1 million in May.

All three first-timers are holding companies, which means they must pay cumulative dividends and missed payments accrue. Banks without holding company status pay noncumulative dividends, and missed payments do not accrue. In some cases, state regulators can restrict banks from paying dividends if their accumulated earnings do not meet a certain threshold. Some banks also must attain shareholder approval before paying dividends.
Despite the number of companies missing dividends declining from the prior quarter, the number of companies missing at least six payments rose significantly to 102, from 89 in the prior quarter. That translates to 73% of the 139. Under the terms of the CPP, the Treasury has the right to elect up to two directors to the board of any institution that misses six dividend payments. 48 companies have agreed to have a Treasury observer attend board meetings. This is up by eight from February. Only nine companies have actually had board members elected by the Treasury. It prioritizes these types of elections in part by focusing on those institutions that have a least a $25 million investment.
Timberland Bancorp Inc. and Community Bankers Trust Corp. avoided the possibility of having Treasury-elected board members by paying the current and some of their missed dividends. They both now only have five outstanding missed payments.

Some companies managed to pay back all accrued dividends. Heritage Oaks Bancorp and Crescent Financial Bancshares Inc. became current on all their missed dividends this quarter. They previously had eight and five missed payments outstanding, respectively.
Other companies had their TARP redeemed through acquisitions. First Volunteer Corp. purchased Gateway Bancshares Inc. and redeemed all of its TARP, including two unpaid dividends.
Fort Lee Federal Savings Bank FSB was placed into receivership by the OCC on April 4, leaving six missed dividend payments outstanding.
Subchapter S interest deferrals
Subchapter S corporations issued subordinated debt instead of preferred stock in the Capital Purchase Program. Twelve of these institutions missed the May interest payment on their CPP subordinated debt, with the largest being New Orleans-based First Trust Corp. Its ninth missed payment in a row resulted in cumulative unpaid interest of $3.39 million. Including First Trust, seven Subchapter S corporations have now missed six or more interest payments.
Of the 12 Subchapter S corporations that have missed their May interest payment, two are first-timers, OneFinancial Corp. and Plato Holdings Inc. OneFinancial Corp has been in the news recently due to a former vice president of its banking subsidiary pleading guilty to bank fraud, money laundering and identity theft. Plato Holdings, Inc. through its banking subsidiary aggressively trimmed its loan and lease book in the first quarter of 2012, cutting loan and lease balances by 6.42 %, quarter over quarter.

As of the May report, First Trust and Security State Bank Holding Co. are the only two subchapter S corporations that have agreed to have a Treasury observer attend board meetings and where an observer has been assigned.
Security State Bank Holding Co. is the third subchapter S corporation to accept a board of director's appointee from the Treasury. The first, Duke Financial Group Inc., has since repaid its seven missed dividend payments and is current. However, as of May 31, Alliance Financial Services Inc. has declined the Treasury's request to have a Treasury observer attend board of directors meetings.
Combining dividend and interest deferrers, 151 companies missed the May payment. Through May 31, the Treasury had received a total of $11.67 billion, including $91.7 million in May, in dividend and interest payments on securities issued under the CPP.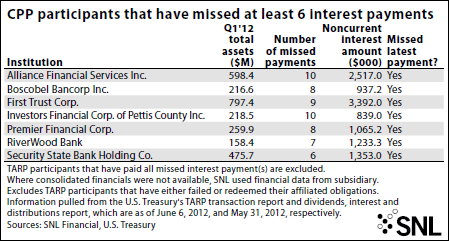 Community Development Capital Initiative
In addition to those missing dividend and interest payments under the CPP, four institutions have missed payments on their investments received under the Community Development Capital Initiative; this includes Community Bank of the Bay, which transferred into the CDCI, and excludes Wilmette, Ill.-based Premier Bancorp Inc., which was closed in March.
The CDCI is a TARP program implemented in February 2010 and targeted at institutions that lend to small businesses in particularly hard-hit areas of the country. Banks and thrifts participating in the program received capital with a 2% dividend or interest rate for the first eight years, increasing to 9% in year nine.
The 37 banks and thrifts in the program received $139.2 million in CDCI funds. Twenty-nine of these institutions transferred their combined $365.1 million of CPP investments to the program, thus bringing the total outstanding investment under the CDCI to $504.3 million. This number does not include the Treasury's $69.9 million investment in the 48 credit unions also participating in the program.

All four companies that missed payments on their CDCI investments originally participated in the CPP, and apart from Community Bank of the Bay, which transferred into the CDCI after four missed payments under the CPP program, none had missed payments. Brooklyn, N.Y.-based First American International Corp. and Chicago-based PGB Holdings Inc. missed their first five dividend payments. First Vernon Bancshares Inc. has missed six payments. Of note, Premier Bancorp Inc. was closed and placed into receivership by Illinois regulators March 23 after missing all six interest payments since joining the CDCI.
The Treasury has received $16.9 million in CDCI dividend and interest payments from banks and thrifts to date.
Tahir Ali contributed to this article.

Disclosure: I have no positions in any stocks mentioned, and no plans to initiate any positions within the next 72 hours.