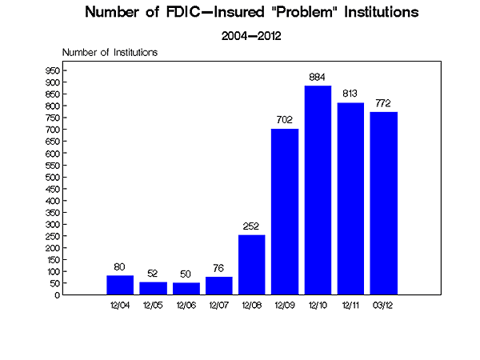 (FDIC Chart)
Should not be a surprise as the FDIC lists 772 problem banks as of March 31, 2012. The next report will not be out until August.
The good news is the numbers are down from December 31, 2011 when there were 813. And there have been 16 bank failures through March, 2012.
Nevertheless, Problem Banks now account for 10.5% of all banking institutions. The FDIC currently insures deposits at 7,309 banks and savings associations of which 772 are classified as Problem Banks.
As of March 31, 2012 there were 7,307 FDIC insured banking institutions with FDIC insured deposits of $7.03 trillion. The number of Problem Banks has declined for four quarters in a row from 888 at March 31, 2011. Total assets held by troubled institutions as of March 31, 2012 is $292.1 billion, a decrease of $27.3 billion from $319.4 billion in the previous quarter. The FDIC Deposit Insurance Fund, which protects insured depositors from loss when a bank fails, had a balance of only $15.3 billion at March 31, 2012 for a reserve ratio of 0.22%.
The FDIC took additional steps to increase the DIF by requiring FDIC insured financial institutions to prepay three years of deposit assessments. This measure is expected to add $46 billion to the DIF.
Currently the FDIC also has a line of credit at the US Treasury of $100 billion, with the ability to borrow up to $500 billion with the consent of both the Federal Reserve and the Treasury Department.
At one time, many leasing companies were getting into industrial banks and also affiliating themselves with other banks, but with the new regulations, there seems to be a change in this, particularly if new accounting resolutions come into play it will further restrict banks from participating in such true lease transactions, thus one of the powerful reasons the banks are lobbying against any lease accounting changes.
There should be no surprise about a bank being for sale. Here is one from the commercial bank section of Merger Network.
"Successful Community Bank
Industry: Finance & Insurance // Commercial Banks Location: United States // Midwest States Price: Between $10 Million and $15 Million Status: For Sale. Solid state chartered community bank with a deposit base in excess of $ 100 Million offered for sale to qualified principals only. Excellent location and thousands of satisfied customers. Wide variety of loans in its portfolio. Modern facilities with good location. Above average growth potential. "
www.mergernetwork.com/search/indID/84
Globlbx.com has many US Banks for sale:
Small Public bank making money for sale. Great Management in Place. Having substantial track record, multiple locations and profitable. Approx $500M in assets. Perfect for regional expansion and growth. Equity position also available. Contact for more information on this Bank for sale.
Asking Price Range: $20.0M - $35.0M
Gross Revenues: $7,000,000
Cash Flow: $2,000,000
Cash Flow Type: Sellers Discretionary Cash
Seller Financing: Not Disclosed
About The Business
Year Established: 1998
Number of Employees: 20 - 34
www.globalbx.com/listing.asp?bId=105024
Disclosure: I have no positions in any stocks mentioned, and no plans to initiate any positions within the next 72 hours.