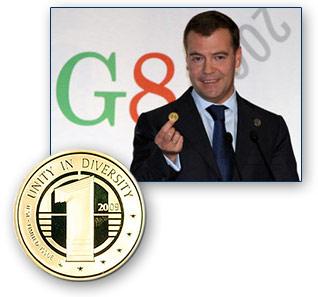 The dollar is still the world's reserve currency, but the question is "For how much longer?"
In Italy last week, the leaders of the G-8 industrialized nations all received a gold coin called a "Eurodollar"—valued at $3,900 and created by a Belgian designer who also designed the common side of the euro coins back in the 1990s.
For United Future World Currency, the group behind the coin, the Eurodollar is a big step forward toward its goal of a currency "capable of speaking a single, comprehensible language to foster humankind's innate desire to go farther, to surpass boundaries, and move towards true principles of peace, freedom, brotherhood and understanding beyond issues of race, political and religious beliefs and party interests."
And you thought we were just talking about money.
China also used the G-8 meeting to publicly advance its position that the dollar needs more company as a reserve currency.
China thinks the dollar (and to a lesser degree, the euro) should be replaced as the reserve currency by an International Monetary Fund basket of currencies with the awkward name of "Special Drawing Rights." The SDR is now made of the dollar, the euro, the British pound and the Japanese yen.
China also believes its own currency, the yuan, should play more of a role in global trade. Bloomberg recently reported that there has been a drop in dollar-denominated contracts by Chinese exporters, with the yuan being used instead to reduce transaction costs and exchange-rate swings.
This trend could continue as the dollar's valuation remains volatile. With the trillions of dollars in economic stimulus already created by the Federal Reserve and the prospects for additional stimulus efforts, that volatility is not likely to change any time soon.
Conventional wisdom is that the dollar's position as the world's reserve currency is in no immediate danger. That's probably true, but United Future World Currency is thinking long-term about a world "united by a coin."
09-479