When it comes to consumer spending, China still has a lot of room to grow.
According to data from McKinsey, China ranks fifth in the world in total consumption ($890 billion in 2007), but lags considerably when you look at private consumption as a percentage of GDP.
This chart shows consumption-to-GDP ratios for major economies. At 37 percent, China ranks below its BRIC counterparts as well as below all other major Asian countries, and it's roughly half of the U.S. level.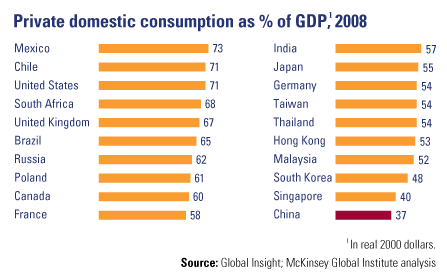 One reason for this is a relative lack of purchasing power. McKinsey says a Chinese employee has to work seven hours to buy the same basket of goods that an American worker can afford with just one hour on the job.
Another reason is that Chinese citizens sock away a large chunk of their disposable income. China's savings rate is 15 percent higher than its Asian neighbors, says McKinsey. This is prudent—without much of a social safety net, many Chinese rely on savings to help cover health expenses and provide for retirement.
The global recession isn't putting much of a dent in Chinese consumption.
Research from CLSA found that 39 percent of Chinese households are looking to buy an apartment and 40 percent think it's a good time to get a car. And McKinsey says the number of credit cards in China has shot up from 3 million in 2003 to 128 million in 2008. 
These positives aside, it's important to keep in mind that China is still a developing market and can only do so much.
As my friend Andy Rothman from CLSA put it back in our China Impact webcast in June, China won't be the savior of global consumption, but it can put a floor underneath the decline until spending starts up again in the U.S., Europe and Japan.
09-621