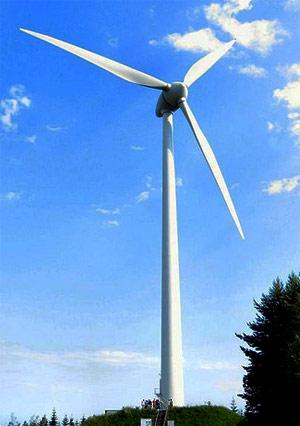 America's commitment to wind power isn't all hot air.
Roughly 10,000 megawatts of new wind-power generation capacity was built in the United States in 2009 – enough to provide electricity to nearly 2.5 million homes. That new capacity alone is adequate to power all of the homes in Colorado and Wyoming combined.
All together, wind-power capacity now stands at about 35,000 megawatts, according to a report from the trade group American Wind Energy Association. That's only about 2 percent of the nation's electric-generation capacity, but since 2003, the annual growth rate has been nearly 40 percent.
Our home state of Texas accounts for more than a quarter of the national wind-power capacity – wind farms, most of them in the western part of the state, provide 6 percent of the state's electricity. Iowa and California are also big producers.
About 85,000 people are employed in the U.S. wind-power industry, with jobs including manufacturing, installation and maintenance. Not only is wind an energy story, it's also a major infrastructure story.
The U.S. is the world's leading wind power generator, but it's also a growing energy component in China, where air pollution from coal-fired plants is a major health issue and potential threat to future economic growth.
A recent story in The New Yorker magazine points out that wind-generated electricity in China has doubled each year since 2006, and that the country is a leading innovator in wind turbine design and production.
The knock on wind is that it is not a viable power source in the U.S. without government subsidies, but that's less of a knock than it used to be.
The AWEA says the cost of wind-generated electricity has been slashed by 90 percent over the past two decades – taller towers, better turbines and economies of scale created by large wind farms have all contributed. As the industry grows in size and acceptance, the economics stand to improve further.
*By clicking the links above, you will be directed to third-party websites. U.S. Global Investors does not endorse all information supplied by these websites and is not responsible for their content. The following security mentioned in the referenced articles was held by one or more of U.S. Global Investors family of funds as of 12-31-09: Apple Inc. #10-53
Disclosure:
Apple