One measure we read recently had bullish sentiment at a 26-year high.
It should be no surprise that this is likely marking a material top, especially to those who considered our posting dated March 15.
The tech-heavy NASDAQ has been leading the charge lower, with yesterday's close putting it back in the red for the year so far, as some of the most darling and highly-speculative stocks have posted the biggest losses of late.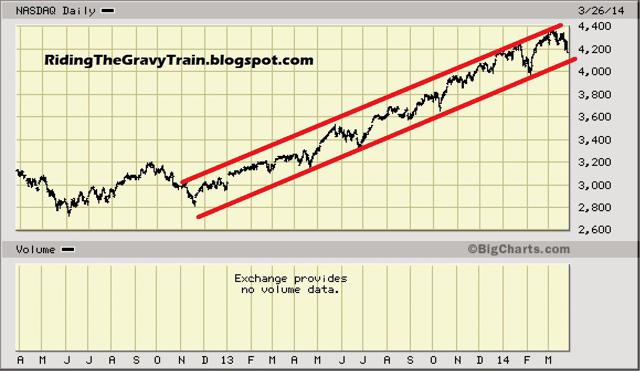 Since early March NFLX (Netflix Inc.) is down 18%, GOOG (Google) down 8%, TSLA (Tesla Motors) down 18%.
It's not just happening on the NASDAQ. Again since early March LNKD (LinkedIn Corp., when is the last time you heard that site mentioned?) down 13% (down 28% since September and at 9-month lows), FB (Facebook Inc.) down 16%, TWTR (Twitter Inc.) down 21% (down 40% since late December and back to the same level as its first day of trading), DDD (3-D Sys Corp.) down 26% (down 41% this year), VJET (Voxeljet AG) down 32% (down 63% from its November highs), XONE (Xone Co.) down 27% (down 50% from its January highs), etc. etc.
Most ominously in our view, GS (Goldman Sachs Group Inc.) is again closing below its 200-day moving average. A little lower, and it'll be printing a new low for the year so far.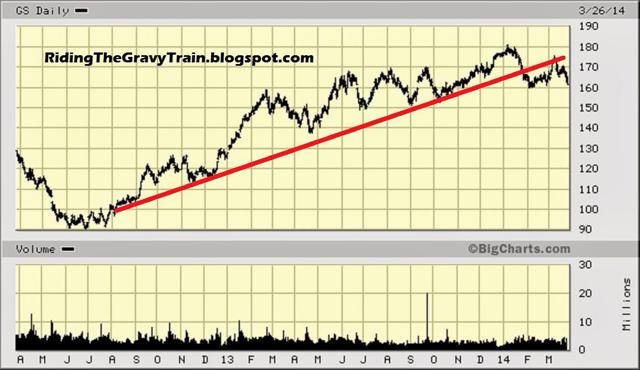 Here's gold (NYSEARCA:GLD) in a one-year view: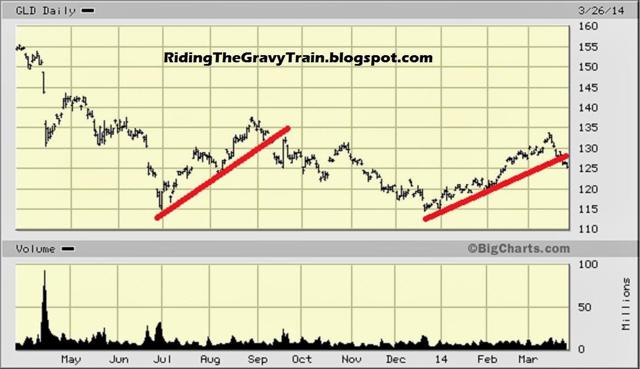 Here's gold (GLD) in a nine-year view: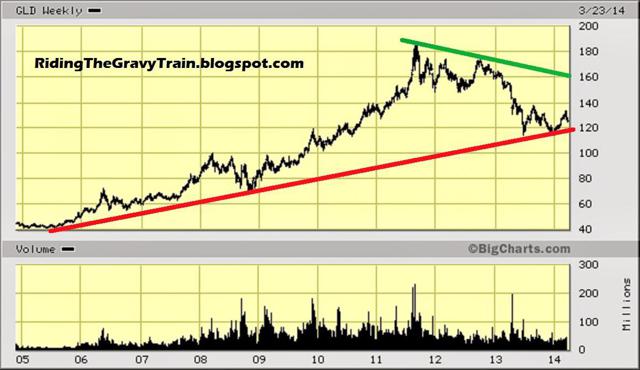 There's a better than even chance that gold's 9-year uptrend, which lasted basically its entire bull market, will be broken.
Disclosure: I am long QID.