Catalyst Financial Partners
held its Alternative Investing Forum Spring 2010 conference at New York city on April 19, 2010. During the conference, we conducted a comparative/contrast study on investors and small/mid-size hedge fund managers to gain a better understanding of the insights and opinions from both sides of the Capital Raising equation. Similar studies by various organizations mostly focus on one side story, either the investor's side, especially institutional investors, or the manager's side only. More than 130 delegates round the world attended the conference.
The purposes of this study were to identify:
·

        
How investors use observable firm characteristics in their capital allocation and manager selection process.
·

        
The perceptual gaps between Investors and hedge fund managers regarding

capital allocation and manager selection process.
·

        
The capital sources for small/mid-size hedge funds
·

        
Post-financial-crisis and post-Madoff-scandal impacts on raising capital  
·

        
Obstacles in raising capital
·

        
Channels of capital raising
Sampling Result Highlights
Ø 
High Absolute Returns is the top reason investors allocate to hedge funds, and the primary criteria in selecting a hedge fund.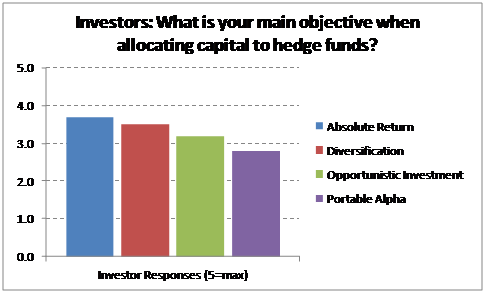 Ø 
The current preferred strategy among investors is equity-related strategies.
Ø 
In Manager Selection processes, investors rank Firm's Stewardship last while for a fund manager it is at the top of the list
.
Firm's stewardship measures how committed a hedge fund firm to fund shareholders
Ø 
More weight on risk management by investors than managers.
Ø 
Traditional hedge fund clients are still the major sources of capital for small/mid-size hedge funds.
Ø 
Pension Funds will be the driving force behind the future growth of hedge fund industry.
Ø 
Investors think "Institutionalization of hedge funds" can boost investors' confidence in the industry
.
Ø 
Investors are neutral on whether a new set of government regulations will increase their likelihood of investing in hedge funds in the near future.
Ø 
Lack of access to appropriate capital distribution channel
, rather than lack of attractive products, is credited as the top obstacle in raising capital by hedge fund managers. 
Ø 
In-house marketing team has become the leading channel for raising capital.
In spite of the stellar performance and positive capital flow in 2009 and Q1 2010, the total AUMs of the hedge fund industry are still $670billion below its peak in Q2 2008. As the industry   rebounds, investors and fund managers seek each other to position themselves for the next stage of expansions.
Investors continue viewing hedge funds as a source of high absolute returns. Investors go through rigorous search processes to determine where and with whom to commit their money. In a nutshell, the manager selection process all boils down to a systematic evaluation of a hedge fund firm's observable characteristics: risk/rewards profile, firm-specific characters, and stewardship. It is surprise that the investors in the survey rank the firm's stewardship last.
On the other side, fund managers seek the opportunity to capture the capital redeemed during the crisis as well as the new capital coming from outside of their traditional customers. For hedge fund managers, the biggest challenge in raising capital is getting introduced to potential clients. To this end, fund managers increasingly rely on in-house marketing teams in their search for capital.
Disclosure:
no position