Kiska Metals Corporation (TSX – V: KSK) provided details on its 2011 exploration program at its Whistler Project located 160 km north of Anchorage, Alaska. The Whistler Project includes a 5.6 million ounce gold equivalent gold-silver-copper resource at its Whistler Zone. Kiska is adequately funded to complete a 31,000 meter diamond drill program which will focus on several targets in the orbit of the Whistler Zone on its 527 sq. km project. The exploration program is being conducted in a manner similar to how it might have been by a major mining company.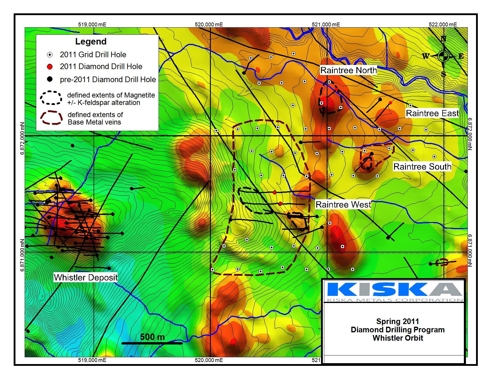 Projects in Orbit of Whistler Zone
Source: Kiska Metals Corporation
Over the last couple of months, despite cold weather conditions, Kiska completed 6,575 meters drilling, consisting of 53 widely-spaced shallow drill holes on a grid. The rapid shallow drill program is important to economically cover significant open spaces lacking exposed outcroppings to see underneath glacial till. This recently led to the discovery of near-surface gold-copper porphyry at its Raintree North prospect and expansion of the Raintree West prospect. The drill program supports geotechnical surveys in helping the company identify priorities for deeper holes. In addition to drilling on the grid, Kiska completed six deep drill holes, with assays still pending. Kiska recently built an ice road to move heavy equipment and supplies into Whistler, in order to complete an airstrip and camp, to support year-around exploration.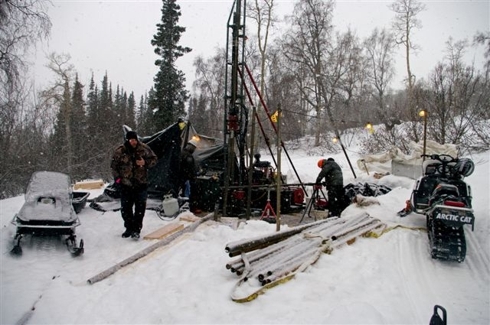 Shallow Drill Hole Exploration Program in 2011
Source: Kiska Metals Corporation 
Following spring break-up, Kiska will resume exploration, which may include a second grid program and additional deep hole targets based on insights gained from recent drilling. Kiska is in the process of completing an airborne magnetic survey at its Island Mountain project. Recent drill highlights at Island Mountain include IM10-013 including a 114.9 meter interval grading 1.25 g/t gold, 4.0 g/t silver, and 0.23% copper (1.74 gold eq.). Kiska plans to drill an additional 11,000 meters, or about 37 to 40 holes, at Island Mountain to complete an in-house resource estimate. The significance of these programs should lead to an enhanced perspective of the opportunity at Whistler by the end of 2011.