Alexco Resource Corp. (NYSEMKT:AXU) reported production of 608,093 ounces of silver in the fourth quarter of calendar year 2011, and 2,020,695 ounces of silver (plus about 16.5 million pounds of lead and 7.2 million pounds of zinc) in its first full year of commercial production at Keno Hill in the Yukon. This was within the current guidance range for 2011 of 2.0 to 2.2 million ounces of silver, which was revised downward from earlier revised guidance of 2.2 to 2.5 million ounces of silver, and initial guidance of 2.5 to 2.8 million ounces of silver. Alexco also offered 2012 guidance of 2.2 to 2.5 million ounces of silver (plus 19 million pounds of lead and 7.5 million pounds of zinc), which we have a high level of confidence that they will meet and possibly exceed. Production in 2011, with conservative guidance for 2012, is in-line with their long-term goal of annual silver production of seven to ten million ounces of silver in ten years.
As of May 2011, Alexco management reiterated production guidance of 2.8 million ounces of silver (plus 18 million pounds of lead and 8 million pounds of zinc) for their first year of production, reflecting their confidence in the operation's ability to increase processing ore at Keno Hill to an average of 250 tpd and ultimately 350 to 400 tpd. This was subsequently revised following work stoppages caused by numerous disruptions by the power authority in the Yukon while connecting regional electric grids unrelated to operations at Keno Hill. Also, while optimizing mine operations in preparation of more efficient long-hole stoping, Alexco processed ore from stockpiles in the third quarter. Despite these challenges, the ore processed at the Keno Hill mill increased quarter-over-quarter, consistently producing higher levels of silver throughout 2011, accelerating in the most recent quarter with long-hole stoping.
Operations at Keno Hill In-Line with the Technical Report
Silver production at Keno Hill in 2011 was close to meeting initial expectations set in the Technical Report for the first year of commercial production. Most important, Alexco consistently mined ore for processing at the mill in amount and grades close to levels anticipated in the Technical Report. In the fourth quarter, ore processed at the mill averaged 889 g/t silver, above 871 g/t silver assumed in the Technical Report, with an average grade of ore processed in 2011 of 834 g/t silver. The average grade of lead and zinc processed in 2011 was 10.2% and 6.0%, which exceeded assumptions used in the Technical Report of 9.5% and 5.6%, respectively. Secondly, ore processed through the Keno Hill mill increased to 245 tpd in the fourth quarter, from 201 tpd in the first quarter, or an average for 222 tpd in 2011, which was below the 250 tpd estimated by the Technical Report for the first year of production. The consistent high ore grades and improving rate of processing is the foundation of our confidence that the recently offered guidance for 2012 is achievable if not conservative.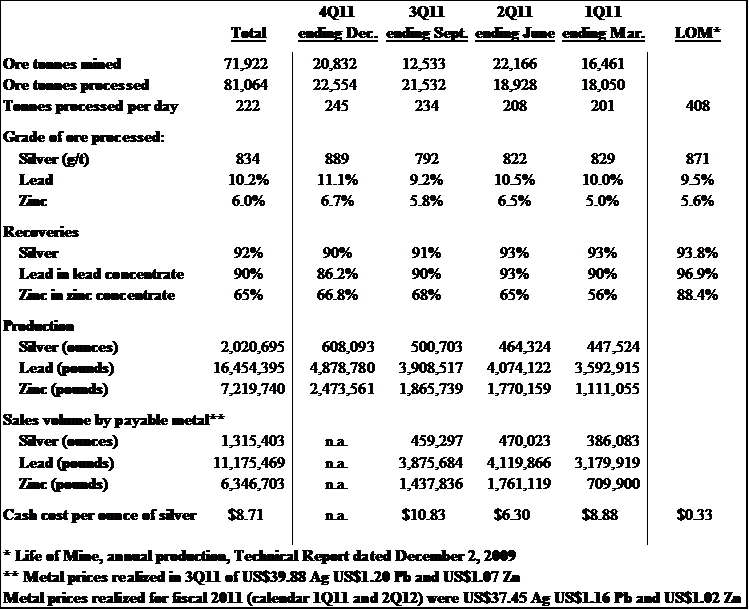 Recoveries of metals at the Keno Hill mill have been slightly below, but generally consistent and relatively in-line with, the average recoveries assumed in the Technical Report. Most importantly, recoveries of silver have ranged from 90% to 93%, averaging 92% for 2011, slightly below 93.8% as assumed in the Technical Report. This is particularly important as silver is financially the most important metal produced at Keno Hill and this was only the first year of commercial production. Secondly, as most of the silver reports to the lead concentrate in processing, recoveries of lead ranged from 86.2% to 93% in 2011, and averaged 90% for 2011, below 96.9% as assumed in the Technical Report. Lastly, and least important from a financial and recovery perspective, recoveries of zinc ranged from 56% to 68%, averaging 65% in 2011, significantly below 88.4% assumed in the Technical Report. For all three metals, recoveries declined in the most recent fourth quarter from the third quarter.
It is important to note that while recoveries for all three metals declined slightly in the fourth quarter from the third quarter, Alexco processed ore with the highest grades for each metal in the fourth quarter, at the highest processing rate at the mill to date, achieving record quarterly production levels for all three metal types. It is interesting that recoveries declined slightly in the fourth quarter, coincidentally at a record rate of processing ore at the Keno Hill mine, suggesting a ceiling for recoveries, but the correlation may be spurious. Nevertheless, Alexco achieved record levels of production for all three metal types. Recoveries may represent an area of improvement which will remain an area of attention in 2012 and over the life of the project. We anticipate that as the mine is early in its operation, this represents an opportunity for improvement, with possible stabilizing at a higher level of operation, which may also be a catalyst for meeting and exceeding guidance for 2012.
Alexco to Establish Base for Long-Term Guidance at Keno Hill in 2012
Alexco has provided production guidance for 2012 reflecting consistently improving operations in 2011. Commencement of long-hole stoping in the fourth quarter should continue throughout 2012, leading to higher levels of ore available for processing. While this style of mining is more efficient, it produces high amounts periodically, requiring additional attention for staging and organization to assure consistent levels of ore available to the mill. This is why commencing mining at Lucky Queen and Onek later in 2012 is important for increasing the amount of ore to the mill, making possible consistently higher levels of processing, increasing efficiencies at higher rates, and potentially significantly higher levels of production relative to 2011. This is also important for diversifying the sources of ore, reducing reliance on a single mine, and thereby assuring a more stable and higher level of silver and base metal production from remaining resources.
Alexco notes that they may have a slight reduction in mill throughput in the current quarter, as they are assessing modifications that may be necessary to accommodate ore from Lucky Queen or Onek in addition to ore from the Bellekeno mine. This is likely to occur in concert with other regularly scheduled maintenance. While this suggests the potential for a slight decline in production in the first quarter of 2012, we anticipate production at similar levels compared to the fourth quarter, and any decline in the current quarter would have been factored into current guidance for 2012.
Commencement of mining from a total of three mines in 2012 will establish a stable foundation for meeting long-term production. They are working to produce an initial resource at both the Bermingham and Flame&Moth exploration targets, which they believe at this early stage to be a tenor reminiscent of the Hector Calumet mine, which produced about 96 million ounces of silver (from 2.7 million tons, grading 35.4 opt silver, 7.5% lead and 6.1% zinc) over a period of twenty years. They also plan to produce an update of the resource at the Bellekeno mine, which will take into account ore mined and further drilling both underground and at surface. Alexco plans to increase surface and underground exploration drilling by 25% in 2012. With Lucky Queen and Onek moving into production, it will be important to monitor development activities for potential mine operations at Bermingham, Flame&Moth and the Silver King to expand resources, extend operation of the Keno Hill mill and increase annual production toward meeting long-term goals. These activities should support Alexco's growth profile to meet long-term guidance and potential to become a mid-tier silver producer.
It is important to note that in addition to having an exceptional long-term growth outlook at Keno Hill, Alexco's environmental subsidiary provides a unique asset and competency which allowed the acquisition of Keno Hill. The additional value is not clearly recognized in the financial statements but clearly contributes to the permitting success which shortened the period from acquisition to production. Alexco does not release potential work in this area without permission from clients, but it has been active in the Americas and Europe. We have visited the Barrite Hill Superfund project in South Carolina and were very impressed. For this reason, we are looking forward to progress in the processing and clean-up of the Elsa Tailings at Keno Hill. In addition to the recovery of silver and base metals to the Keno Hill mill operation, further infrastructure for an additional mill and clean-up of historic mining operations, successful remediation of the Elsa Tailings may provide a clear example of the value of Alexco's environmental business for investors.
Conclusion: Confidence in Meeting 2012 Guidance
We have a high level of confidence for Alexco to meet production guidance of 2.2 to 2.5 million ounces of silver production. We also accept that there may be an interruption of throughput in the current quarter due to metalurgical testing and processing ore from the Lucky Queen and Onek resource, important to ensure smooth operations when these mines come on line later in 2012. Commencement of production from these two new mines will be important to increase production to a level of optimal operation at the Keno Hill mill and diversify sources of ore to reduce the risk of relying upon a single mine. While unforeseen events may make offering guidance risky, we find it difficult to envision a scenario in which Alexco is unable to meet at least the lower end of the range of guidnance for 2012 production. In addition, taking into account that Alexco revised guidance downward twice in 2011, we also find it difficult to envision that they will provide guidance which they cannot meet.
We believe that beyond 2012, drilling results and advancing resources at Bermingham and Flame&Moth are important to demonstrate the potential to meet long-term production guidance of seven to ten million ounces of silver annually in ten years. We look forward to reportable progress on advancing the remediation of the Keno Hill by processing the Elsa Tailings to demonstrate the breadth of the environmental expertise as an asset to Alexco. The combination of activities including the optimization of the Keno Hill mill, new mines coming on-line, and increasing resources from districtwide exploration, should provide a decade of positive financial results and news flow for investors.
Alexco has 60 million shares outstanding and 64.6 million shares diluted. It would appear that most of the warrants and options are in the money. Average daily trading activity is about 430,000 shares. Management and directors own about 13% and institutions own 44% of Alexco. As of September 30, 2011, Alexco reported having $49 million in cash and cash equivalents and $50.4 million in positive working capital. The company appears to have more than adequate cash flow from operations and financial assets on hand to complete activities scheduled for 2012. Silver Wheaton Corp. (NYSE:SLW) provided $50 million for construction and development of the Bellekeno mine and Keno Hill mill in return for purchasing one quarter of the silver production at the Keno Hill silver district for $3.90 per ounce. Alexco retains ownership of production of all other material including lead, zinc, gold and indium.
Disclosure: I am long AXU.