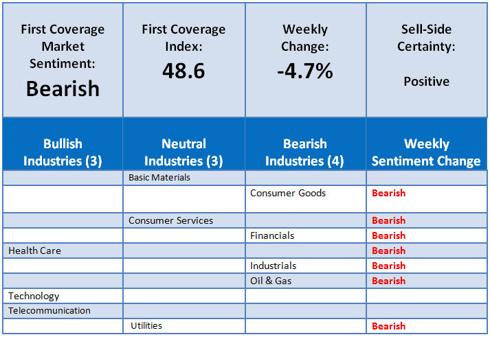 Click to enlarge
Bad Summer on the Horizon!

Does anyone remember the days when summer was a time to relax, kick back and start wondering what you were going to do with the bonus you had already packed away? Not this summer kids! If the drop in sell-side sentiment is any indication of what's ahead over the next two months, we can expect a corresponding pop in volatility which would make any time away from the computer monitors about as restful and relaxing as a trip to the in-laws. In fact, the shift in the sell-side's mood is suggesting it's time to batten down the hatches, put the storm shutters on the windows and get the suss-pump working.
And if the drop in market sentiment alone isn't enough, a couple other data points should add some worry to your water. The volume of ideas being sent through the network is markedly up over the last week and the amount of new ideas suggesting positions be opened are more than the total of ideas suggesting that positions be closed. This type of idea flow, reflected above by a 'Positive' Certainty rating, indicates willingness by the sell-side to embrace risk and take a stance on the market. Based on the same data points, these are both characteristics that have been missing over the previous month.
What Did Monday Mean?
A decent market rally Monday led by Financials, catalyzed by the call of Meredith Whitney on GS (or at least the knowledge that a call had been made) and everybody starts wondering if this could be the beginnings of another bull market. According to the sell-side, Not Even Close!
Let's put Monday's move into the context of 'Sell-Side' Sentiment. During the last month, Sell-Side sentiment dropped over 11.5%, it dropped in all 10 industries and whereas we had 8 industries with bullish sentiment levels a month ago, now we only have three. Even after Meredith Whitney's call on Goldman yesterday, sell-side sentiment didn't show any bump similar to the market activity. While Sentiment surrounding Financials didn't get any more bearish yesterday, it is still down 11.1% over the last week and while Banks eked out a 1.1% gain in sentiment Monday, there definitely wasn't a sea change in the sell-side's opinions about their own places of employment.
In fact, for those who read the research or resorted to watching Ms. Whitney's call on the television yesterday, it was similar to watching a magician talk about how they do a magic trick or hot dog maker make his hot dog. There is no denying her information was great and that she made a very convincing case that the balance sheets of Financials are going to look better. But Ugh!!! Next time please refrain from telling us how they are doing this!
Overall, the message that seemed to permeate Ms. Whitney's research was GS is in a class by itself and there exists a good trading opportunity amongst other financials, but hardly satisfying rationales for those looking for data supporting a better economic picture. While that message clearly took the broader markets higher Monday, it's also clear that it might have resonated in a different manner with the institutional professionals when the sell-side still wore rose colored glasses. However, the fact that they are now thinking this market is heading downward probably made the message less effective among the sell-side professionals than it would have been four weeks ago.  In short, Monday's GS Upgrade and the underlying reasons clearly showed that in this market, it's not the message as much as the mood of the audience that matters most right now!
Biggest Stock Sentiment Shifts
So, while you are mulling all that over, here are the five stocks that underwent the most bullish and bearish shifts in sentiment over the last week: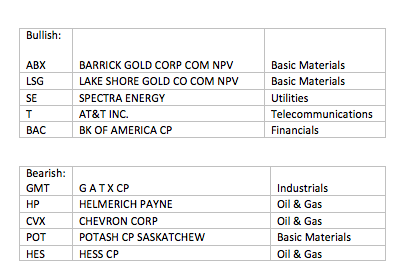 Until Next Week…

About The First Coverage Weekly Street Sentiment

Derived from the aggregated analysis of thousands of actual trade ideas and data being sent in real-time from the sell-side to the buy-side, the First Coverage Weekly Street Sentiment provides a snapshot of market trends and a unique perspective of the mindset of the Street for the week ahead. The following data has been extracted directly from all information transmitted in the past week by sell-side representatives from more than 250 firms submitting information to portfolio and asset managers across North America via the First Coverage platform.
About First Coverage

Catering to more than 300 financial institutions worldwide, First Coverage provides a web-based platform that simplifies the gathering, evaluation and organization of all sell-side services and information. For more information, visit firstcoverage.com or contact us at info@firstcoverage.com.
For media inquiries, please contact Jamie Diaferia at Infinite Public Relations: jmdiaferia@infinitepr.com, 203-227-0388 (office) or 909-633-9396 (mobile