Two monster weeks of gains for the major indices were followed by a flat/mixed performance on Monday.  A wide variety of companies report quarterly earnings this week -- better-than-expected (or perhaps "not-as-bad-as-expected") earnings reports over the past couple of weeks have been credited for fueling the recent market gains.  Upcoming this week on the economic reporting calendar include Consumer Confidence, Durable Goods Orders, GDP, Personal Consumption, and Chicago PMI.

The Nasdaq 100 (NDX) (QQQQ) has continued to be a market leader, as technology stocks have outperformed.  As you can see in the following chart, although the NDX is up for calendar year 2009, it is still down over a 52 week time frame (not to mention the fact that it neared 5,000 in the year 2000.  Although we have taken out 1,500 and stayed above that level since mid-July, there is a bit of concern that we are in the area of a 50% retracement from the 2007/2008 highs to the recent lows.


NDX Daily Chart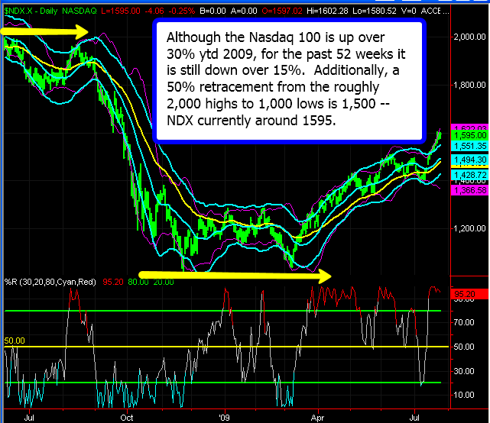 Click to enlarge

The S&P 500 Index (SPX) (NYSEARCA:SPY) took out recent overhead resistance in the 950 area, and is now closing in on the 1,000 level -- which is one of those nice "round" numbers of which the market and many traders are fond.  There is very heavy call open interest on both the SPX August 1,000 Call and the SPY August 100 Call, indicating that there has been a great deal of Call buying at that key strike price.

SPX Daily Chart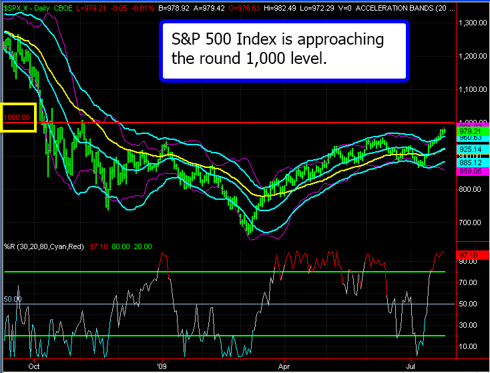 Click to enlarge

The Dow Jones Industrial Average (DJIA) (NYSEARCA:DIA) is another major index that has recently taken out and/or is approaching key levels.  The DJIA took out the round 9,000 level last week, and some are speculating that a test of 10,000 is in the cards for 2009.

DJIA Daily Chart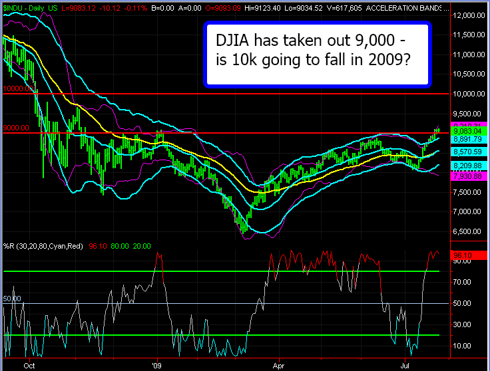 Click to enlarge

Bottom Line:  The short-term momentum remains UP for the markets -- don't fight this strong underlyling trend.  However, be aware that things could reverse quickly -- and there is a certain amount of bullish sentiment complacency that seems that have entered recently in terms of earnings, the economy, put/call ratios, etc -- as contrarians, these tend to ring caution bells when you consider that we are still basically retracing losses from last year.  So continue to ride the upside, but don't be surprised to see a sharp pullback soon, especially as we approach the traditionally weak months of September and October.

Price Headley,
BigTrends.com
1-800-244-8736
Disclosure - None