The major indices were up slightly last week, and are currrently down fairly heavily on Monday.  It may be notable that despite the recent rally, the Nasdaq 100 (NDX) was unable to take out the key 1,500 level on a closing basis last week, and the S&P 500 (SPX) has not yet taken out 950 on a Weekly close.  Some big stock names are up on the Earnings Calendar this week, including ADBE, BBY, FDX, CCL, DFS, SJM, RIMM & KMX.  Due this week on the economic report calendar are PPI, Housing Starts, CPI, Industrial Production and Leading Indicators.

The Nasdaq 100 has been a 2009 outperformer versus the other major indices.  The fact that a growth-oriented index (heavily weighted in Technology and Biotechnology) has led the way could be considered a positive for anticipated future economic activity, as growth stocks are most likely to accelerate earnings quickly should the world economy recover.  The NDX is pulling back thus far this Monday, but as you can see on the folllowing chart, pullbacks since the March market bottom have been contained by the 40 day Exponential Moving Average (yellow trendline).  So should we continue to sell off, watch 1,400 on the NDX as a possible support level.  Also keep an eye on the mid-level 50 on Percent R, as it has also held previous pullbacks in the NDX.

NDX Daily Chart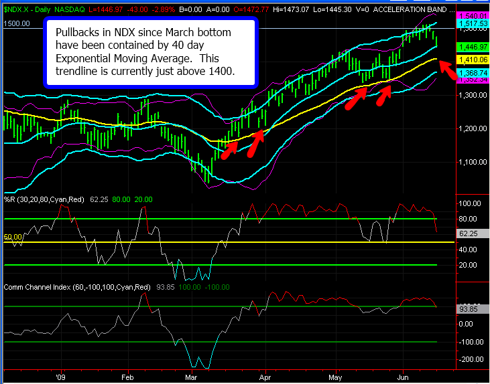 Click to enlarge

Stepping back to look at a longer-term S&P 500 chart below, you can see that Weekly Percent R readings on the SPX have reached their highest levels since 2007, which is a sign of strength.  However, we do face potential upside resistance from the 950 and 1000 levels that many traders are watching.  The 40 week Exponential Moving Average (yellow trendline), which encompasses 200 days, is right around current levels.  Looking back, you can see that the SPX has been unable to sustain any sort of move above this trendline since late 2007.  There also is potential overhead resistance from the Upper Bollinger Band and Acceleration Band, but if we can move above these key areas and break above 1,000, we could have some serious upside potential.

SPX Weekly Chart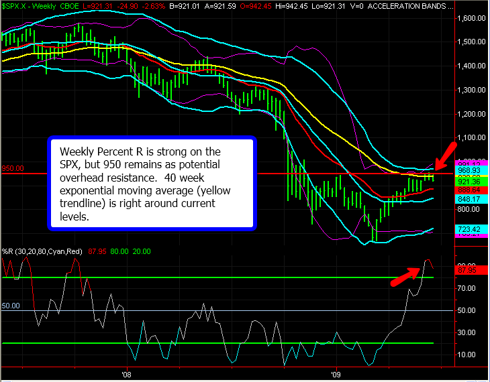 Click to enlarge

Bottom Line: Trading range remains intact for the time being, although if the market correction today continues, we will basically have a downside break of the recent tight range.  If one is looking for support below current levels, target 1,400 on the NDX and 900 on the SPX.  We continue to watch the key 30 level on the CBOE Volatility Index (VIX) ... remaining below the 30 level is important for the market strength to continue.
Trade Well,
Price Headley
BigTrends.com
1-800-244-8736
Disclosure - none