At CR Investor, we are always on the lookout for undervalued stocks with a strong margin of safety.


One stock that has caught my attention is Sturm, Ruger & Co. Inc. (NYSE:RGR), one of the iconic gun makers in America along with Smith & Wesson Holding Corporation ( NASDAQ: SWHC).
Given the company's long history, I was blown away by its recent performance. For the past 3 years the company has had stellar performance. Revenue has grown rapidly and EBITDA and Free Cash Flow margins have been steadily increasing. Furthermore, RGR is currently trading at a dirt cheap EV/EBITDA multiple of 3.05x which is sure to grab the attention of private equity firms not to mention the recent insider buying! The results are summed up in the below table: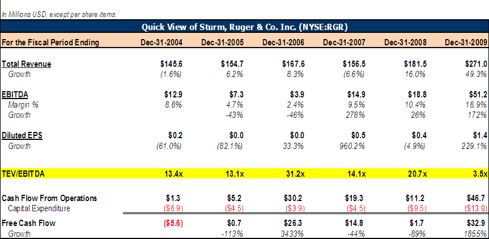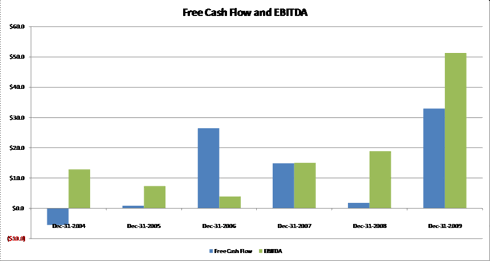 It astounds me that RGR is at its best and is trading so cheap – 3.05x EV/EBITDA as of March 1, 2010!
Ultimately I believe the low multiple is due to uncertainty that exists in the gun industry.  Since Obama came into office, there has been a heavy concern that he will ban all gun purchases. The true effect of this scare is evident through the frenzy gun buying that has been occurring for the last year. Monthly handgun sales and national background checks are at an all time high, which is key because civilian purchases are what drive RGR growth.
In reality, if a gun ban was ever pushed through, it would solely focus on assault weapons. Now, how would this effect RGR? It wouldn't for the most part, which is another reason that there could be strong value in RGR. Additionally, RGR has implied that it backs the possible ban on assault weapons, which has only helped to put the company on the government's good side. The down side is that RGR does not get to capitalize on the frenzy buying of assault weapons.
So where does this leave RGR? We are very interested in their stock and I look forward to talking to my contacts in the gun industry to gain a better idea of future prospects and whether this stock is truly undervalued.
If you really want to see our investment process in action, please go to our site www.CRInvestor.net. You will find unbelievable research and reports that capture the true essence of value investing and education. We show our members how to become better stock pickers by sharpening their valuation skills. Our reports provide institutional level research never seen before on the retail level. We found Joe's Jeans (NASDAQ:JOEZ) at $0.22 which yielded an 845% return, and Hi-Shear Technology (HSR) that returned over 199% before being bought out. Not to mention that our results in 2009 outperformed the S&P by 69.6% and we have the brokerage statements to prove it!
Happy Investing,
Alexis Evidente
Disclosure:
No positions held