New Zealand Energy ("NZEC") is an oil exploration company with its financial headquarters in Vancouver, Canada, and Operations headquarters in New Zealand.
This week Oct 15, 2013, New Zealand Energy (TMX:NZ, OTCBB:NZERF) is in its final stages of acquiring a Strategic Asset called "Waihapa", North Island, New Zealand. This transaction started negotiations in May 2012 and agreement was reached this fall.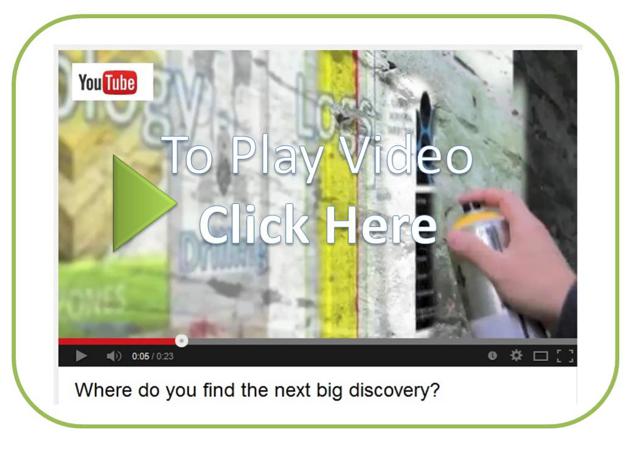 **UPDATE OCT 18, 2013 - GOVERNMENT APPROVES DEAL FOR NZ**
**THE $33.5 MM DEAL WILL BE TRANSACTED OCT 29, 2013**
Its a done deal origin divested of Waihapa today oct 29, 2013
***COMPETITOR TAG OIL TO RAISE $25MM for PLAY on EAST COAST BASIN of New Zealand NOV 13, 2013*** [ Timing of any news release on the Ngapaeruru-1 well could bode well for all other Exploration Permit holders in the same basin, so the timing of this share transaction and new release is very interesting indeed]
Listen to Investor Presentation: Oct 18, 2013

Read Press Release as .pdf
View Presentation as .pdf
(click to listen to a short clip of the company update)

Terms of the original deal have changed, Origin Energy (the "Seller") has asked for a 9% royalty on all future hydrocarbon production (up from the 5% original percentage).
However the price tag was reduced from $42MM to $33.5 MM indicating the "seller" Origin Energy would prefer a long-term royalty over short-term cash up front.
New Zealand Energy Ltd. also negotiated a 'buy back' of up to 4% of the existing 9% royalty at any time, by paying Origin $4.25 million per percentage point, to encourage a fair risk:reward deal for both parties.
THE WAIHAPA DEAL OCT 29, 2013
Waihapa is in the middle of an existing petroleum producing fairway called the 'Taranaki Basin'. It has been a very rewarding oil production basin for decades for technically experienced drilling and production companies.
The $33.5 MM Deal includes:
1) Three Petroleum Mining Licenses of 23,049 acres of permits in the main production fairway of the Taranaki Basin. ("TAWN Licenses")
2)The Waihapa Production Station, a high-capacity (45 mmcf/day, 25,000 bbl/day) full-cycle production oil facility.
3) An extensive network of gathering and sales pipelines that connect their oilfield to existing markets.
(DEAL Overview)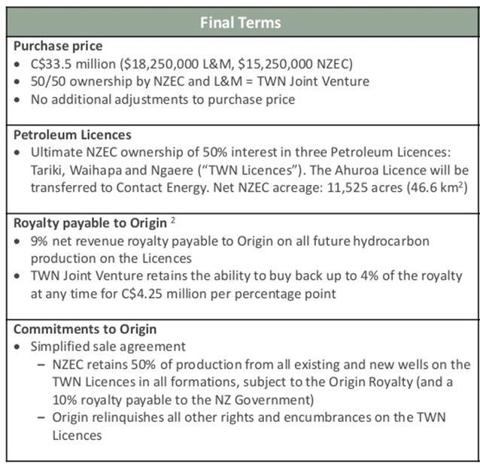 The Property called "Waihapa" was previously sold by SWIFT Energy NZ (of Oklahoma) to Origin Energy (TAWN) NZ. Now after many millions of upgrades the Government of New Zealand is set to approve this transfer between parties as early as this week.

New Zealand Energy Ltd. has Proved and Probable Reserves estimated at 1,852,700 barrels of oil, 1.45 billion cubic feet of natural gas and 50,700 barrels of natural gas liquids,
This equals 2,144,700 barrels of oil equivalent ("boe"), estimated by Deloitte to have a before tax net present value ("NPV") of $62.9 million (assuming a 10% discount )
As of today, NZEC has a market cap of $45,738,414 suggesting this play has significant upside if management can get this land deal done and move forward with its E & P business plan.
The 2P (Proven + Probable) in the ground are said to be $31.4 million that come with Waihapa! So the acquire 1.07MM BOE of Oil in the ground instantly on Oct. 29.
The "SELLER" of Waihapa is actually Origin Energy (Australia) who operates producing assets in New Zealand called ("TAWN") or Origin Energy Resources NZ (TAWN) Limited and is selling their stake in 3 drilling licenses and exploration permits for $33.5MM in cash plus a 9% royalty.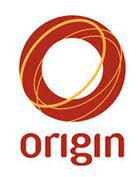 Origin also owns just over 50% of Contact Energy an energy generator and retailer, providing around 25% of New Zealands electricity, natural gas and 44% of LPG Market to around 566,000 customers nationwide. Origin stands to benefit from future liquids production through the TAWN Licenses and Waihapa production station as it is connected directly to Contact Energy for electricity generation from Natural Gas.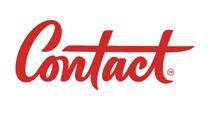 Contact is one of the country's largest NZX listed companies and one of New Zealand's most widely held stocks with around 73,000 shareholders. In October 2004, Origin Energy became Contact's majority shareholder at 53.09%. So Origin earns 9% on the gas that flows through the below cycle and Contact earns from selling it to make Power. The 'grey' portion of the circle below is a pipeline from 'Contact' to 'Stratford', it is already built and installed in ground, but awaiting final tests, inspection and approval.
(The Waihapa Facility being Acquired by NZEC from Origin Energy)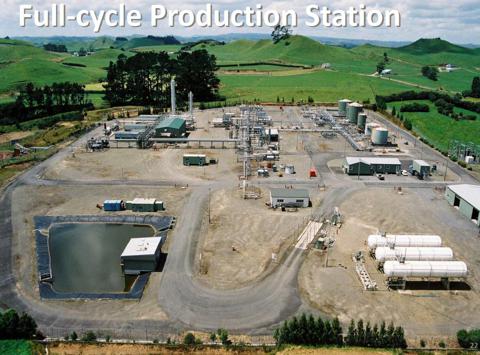 Upper left: Gas Processing from Waihapa wells, (Kapuni potential)
Lower Left: Water handling
Lower Right: LNG, Butane, Propane bullets
Upper Right: Oil handling
BELOW WAIHAPA SHALLOW OIL FORMATIONS: Mt Messenger

(Production so far...)

BELOW WAIHAPA EXIST DEEP OIL FORMATIONS: Tikorangi
(Tikorangi at 3000m depth is under more pressure, and flow rate is higher which can be lucrative during initial production rates.)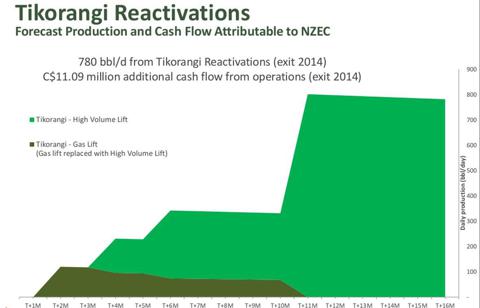 (By Q4 2014 NZ hopes to achieve 2300 BOE/day)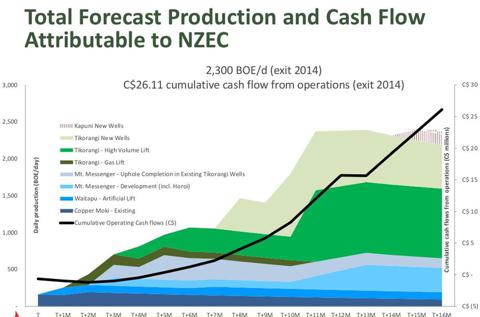 BELOW WAIHAPA EXIST DEEP NGL or GAS FORMATIONS: Kapuni
(Kapuni layer is a Gas formation)

So Waihapa, brings instant cash flow into the company. Instant ability to sell Natural gas and NGL as well as Oil via pipelines. An instant customer (Contact Energy) to buy the Gas, and instant 3rd party partnerships with Origin energy, making this very strategic for all involved. Very experienced people, doing what they know how to do.

In 2006, an exploration well drilled by SWIFT Energy on the land in the photo above located a highly prolific oil discovery in the Taranaki Basin deep in the source rock known as Tikorangi, that rock layer set off a land and exploration permit rush by many new oil companies hoping to get in on the above average oil production that is upto 10X better than elsewhere on the island and is chemically attractive to refineries. Perhaps challenging to drill, tricky to complete, but is well worth the final reward in the end financially.
Around 27 Wells have been drilled on this land since its inception, there are around 6 wells drilled and completed included in the Waihapa permits that are ready to turn-on so to speak, all some wells need is a "gas lift" to energize the oil formations and get them flowing to surface again. At $400K per well, this work will start immediately, in NOVEMBER 2013.
Cash Flow will start immediately into this Debt Free company with just over 121 MM shares, and that is music to investors ears.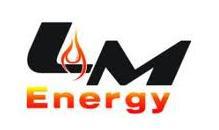 In summer 2013, L & M Energy Ltd. a private company in New Zealand agreed to pay New Zealand Energy Ltd. $18.25 MM for a 50% stake in the Waihapa land and facilities acquisition. This reduced the risk for "NZEC" and added cash to the treasury to help make the deal happen.
The Management of L & M is well connected with New Zealand energy Regulators and the Government so they are very strategic partners to have 'in country' within New Zealand and make an excellent fit going forward as they have deep pockets to carry things forward.
Sept 2013 NZEC announced a Private Placement to raise the last funding needed to execute a post acquisition drilling program and finalize the purchase from Origin Energy.
(NZEC and L&M are 50%/50% on this money maker)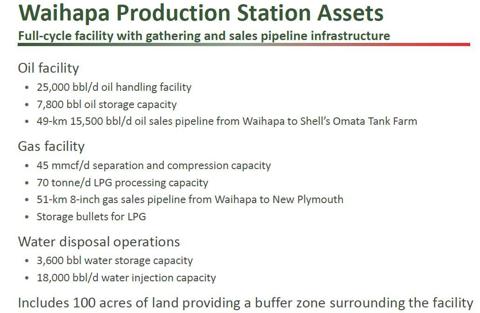 So here we are today, a real "Oil Play" as geologists call it.
A QUICK PRIMER ON OIL EXPLORATION:
There are 5 key attributes that must be present to pitch oil investors on investing in the typical "Play".
These 5 attributes are: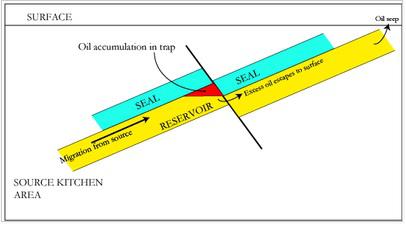 1. Source Rock - When organic-rich rock such oil shale subjected to high pressure and temperature over an extended period of time, hydrocarbons form.
(Sample image not from NZ)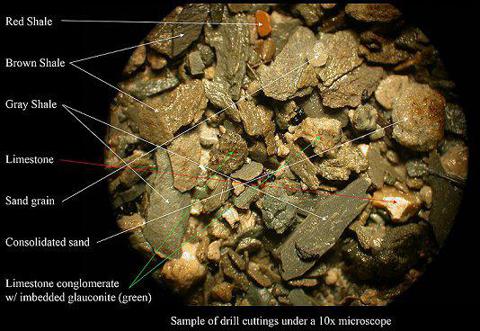 In the Taranaki the NGL or Gas Source rock is Kapuni, and the Oil is Tikorangi, Mount Messenger, and Moki, or Copper Moki. The shallow wells will cost around $400K for Uphole Completions and the deeper wells will be more costly and technically challenging but offer huge rewards in exchange for taking added risk and costs.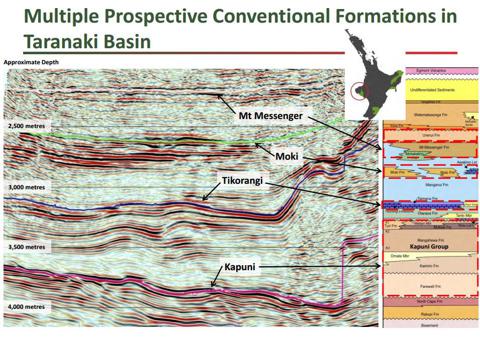 In the East Coast Basin the Source Rock is Whangai, and Waipawa
2. Migration - hydrocarbons are expelled from source rock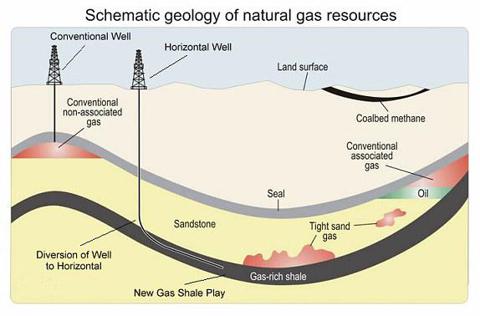 3. Trap - The hydrocarbons are buoyant and have to be trapped within a structural (e.g. Anticline, fault block) or stratigraphic trap.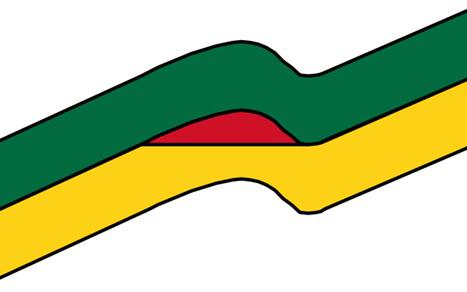 Above: Anticline Trap in RED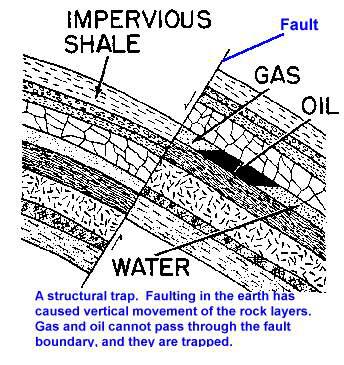 Below :Stratigraphic traps accumulate oil due to changes of rock character rather than faulting or folding of the rock.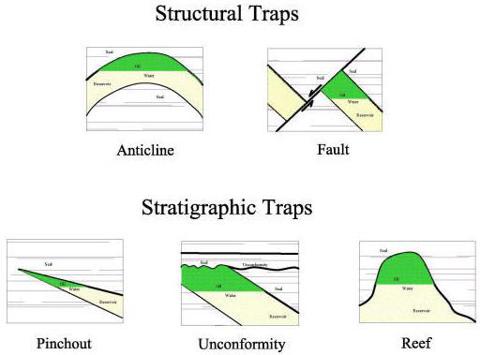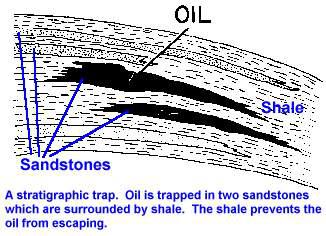 4. Seal or cap rock - The hydrocarbon trap has to be covered by an impermeable rock known as a seal or cap-rock in order to prevent hydrocarbons escaping to the surface,
Teal Area: Seals Oil in Place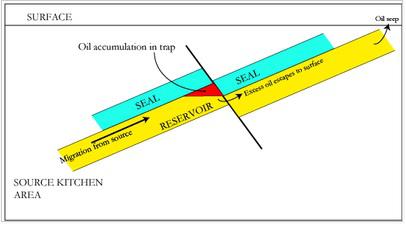 5.Reservoir - The hydrocarbons are contained in a reservoir rock. This is commonly a porous sandstone or limestone. See the `Consolidated rocks`below.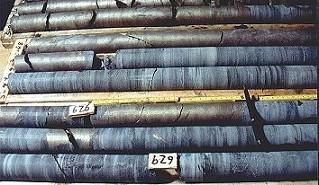 Rock Sequences are dates and organized by GEOLOGIC Time.
Names are unique to Time Period and Sequence.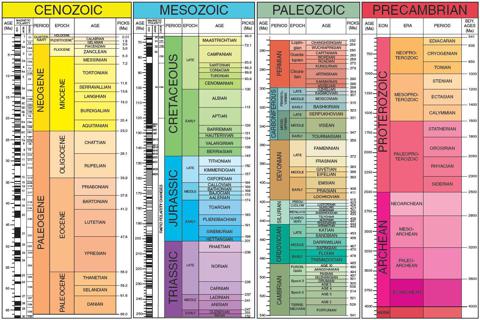 The search for Oil Reservoir Rocks w/ POROSITY/PERMEABILITY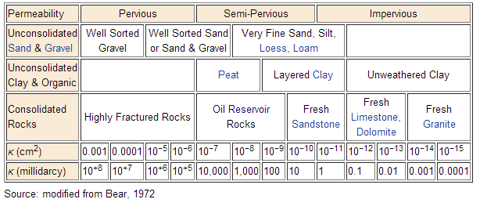 The TARANAKI BASIN has all of the above key attributes plus an added bonus of containing high quality oil with an API rating that pays upto $20/Barrel above spot oil prices.
(List of risks from a geological perspective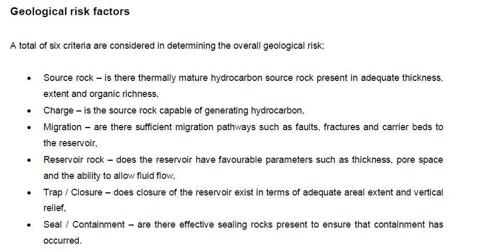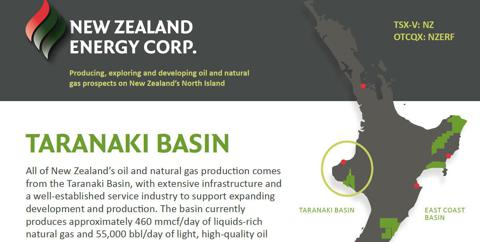 I will leave the EAST COAST BASIN opportunity for another day as it is an entire blog in itself but it may heat up very soon! If you are curious read more about it here.
Tag Oil's 1st Well Here and more on east coast here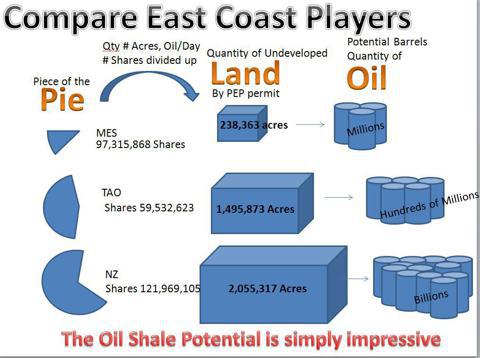 *Disclaimer slide data has not been verified* ROI is not guaranteed*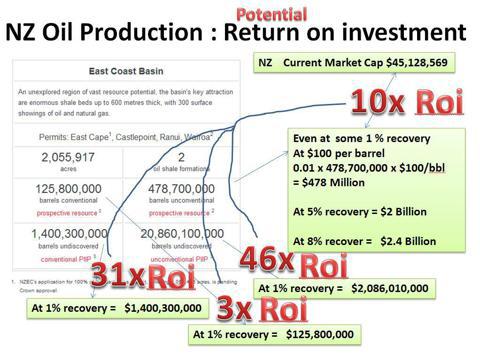 (First ever well by TAG is yet to release results Ngapaeruru-1)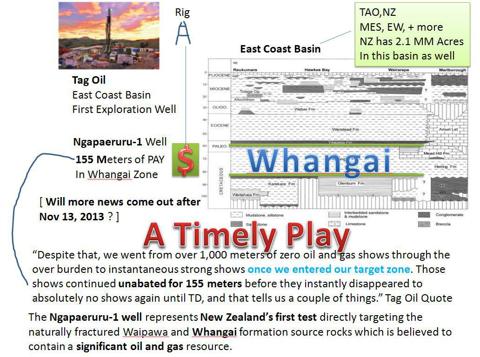 Oil collects in the pores within the rocks and open fractures within non-porous rocks can store substantial oil.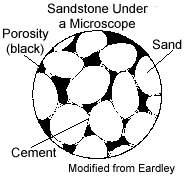 Due a unique volcano (Mt. Taranaki) on the north island, there are large fractures in the oil bearing rocks for oil to collect in. Rocks like the Tikorangi are folded over and basins are under alot of pressure, creating excellent oil traps and drilling targets which can produce very decent numbers like below.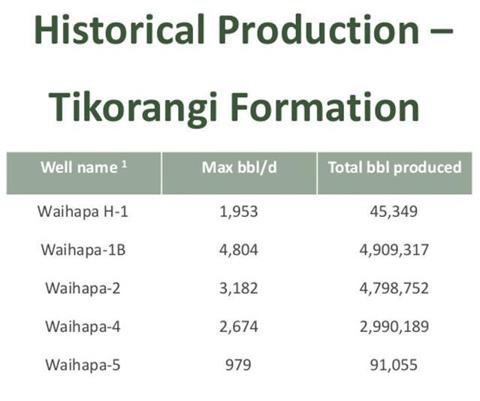 This Oil shows up as a "Bright Spot" (Fig 2.) on seismic. As sound is shot into the ground and the wave that reflects back to surface is at varied angles and oil bearing rock creates an amplitude or signature indicating oil.
Part of the Waihapa deal includes 532 km of very expensive 3D Seismic data that has been re-processed using very advanced computers and new interpretation techniques called PSTM or Post-Stack Time Migration.
This PSTM process cleans up any bad data from seismic and really improves accuracy so that companies avoid costly dry holes. Read slide 30-31 here and notice the cleaner image on slide 31 versus the blurry image on slide 30. The better the image, the more accurate and exact the Mathematics when calculating exact drilling targets. This is Game Changing technology and cannot be understated. To an exploration department this data creates high probability 'plays'.
(PSTM example of 3D Seismic Data)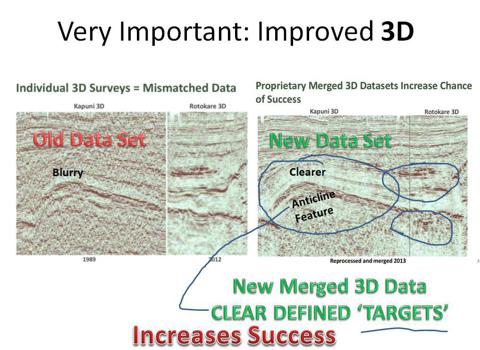 Remember the Trap from above (red area below).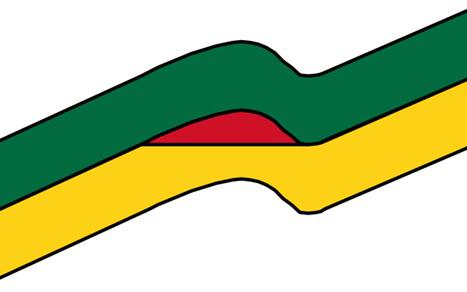 Fig 1. Seismic Waves

Fig 2. Bright Spot indicating oil or gas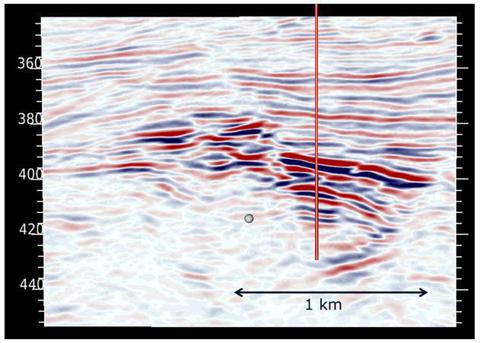 If the targeted rock layer the above attributes and has sufficient Porosity (to fill with Oil) and Permeability (to flow Oil) then the reservoir is a top candidate for Drilling a future well.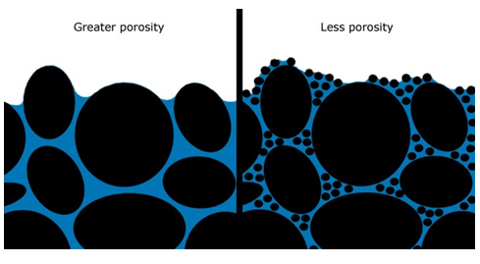 Unlike existing majors with reserve to draw upon in tough times, Junior oil companies need a sizeable land position to grow from as they grow through application of drilling pre-determined oil targets.
Prior wells in WAIHAPA had phenomenal initial production (NYSE:IP) rates above 4000 bbls/day, then declined over months due to various conditions which engineers are trying to improve and solve with new technology.
(Wells are very close to Production station for rapid tie-in to sales)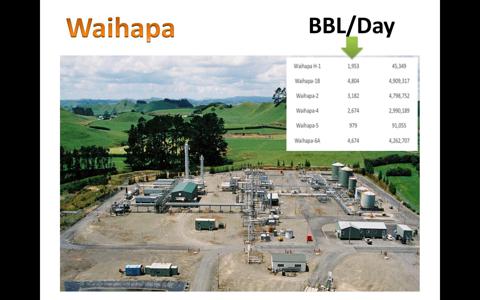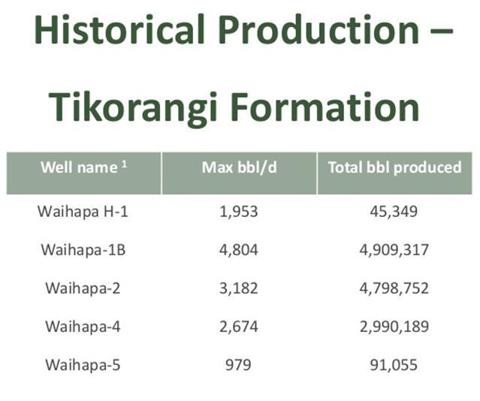 "With more than 200,000 net acres in the Taranaki Basin and 2.1 million net acres in the East Coast Basin, including permits pending, NZEC holds the largest onshore exploration portfolio in the north island, from which to unlock the potential of New Zealand's petroleum resources" - New Zealand Energy.
Notice the Thickness of the Whangai Shale below!
NZ has the largest acreage of this basin over 2.1 Million Acres!.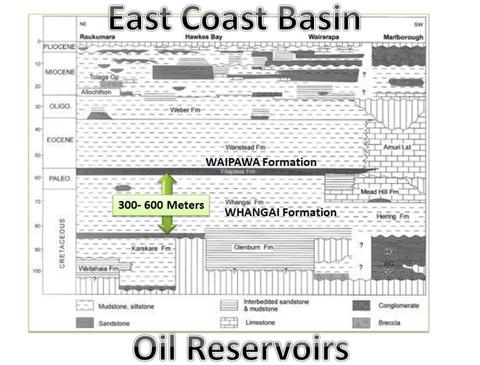 The thickness of the Shales in North Dakota are less thick than New Zealand's East Coast Basin shales which can be upto 600m. Thickness is used to calculate the Barrels in the ground (reserves) and future production and cash flow comes from these reserves.
With more Drilling, will come MORE DATA between new wells, which helps further define these basins, meaning things can get better and better as more wells are drilled.
Exactly what happened in North Dakota in 2006, things went from excellent to fantastic to unbelievable in 5 years time and it is still impressing scientists.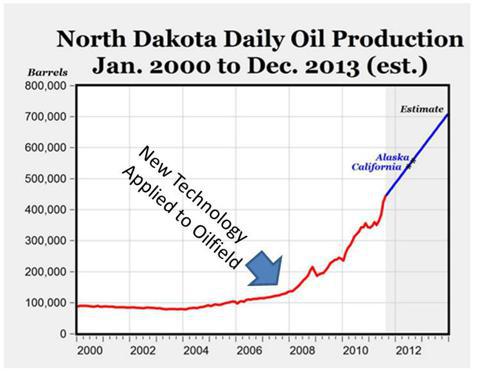 (image not from NZ, sample of STRUCTURAL Data)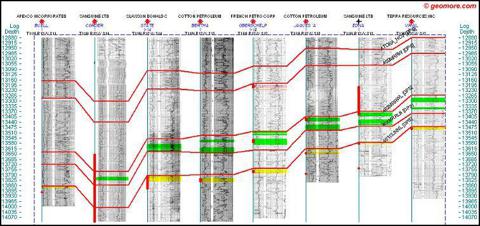 (Many companies are betting on a repeat of North Dakota in East Coast Basin, NZ)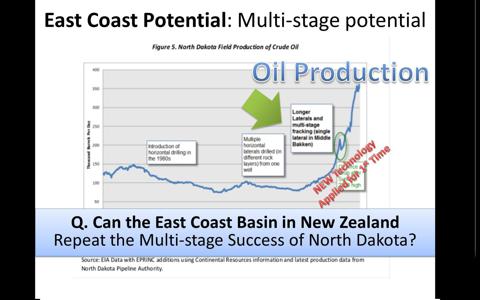 (Early indications and reading between the lines on news releases its looks like the East Coast Basin is just full of Oil)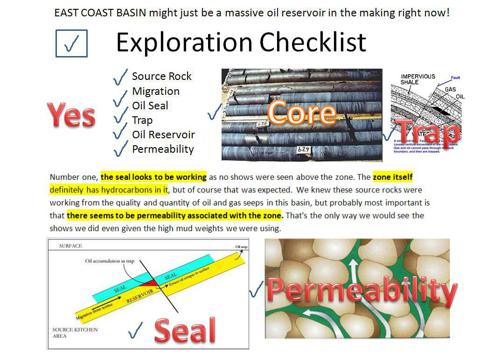 Years of preparation from geo-technical and geophysical companies like Ian R Brown Associates Limited (which was acquired by NZEC) is needed to set-up a stellar opportunity like this one.
The Management Team at NZEC is very seasoned an has pulled together the necessary expertise to translate this play quickly into an oil producing company with lots of future growth prospects. All they needed is Waihapa, and they are now in the game.
Once the final stages of this financing and purchase of Waihapa are complete by month end this play shifts into high gear.
Quick Company Financial History (Excluding drilling activity)
April 2010 - Company founded as East Coast Energy Ventures Ltd. changed name to New Zealand Energy Ltd in December 2010.
January 2011 - Private placement of 28 million shares at $0.25 per share raises $7.0 million.
February 2011 - Private placement of 6.6 million shares at $0.75 per share raises net proceeds of $5.3 million.
March 2011 - Acquire Ian R Brown Associates Limited in exchange for Shares of NZ, Ian R Brown Associates is a highly respected oil and gas consulting firm. IRBA's experienced technical team joins NZEC.
August 3, 2011 - Initial public offering completed for net proceeds of $20 million ($21.9M with overallotment). Company begins trading on TSX Venture exchange under symbol NZ.
March 2012 - NZEC announces $63.5 million bought deal financing to fund accelerated exploration program.
May 2012 - NZEC enters into binding agreement with Origin Energy to acquire upstream and midstream assets in the Taranaki Basin, significantly increasing the Company's New Zealand assets from both an exploration and infrastructure standpoint.
OCT 2013 - Strategic Acquisition with Origin Energy Resources NZ (TAWN) Limited, a wholly-owned subsidiary of Origin Energy Limited (ASX: ORG), to acquire strategic upstream and midstream assets in the Taranaki Basin.
(Things should heat up for NZ the week of Oct 29, 2013)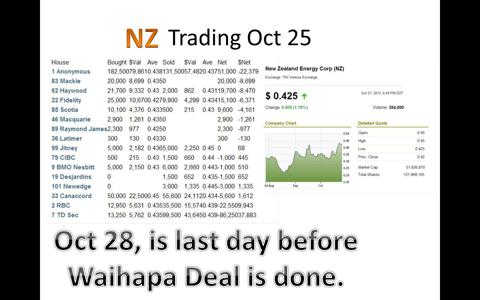 After the Acquisition: Accretive to Reserves, Production and Cash Flow
Additional 1.07 million boe 2P reserves with estimated before tax NPV (10%) of $31.4 million ($13.84/boe acquisition cost)
Forecast production of 2,300 boe/day exit 2014 (81% oil) 3
Forecast cash flow from operations of $26.1 million from early Q4-2013 closing to exit 2014.
(NZEC)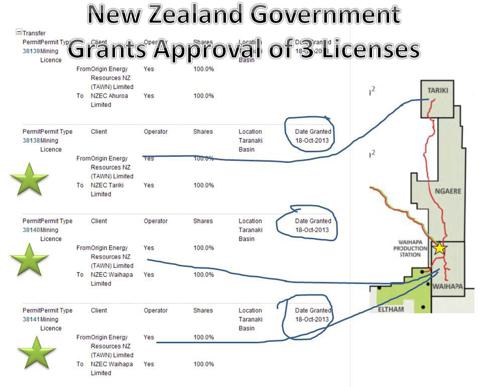 Now the fun and excitement for shareholders is set to begin.
I wish all investors success, and hope Q4 is the season for it.
Interesting Side Note: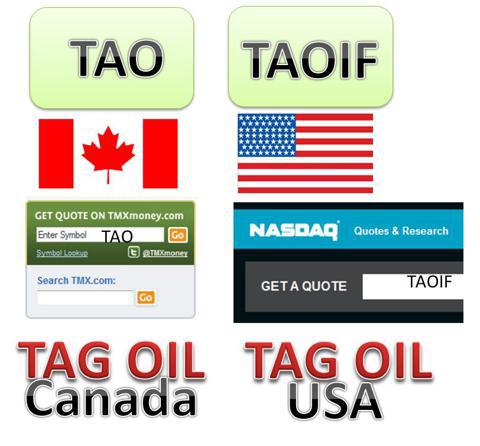 Tag Oil Ltd. jumped 7.95% Oct 17 on low volume, which may mean Cardiff-3 well in the Taranaki Basin is close to Total Depth. If they see positive results and decide to complete the well, a news release could be expected soon with Initial Production numbers.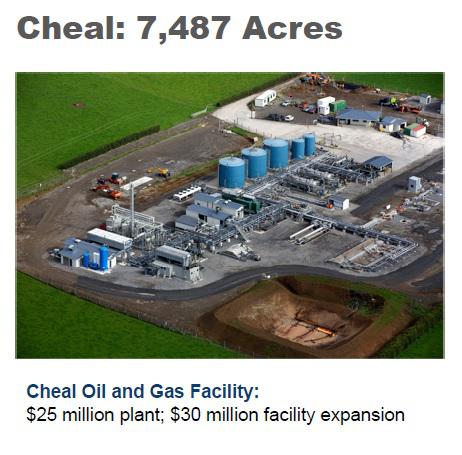 (Tag Oil bought Orient Petroleum off ECA in 2009 to buy in to existing east coast basin exploration permits)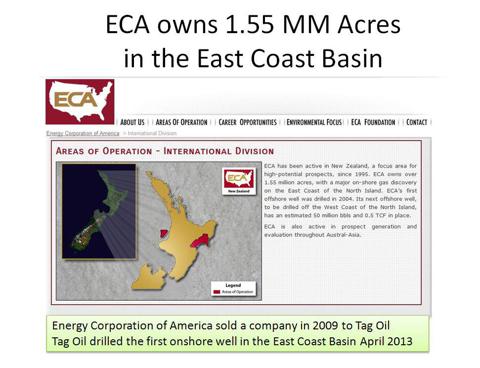 Tag Oil also holds permits on the "East Coast Basin" and they have some farm-out agreements with other companies. Some smaller players have permits nearby Tag Oil and NZ like this company and will benefit by owning similar geology nearby.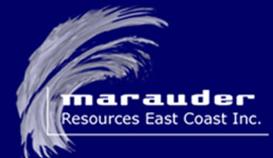 Endeavor Energy NZ (In canada its called Marauder Resources East Coast Inc.) is not drilling in the Taranaki, but does have a 50% interest near Tag Oil's east coast permit in the EAST COAST BASIN of new zealand.
The Ngapaeruru-1 well is awaiting public release of initial results from drilling last April. MES popped 28.97% today Oct 17, 2013 on no news, indicating perhaps that the buying activity in TAG OIL prompted speculation in Marauder.
(Permit 38156 covers around 30 km squared)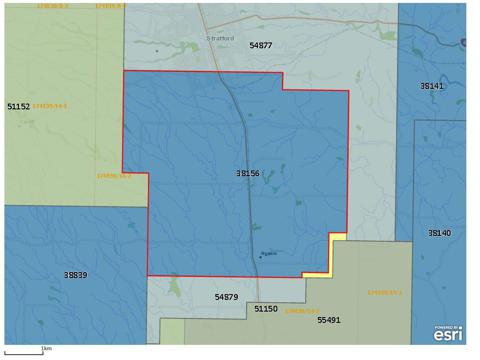 In a way, all these companies compete with each other. Last week, a bit of a shuffle occured when a CFO left New Zealand Energy for Tag Oil. Origin Energy owns Contact Energy NZ which competes with Tag Oil in the sale of liquids for Power Generation. If he jumped ship because of "Good Feelings" on the Assets in the EAST COAST BASIN, then that move might make sense in the near future.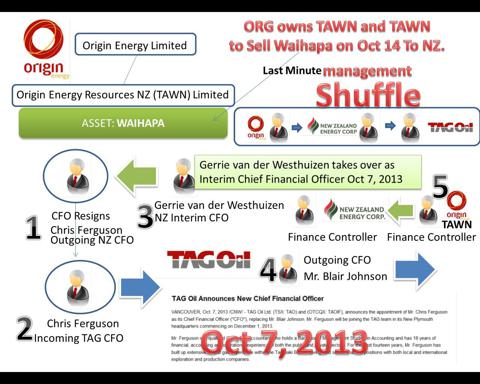 However NZEC or New Zealand Energy has over 2 Million acres in the same Basin, so its a very interesting situation.
There really are enough onshore and offshore opportunities for all players which will keep these Basins very exciting for many years to come.
If the EAST COAST BASIN hits pay dirt, all existing ACRES and all PEP PERMITS held by all competitors will RISE in $ Value instantly, regardless of who makes the discovery.
(November event possibilities)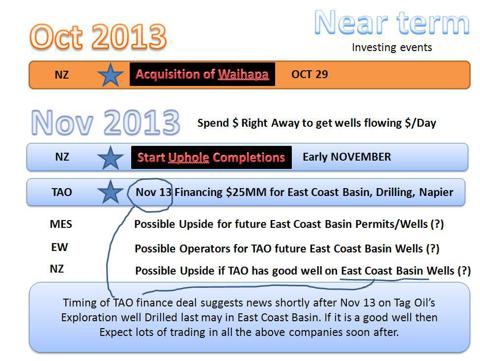 So a good day for TAG OIL in the EAST COAST BASIN or TARANAKI BASIN is still a good day for New Zealand Energy, and all other EXPLORATION PERMIT holders in these emerging Oil and Gas Basins.
(As the plays develop expect lots of de-risking plays with Farm-outs and Farm-ins)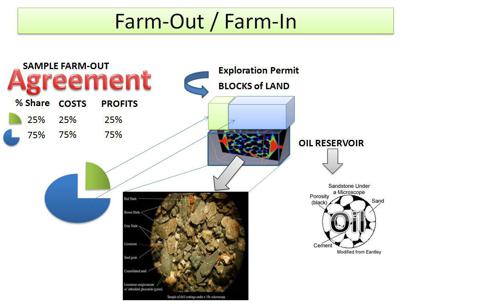 New entrants to plays will pay $$$ to buy into existing PERMITS or DRILLING programs, and earn a % for dollars spent, work performed or both.
Here is an example of East West Petroleum and their 30%-50% stake and interest in each TAG Oil well in the Taranaki Basin.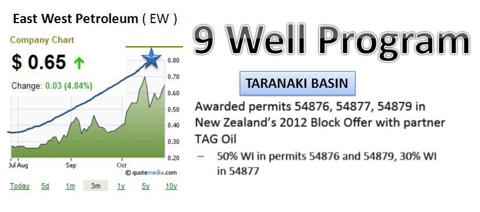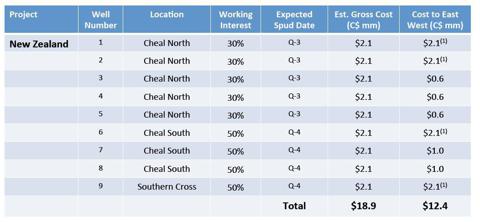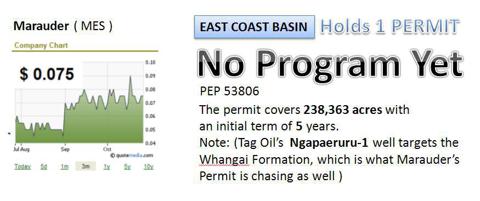 (Other Partnerships on East Coast are XOP and MES)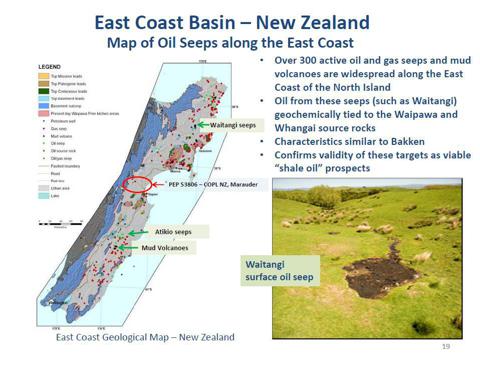 (XOP is planning 2 wells with MES as Operator)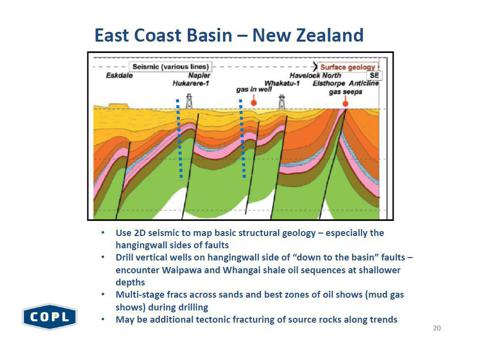 (First Exploration Well by Tag Oil was Drilled near Dannevirke)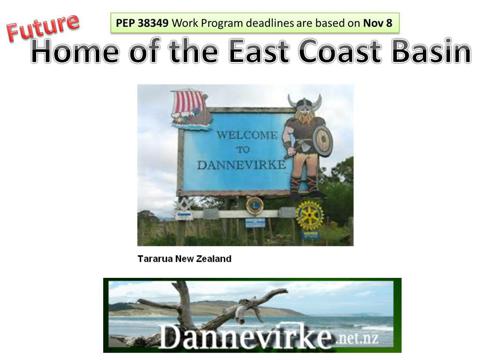 By 2014, expect a dozen or more companies to be going into the new zealand basins a little bit at a time using this partner farm-in method.
( EXPLORATION STOCK are 'Traded' and not always buy/hold types )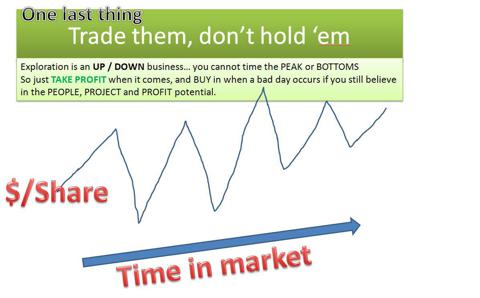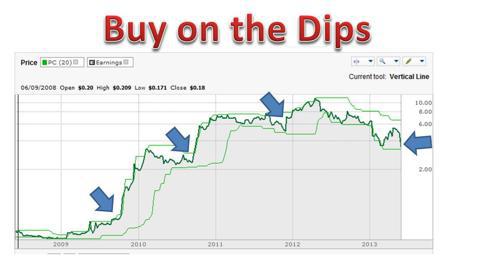 One last thing, Exploration is dealing with "unknown unknowns", so anything good, bad, or ugly can and does happen.
Know your tolerance for risk of loss, and gather good advice from others before you jump in.
This is not investment advice, this is sharing information about attractive opportunities that have good prospects, however risk and loss of capital are always present in these type of plays.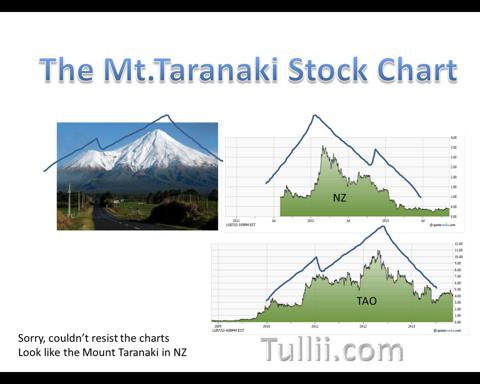 There are many other players moving in: Listed small and mid-cap players active in Taranaki include
AWE (ASX:AWE),
Beach Energy (ASX:BPT),
Cue Energy (ASX:CUE),
East West Petroleum (TSX-V:EW),
Horizon Oil (ASX:HZN),
Kea Petroleum (AIM:KEA),
Loyz Energy (SGX:LOYZ),
New Zealand Energy Corp (TSX-V:NZ),
New Zealand Oil and Gas (NZX:NZO),
Octanex (ASX:OXX),
Pan Pacific Petroleum (ASX:PPP)
TAG Oil (TSX:TAO )

Disclosure: I have no positions in any stocks mentioned, but may initiate a long position in TAOIF, NZERF, MESNF, EWPMF, VELXF over the next 72 hours.