A little commentary, "The Day I Sold Everything," that I wrote garnered over 700 comments, and has kept me busy answering a few of them when possible. Whew. So that's the context for the following notes.
DOW 30 As Of Last Friday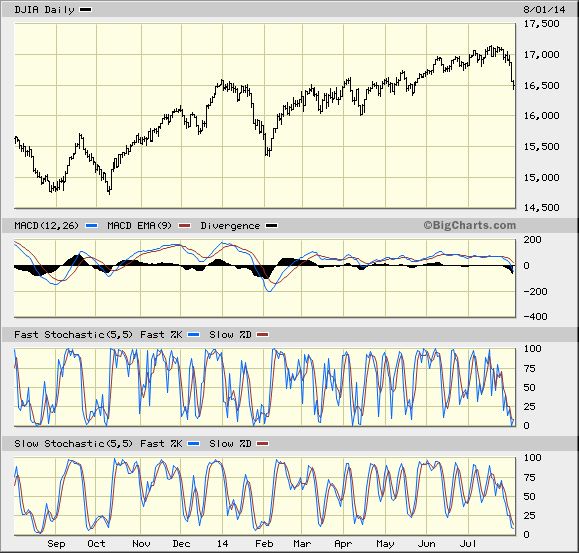 What Just Happened?
(As always, I rely on BigCharts.com to provide charts for 99% of my looks at price action.)
In the above chart we see one year's prices culminating at the close on Friday, August 1.
Those who scorn trend lines and such, skip ahead. For the intellectually open minded (jk), here is the same chart with a rising trend line supporting prices, and parallel overhead resistance line. In this case the overhead seems of little value right now.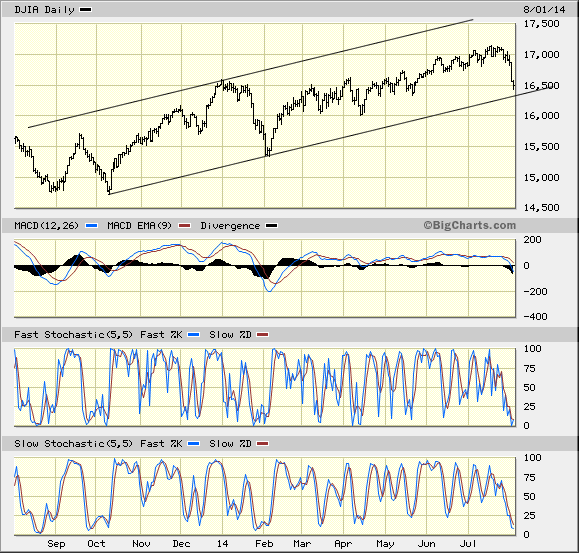 But That Support Line Has Meaning
The relevant point here is that a few days of down-hard price action could mean absolutely nothing in this bull market. It appears on this chart that the trend line held in the face of the week long onslaught. Remaining a virginal trendline after such a persistent assault tells a tale of technical virtue, if nothing else. And technical virginity counts for something.
If prices consolidate and move back up into the channel, which is a real possibility, the position of "buy and hold" would be totally validated for long term investors. If a penetration of the line succeeds, then so much for resistance.
The Trend May Not Be My Friend
Traders of various types may have done well or lost, but as of today the year long trend remains intact. It should be noted that Friday was really a day between days, in a sense. After such a hard down draft on Thursday, a bouncy Friday with the market down but withso many issues popping back up? This seems like a reasonable and normal reaction.
I actually consider Friday a bounce day.
Right now some readers are jumping up and down saying that down 70 (-70) is hardly a bounce. They have a point. But consider this: the low for the day was about 60 points below the close, so from that level we did see a bounce. And it was a bounce that, as I read it, kept us in the uptrend channel.
Looking only at closing prices can be deceptive.
Ok, BigMouth, How'd You Do?
For my own records only, and certainly in no way trying to recommend anything, I want to record what I sold, what the price was and where that is at the close Friday.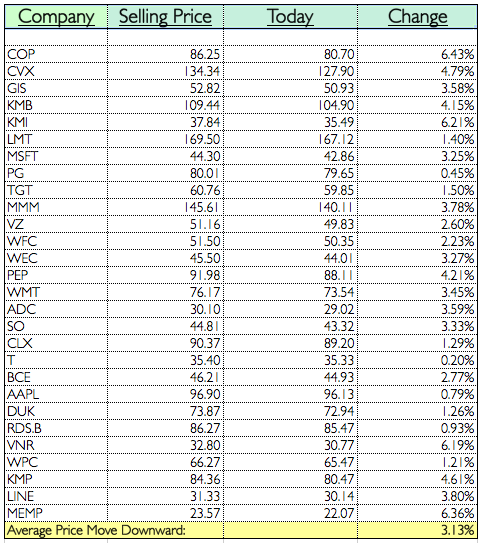 I'm doing this to quell my troubled psyche. I'm very sensitive and the emotional baggage from the commentator's pummeling is hard to handle.
Well, not really.
(It is a curious thing how a mere difference of opinion arouses such anguish and angst among some folks. May I remind you if you simply can't handle my stupidity, I am the guy that buys and sells from you when you are right!)
Actually, I enjoy a cordial give and take. Even those who find me a fool had many interesting and useful ideas to share. But I digress. So, anyway, there is the math, best I can assemble it from the debris I call my records.
Having been accused of gloating over being "right" I would like to point out to anyone suddenly looking for their brass knuckles, it seems nothing moved against me. Some solace and salve in a rough and tumble game of SeekingAlpha! (I expect Monday to take this moment of hideously tasteless gloating from me with a vengeance. Please note, 3% right is about my college record also.)
My Leftovers At The Open Friday, August 1.
My current inventory, in my tax deferred accounts, not including the REIT account mentioned in other articles looks like this. (These are approximate and aggregated over several key accounts.)
T - 3% of account balances - Note that some shares were sold. Dividend Investor gives T a three star out of Five rating.
SO - 5% of account balances - Note that some shares were sold, and yes I was overweight for my rules. Dividend Investor gives SO a four out of five star rating.
BP - 2.5% - The trade that never went off. Dividend Investor gives BP a no star out of five star rating.
BOUGHT ON FRIDAY
Just to confound the critics I bought some shares late on Friday. These are what I call Pilot Positions. I liked the way the charts moved on these, nothing more than that, and I did get back in to them a tiny amount below my escape price.
Here is what I added:
CVX 1.25% - Why? Yielding 3.35% and a PE of 12.11 the price action shows no confirmed support but price appears to be reacting emotionally not on the business case. Pilot position is establish at a comfortable level, and leaves open further accumulation. Dividend Investor gives CVX a four star out of five star rating.
COP - 1.25% - Much the same reasons, except 3.62% yield and 10.86 PE. Same strategy. Dividend Investor gives COP a no star out of five star rating.
XOM - 1.25% - 2.79% yield PE 12.5 - Same strategy. Dividend Investor gives XOM a five star out of five star rating.
O - 1.25% - The blue chip of REITs. 5.1% yield and a great operating history. Further declines mean more purchases. It should be noted that the REIT account balance declined .10 percent on Friday as compared to .42 for the Dow. Dividend Investor gives O a four star out of five star rating.
The Devil Is In The Punctuation
If you are awaiting my next illogical, idiotic, foolish, or tragic move, let me telegraph you the plan!
My intent is to gradually, probably over three steps, re-enter the market. The general idea would be to purchase shares upon 10%, 20% and 30% re-tracements from the price at which I sold.
This depends entirely what the tea leaves of the charts tell me is happening with momentum, trends and accumulation/distribution patterns.
For the record, here is the first set of target prices.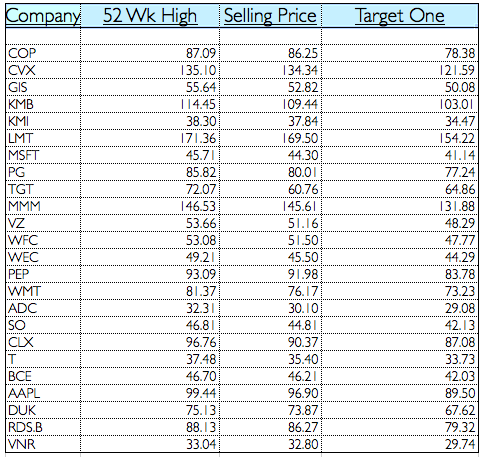 For those who subscribed to my Instablog, thanks. No need to stick around unless you have a little fun with my diary. If the SA editors elect to punish the public and publish this little missive, I'll be finished wiping the pie off my face and ready for the next round soon.
Follow your inner voice. But don't talk to it out loud.
Good hunting, all.