The continuing story of The Day I Sold Everything - An episodic journey, the context to these remarks.
THE OLD CURIOSITY SHOP - Where they sell companies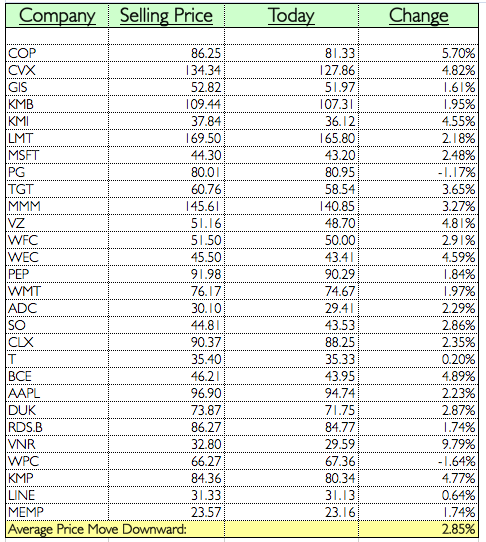 This is the list of stocks I sold in a bundle on the morning of July, 25. Last week the average decline in price of the bundle was 3.15. This week, after bouncing around and rebounding nicely on Friday, the average was still down, admittedly only 2.85%.
It should be noted that two of my pretties have moved against me. WPC is up from my sell point. So is PG.
And I am looking to more of the same. (Time permitting I'll go into some individual issues.)
GREAT EXPECTATIONS
Looking to the week ahead, I am mildly expecting a rebound in prices. Here is why.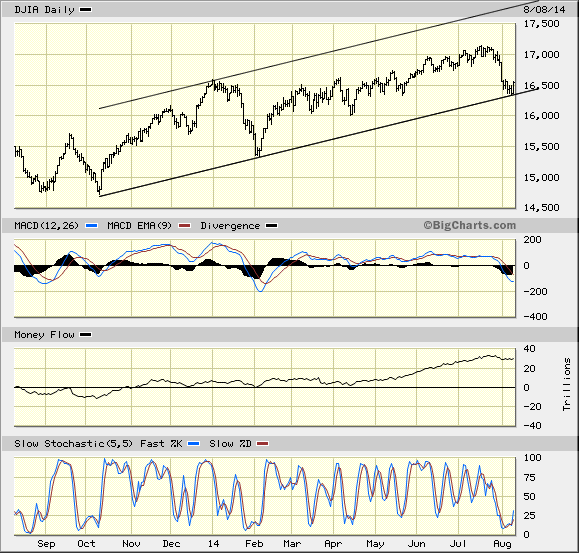 The uptrend line remains intact. Prices for the DOW 30 have bounced up from it. The Slow Stochastic shows plenty of room to bounce upwards with upward moving prices and the MACD is in the oversold terrain. While anything can happen, I am mentally prepared for a strong week.
There is a reverse case. Should the trend line be decisively broken, I'd expect to see another flagstaff-like decline, abrupt and of about equal height.
OLIVE OR TWIST
Is that a martini joke or a Dickens joke?
Anyway, the Dow Jones Utilities are bringing a little more drama, a twist if you will. See this SA post.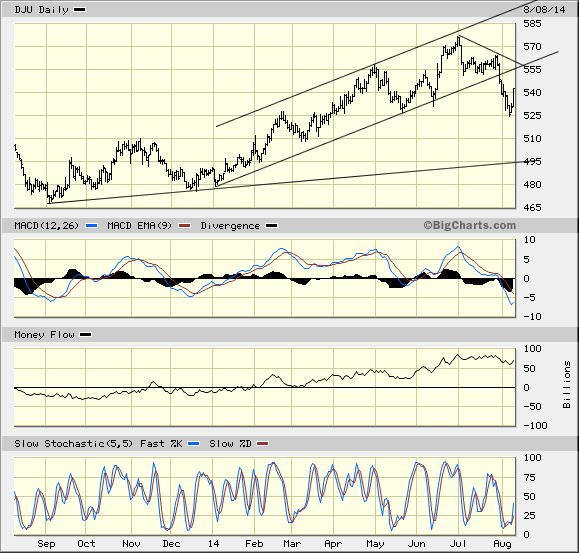 The year's uptrend seems to have been broken, in classic form. Break down through the line, snap back to the line - perhaps - as yet incomplete, but a snap back no less, and then?
Some utilities seem well positioned, others seem more vulnerable. I'll leave that research to you, but the headlines are not conclusive for the industry as a whole.
GREAT EXPECTATIONS
Let's peek briefly at one of the more interesting, or should I say seductive and dangerous, little companies in the panoply of little stars.
SeaDrill (NYSE:SDRL)
A tempting morsel. Look at those dividends. Look at that chart. Look at those news items.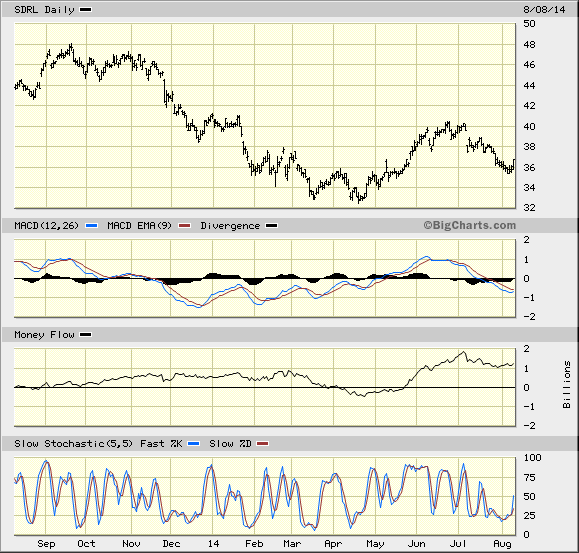 I like the looks of that one. But parsing the news? Trickier.

Who among us is so brave or foolish?
AN OLD CURIOUSITY SHOP
Have look at the sheer contrariness of stock investing. A great company. Walgreens. WAG.
But what a wild ride.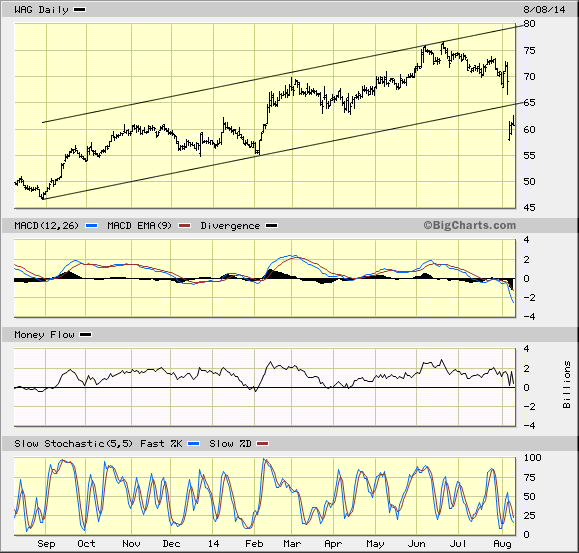 There is a shattered trend if there ever was one, no? I shall not speculate on the likelihood of recovery, the wisdom of grabbing it low, or the view of the cautious to stay away. I may nibble, but a fool I am likely to be.
WAG serves as a cautionary tale on two points. First, that a company with this positive a track record, making what looks like a solid acquisition, can suffer in the marketplace awakens one to the power of the bear. A very good article appeared making the case for WG on SA here.
The second point of illustration applies to the whole market in general, but is basically the same thing. Markets can act irrationally. On Tuesday the company is worth $72 and on Wednesday its worth $59.
BLEAK HOUSE
Six months of gains, gone in a flash. A matter of days.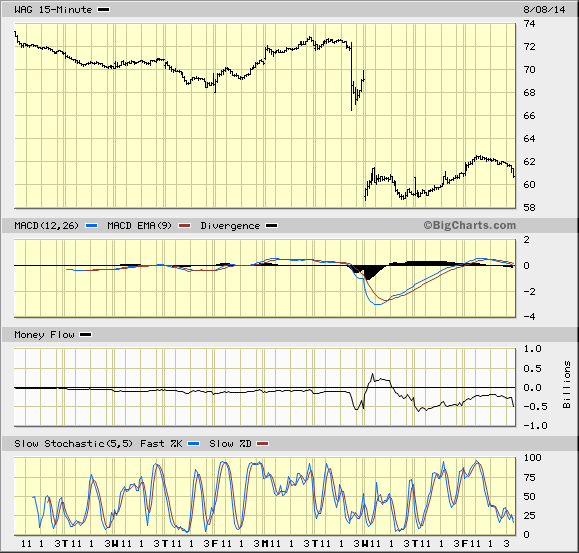 I'll leave that chart with this thought. I may be amiss in my decisions, but Ms. Market can be mercurial, and this chart shows what can happen. Imagine this going on for months.
This is why I get overly cautious. Just remember that the losses of 1929-1933 were not just abstractions. They soured a generation or two on the entire idea of stock investing. And lack of buyers is what lead to the long, long recovery time when you look at the averages. And that crash was the precursor to a great depression, a monetary and social crisis, that led to the worst world war in human history.
HARD TIMES
Look at the news of the day. (Good SA article here.) Monetary uncertainty, vast derivatives, all currencies fiat, peak oil, global warming and cooling all at once, religious wars starting to rage, a leaderless western world, and belligerent Chinese and Russian empires stretching and rumbling, and getting themselves aligned.
And to top it all off, the Roulette Wheel of the Fed is spinning. Where will that stop? (Good SA article here.)
Sorry, Charlie, but anyone not worried about the world and their money is asleep.
Disclosure: The author is long WAG.
Additional disclosure: I'm dabbling as I have mentioned. SDRL is in my sights and may be targeted Monday. Others depending on action. You saw my favorites list. Any may be purchased.