Novavax (NASDAQ:NVAX) Analyst Day scheduled for September 24th may have indeed become the "Explosive Biotech Calendar Catalyst Play" I referred to in my first article on the subject published on August 13th at 6:42 PM PST. A quick look at the chart below will show you that the stock closed at $2.37 that day and has risen 60 cents in five trading days or 25.3%. A small amount of profit taking occurred within the last trading session.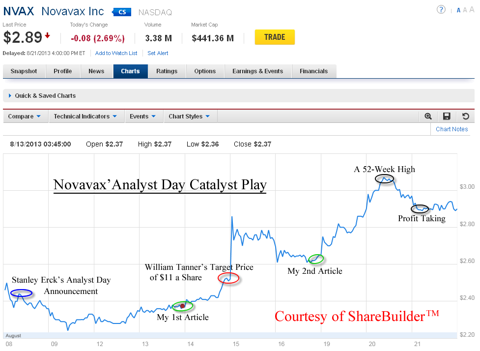 President and CEO Stanley Erck first mentioned this unique and to be annualized event on August 8th. It came within a 2nd quarter conference call and by the mere fact that Mr. Erck repeatedly referenced it and analysts on hand seemed to carefully dance around it, long suffering Novavax shareholders have since glommed onto it as a profound day of unbridled possibility.
What Could It Be
When I first wrote about this day, I mentioned three distinct possibilities regarding its meaning, all of which I believe hold equal merit today.
It's a magic trick - nothing more than a distraction from a very bad financial report.
It's a formality - a day for bringing together drivers in the financial community to focus on corporate accomplishments and a vision for the future.
It's a launch pad - a stage designed to showcase something special. Why gather together top analysts from major financial firms just to rehash already known accomplishments and issues?
If it's nothing more than a magic trick then Mr. Erck has already accomplished his task and should take his place amongst the best prestidigitators in the magician's hall of fame. A stock that was wobbling badly and heading for its usual retrenchment to malaise has since shot up briskly breaching its 52-week high at $3.09 a share.
Equally possible is that it's business as usual with a black tie flare. Talking about all the good things swirling around Novavax in the past year is better done away from the glaring, dual spot lights of doubled expenses and halved revenues and instead in the warmth of Wall Street's pandering acceptance.
This second possibility holds little interest for me. The first one however does. If Erck conjured this event up to divert our attention from dwindling cash flows this will no doubt become a tactic other firms will use in similar situations if for no other reason than that it worked so beautifully here. We all admire people who are clever and this would have been shrewd indeed. Not because there haven't been other "Analyst Days" - I'm sure there have, but because it would have been timed to distract.
The Announcing of Major Events Through Form 8-K
The real focus of our attention however, as hopeful investors, is that this is a showcase for something big. In that first article I mentioned several possibilities including; fast track status for RSV-F; a significantly larger offer of support by either BARDA or PATH; or perhaps a partnership.
In today's article, I want to concentrate on this last notion because I've been doing some digging and scrutinizing that has me thinking this is the most viable of all the dream scenarios.
The U.S. Securities and Exchange Commission issues form 8-k to public companies for the expressed purpose of announcing major events that shareholders should know about. Known as the "current report" it must be filed within four business days of the occurrence of any material event. The list of "events" is long and contains 31 specific items. The first of which is as follows.
Item 1.01 Entry into a Material Definitive Agreement
Now, if Novavax were to have attained fast-track status for RSV in the elderly which remains an open possibility, they would have had to report such an event already unless they had received notice from the FDA that a decision would be handed down on say, Monday, September 23rd a day in advance of their Analyst Day.
Were this to be the case and the decision to be a rejection, we would have to be especially forgiving of Mr. Erck because he might be just as surprised as we would be if no surprise were on offer. The same would be true for either a BARDA or PATH commitment to enhanced pipeline support.
Could Novavax Be Soliciting A Partnership Or Buyout Through Lazard Capital Management?
It is interesting that William Tanner, senior biotech analyst for Lazard Capital Markets reiterated his buy rating, praised the virtues of Novavax' RSV-F vaccine and raised the target price on Novavax' shares to $11 less than 24 hours after Stanley Erck spoke at Wedbush. Amusing not because someone in power finally caught on to what Novavax' shareholders already know, but interesting because Lazard Capital Markets is a biotechnology deal broker in New York City.
I visited their website found here and discovered two interesting items for your consideration. Under the heading, "Services" within the "About LCM" section we find these words.
With origins dating back to 1848, the firm provides advice on mergers and acquisitions, restructuring and capital raising, as well as asset management services, to corporations, partnerships, institutions, governments and individuals.
Of course the words "advice on mergers and acquisitions" piqued my interest as it was at the close of his Wedbush presentation that Stanley Erck for the first time in my hearing addressed the issue directly.
Obviously this is a global concern (RSV-F). We have three different large market opportunities (Europe, U.S. Rest of World). We have taken the position that we want to advance this as far as we can go on both non-dilutive financing and investor capital. We think it's really important to advance the program on a time line that we control and plus keep the economics for as long as possible.
So, ultimately we'll partner with somebody whether it's a license agreement, whether it's a marketing agreement, and we keep certain territories. I don't know yet. But we're going to keep it for a long time.
Now, if you're going to seek a partner or solicit a buyout the last thing you want to do is say that this is your goal - see sorry Amarin (NASDAQ:AMRN) management for a perfect example of this. Rather, you want to do what Erck just did, state that the possibility is out there but you're perfectly content to continue on your own.
And why shouldn't they be? Novavax is well funded through a $50M ATM agreement, a $179M BARDA contract and a partnership with PATH that reimburses their expenses for RSV phase trials in women of childbearing age. Did I mention that they have $40M in cash on hand which should provide a nice runway into 2015?
The second thing that interested me on the Lazard website was the credentials of Mr. Tanner found here. Clearly, William Tanner knows a thing or two about biotechnology but especially about immunology.
Bill received a PhD from Texas A&M University in Physiology and was a postdoctoral fellow at Monsanto in the Molecular Genetics and Mammalian Biology Group. Prior to starting his Wall Street career, he was a research associate in the Department of Pathology and Immunology in the Division of Immunology at the Washington University School of Medicine in St. Louis. He is the recipient of a National Research Service Award from the NIH. He also received an MBA from the Olin School of Business at Washington University.
If William Tanner has been called upon by Stanley Erck to ferret out interested partners, he will have no trouble conveying the tangible qualities of Novavax blockbuster RSV-F vaccine.
It's also entirely possible, that Tanner through Erck has been commissioned to find a buyer in lieu of a partnership agreement to be signed on September 23rd. In the absence of a buyout, the partnership agreement would be signed and announced on Analyst Day, September 24th.
Does this sound a bit like wishful thinking? Perhaps. But remember the Medimmune cast of characters that now comprise a large portion of Novavax' staff that I alluded to in my last article? They not only provide expertise on RSV visa-vie their creation of Synagis, but they also served through one of the epic buyouts in the history of biotechnology, Astrazeneca's $16B acquisition of Medimmune in 2007.
Granted, the companies are considerably different in their respective evolutions but their product offerings are remarkably the same.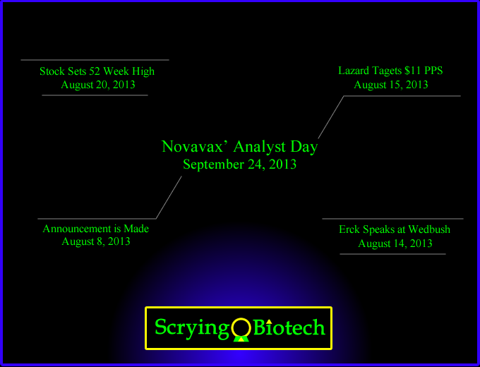 The Analyst Day Catalyst Playbook
So, how do you play Analyst Day and is it too late to get in on the run-up? The answer to the first part of the question is simple. You click on the "Follow" button above and to the left of this article under, Scrying Biotech. That way, you get in at the start and are welcomed over the finish line as well.
The second part of the question is just as easy for me to answer. No, it's not too late. I'd wait for a slight pull-back to $2.75 and place a buy order with a limit at a 5% discount to the previous days close. If you're an options trader, please feel free to comment on this article with your suggestions.
I'm mulling over whether or not to take some profits off the table in advance of Analyst Day and I probably will. That said, if this event is what we hope it will be, I'll probably regret that I did.
Disclosure: I am long NVAX. I wrote this article myself, and it expresses my own opinions. I am not receiving compensation for it (other than from Seeking Alpha). I have no business relationship with any company whose stock is mentioned in this article.
Additional disclosure: The purpose of my article is to provide information the accuracy of which is as good as the public sources it was derived from. If providing my opinions on matters related to any investment has entertained you then I have accomplished my only goal. Do not act on anything I have written. Rather, do your own due diligence and consult an investment professional before making any investment decision. Acting on what any one writer, including me has imparted to you is foolish at best. I have no better access to resources or gift of opinion formulation than you do. There are a myriad of things which can happen in lieu of any forward looking statement I have made. Any stock featured in an article I compose is subject to all manner of influences which can change its value in dramatic fashion upwards or downwards. Invest at your own risk and attain the reward your efforts have wrought.