Gold
Gold made a new low since June 2012 at $1540 last week and it appears that the $1525-1540 area is providing critical support to the price levels. If it is breached we can expect a sharp test of $1400.
Before a test of this support area, any sustained movements above $1625-1650 range should negate the downtrend started from $1800 in Oct 2012. Interestingly, in support of this price outlook, a bullish divergence is developing in MACD while RSI is apparently at levels last seen when the Gold price tested levels below $700.
(click to enlarge)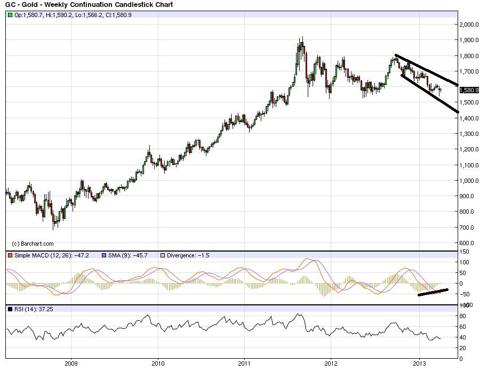 Click to enlarge
Silver
Silver has more reasons to be bullish than Gold as it tested a strong support area last and its RSI/MACD at levels from where Silver has pared its losses quite sharply. Of course if this support is breached at $26, it opens the fall to a test of support at $20.
(click to enlarge)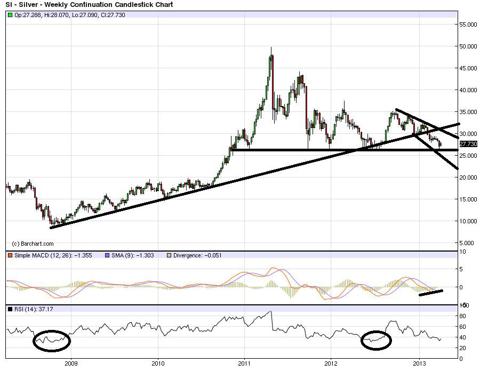 Click to enlarge
Disclaimer: The opinion in this document is for informational purposes only and should not be considered as a recommendation to buy or sell any of the instruments mentioned or to solicit transactions or clients. I do not recommend that anyone act upon any investment information without first consulting an investment professional as to the suitability of such investments for his or her specific situation.
Disclosure: I have no positions in any stocks mentioned, and no plans to initiate any positions within the next 72 hours.