NOAA's National Climactic Data Center (NCDC) has updated their Summer 2010 Temperature map this morning, for all realized temperatures June 1 - Aug 31.  Here it is.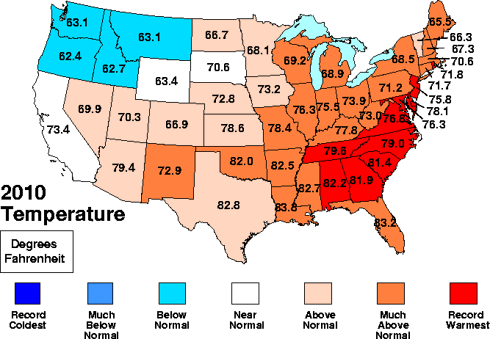 The last time we had temperatures anywhere near these levels over the US was in Summer 2006.  That brings us to picture two: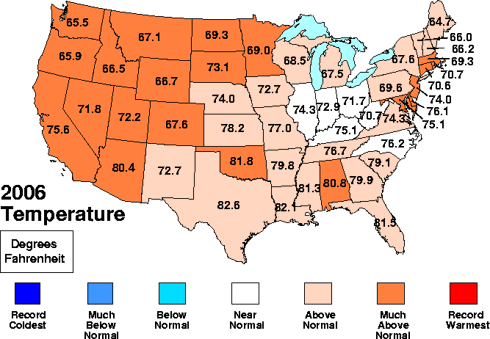 And finally, for the killshot, given the substantially warmer conditions, most especially population-weighted, of 2010 vs. 2006, how did storage injections over the June 1 - Aug 31 period fair those two years?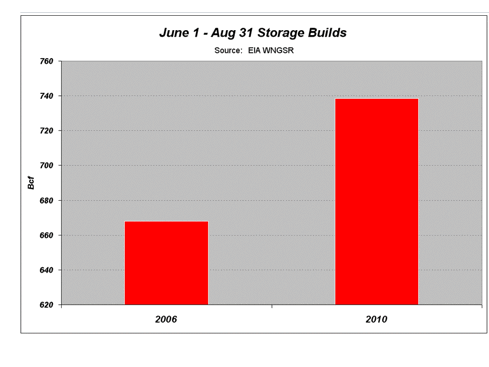 So, we have:
A remarkably warmer summer in 2010 over 2006.  Quantitatively speaking, NOAA's CPC Population-Weighted Cooling Degree Days for the US totaled 1,020 for the Jun-Aug 2010 period.  This is 5.9% higher than the 2006 reading of 963.  Another quantity: 59.6 million people had all-time record hot summers. 
A 71 Bcf, or 0.8 Bcf/day, larger storage build 2010 over 2006. 
Given that we know Storage = Supply - Demand, welcome to the end of current-production-is-in-decline argument. 
For those seeking an unperturbed exposure to NG prices, look into Royalty Trusts such as SJT, CRT, or MRT.  Unlike UNG, these names don't perpetually "carry" natural gas and therefore have limited if any short-storage exposure. 
Disclosure:
No holdings in any tickers listed.