I have always loved the idea of Craftsman hand tools. What could be more American than buying a tool from a retailer that has been an American icon since the late 1800's? Not only that, but the tools are essentially warranteed forever. Granted, the wording of the warranty leaves some terms open for interpretation, or you might be given a repaired tool instead of a new one off the shelf. But the fact remains that it is still a pretty decent idea. However, I did not expect that Sears (NASDAQ:SHLD) would take advantage of cheap overseas labor to screw the little guy with Craftsman tools and some shady business dealings.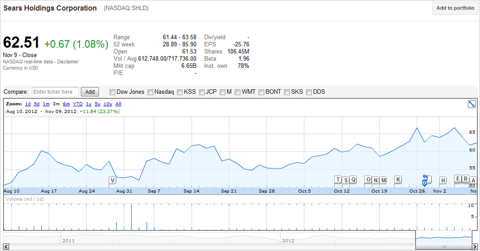 Loggerhead Tools, LLC is a small company headquartered in Palos Park, Illinois. Their founder and president, Dan Brown, is committed to inventing new tools and bringing them to the market while ensuring that all products are made in the USA.
The success story begins in 2006 when Loggerhead's Bionic Wrench received acclaim at an international design competition and was subsequently highlighted in the Wall Street Journal. In 2009, Sears agreed to do a test sale of the tool, which quickly sold out. Sears then contracted to purchase additional units in 2010 and 2011, as each year sales continued to improve. For some reason, the 2012 order seemed to get lost in the bureaucracy of the Sears headquarters. The reason may have become apparent when Loggerhead received an email describing a cheaper Craftsman-branded knockoff which was stamped "made in China."

It does not take much research to follow the money trail. The Craftsman knockoff version is manufactured by Apex Tool Group, headquartered in Sparks, Maryland. Coincidentally, Apex Tool Group announced in October that they are being acquired by Bain Capital Partners, LLC in a deal valued around $1.6 billion. Although Craftsman is not specifically mentioned on the Apex website, they do state they manufacture "several private label products for retailers."
Bain Capital's business model was a recurring theme in the recent Presidential campaign as the Obama camp continually accused Mitt Romney of selling out American workers in favor of cheap overseas labor. In Romney's defense, his separation from the firm became official sometime around ten years ago, although the details of any ongoing financial relationships are unclear. Naturally, Sears has refused to comment on the issue citing pending litigation.
What is unfortunate is that any lawsuit regarding this patent infringement may take years to resolve, and in the meantime there is little that Mr. Brown will be able to do to replace that lost revenue. Although I do not personally think that Apex or Bain are to blame in this travesty, it hurts me to think how much I have spent on Craftsman tools over the years. I suppose all I can really do at this point is express my disappointment by filling my toolbox with Stanley Black & Decker (NYSE:SWK) tools from now on.
Disclosure: I have no positions in any stocks mentioned, and no plans to initiate any positions within the next 72 hours. I wrote this article myself, and it expresses my own opinions. I am not receiving compensation for it (other than from Seeking Alpha). I have no business relationship with any company whose stock is mentioned in this article.