On Thursday, during the Asian session, the Reserve Bank of New Zealand announced the official cash rates for the New Zealand. The forecast was slated for a 0.25% rate hike from 3.00% to 3.25%. The central bank delivered according to the market's expectation. This is the third time in a row that the central bank has increased the Official Cash Rate (NYSE:OCR). The central bank has a target of 100bp rise, out of which 75bp is already increased.
One of the core reasons for the central bank opted not to pause the rate hike was the inflation, as it remained moderate and expected to increase. Headline of the statement mentioned that the New Zealand's economic expansion has considerable momentum, with GDP estimated to have grown by around 4 percent in the year to June. The central bank also pointed out the need of the OCR increase to keep future average inflation near the 2 percent target. Generally, they opt for a dovish tone to keep the New Zealand dollar lower. However, this time they decided not to be that dovish.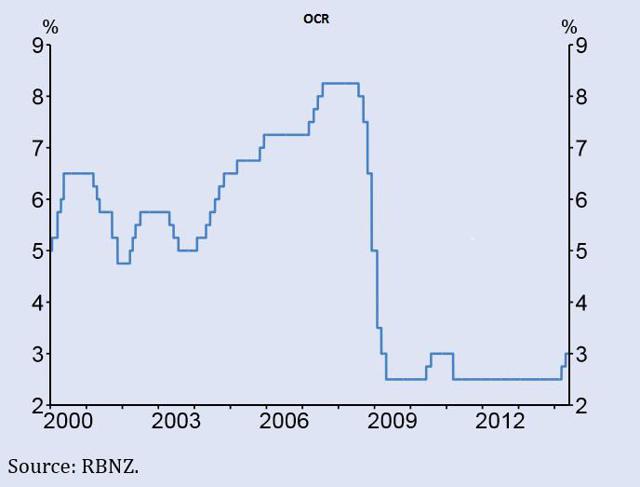 The odds of another rate hike have increased in July's meeting, as the hawkish tone can be seen on the positive side. However, one must not forget that the New Zealand's economy cannot afford to have the New Zealand dollar higher. The statement highlighted that the speed to which the OCR will be increased, which will largely depend on future economic and financial data. If all goes well, then the central bank might opt to tighten the monetary policy further at the next meeting.
Technically, the New Zealand dollar buyers enjoyed the outcome and took the currency higher against most of its counterparts. The NZDUSD pair was seen trading higher during the Asian session, as the momentum tilted in favor of buyers. The pair broke an all-important 0.8600 barrier to challenge the 0.8650 level. In the short-term, the pair might find offers around the 0.8680 resistance zone. However, in the medium term if the pair continues to find bids around the broken resistance zone at 0.8600, then a run towards the 0.8720 swing area cannot be denied. It is important to note that the pair has failed a number of times around the mentioned area. So, the New Zealand buyers might find it tough to take the pair higher moving ahead, as sellers are expected to appear around the 0.8700-0.8720 levels.
Disclosure: The author has no positions in any stocks mentioned, and no plans to initiate any positions within the next 72 hours.