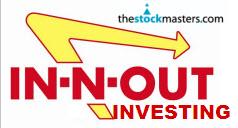 Just a reminder that we pointed out the massive selling of SanDisk (
NASDAQ
:SNDK) and iRobot Corp. (NASDAQ:
IRBT
) after their Q2 Earnings Calls last week, SNDK has managed to
gain back 9%
since bottoming Friday and IRBT is still moving down.  Let's not forget that the Ivanhoe Mines (
NYSE
:IVN) talks with the Mongolian government resume today, its time for IN-N-OUT Investing.
Masters keep an eye on these stocks this week, there are gains to be made with any bounce back or trend continuing down, but we think these bad boys will recover in the next few weeks for a few points (as SNDK has already done since Friday).
PLACE YOUR BETS
Taking a position in SanDisk or iRobot is based on the premise that these two stocks are oversold whereas Ivanhoe Mines is trading on the media and coverage of the talks with Mongolia.  Its a roll of the dice for Ivanhoe but for Mongolia to demand more of a cut or make it harder for Ivanhoe is just bad business, but stranger things have happened, big business doesn't always win (does it?). 
Review the following articles from last week if you missed them and add SNDK, IRBT, and IVN to your watch list:
07/23/2009 - 15:56
07/22/2009 - 19:04
Happy Safe Investing!

Disclaimer: Long IRBT, No positions in SNDK
| | |
| --- | --- |
| Sandisk Corp. | $ 17.58 |
| SNDK | 0.49 |
Short Interest (

Shares

Short)
11,063,600
Days To Cover (Short Interest Ratio)
1.7
Short Percent of Float
4.97 %
Short Interest - Prior
12,887,200
Short % Increase / Decrease
-14.15 %
Short Squeeze Ranking™
2
| | |
| --- | --- |
| % From 52-Wk High ($ 23.50 ) | -33.67 % |
| % From 52-Wk Low ($ 5.07 ) | 71.16 % |
| % From 200-Day MA ($ 13.07 ) | 25.65 % |
| % From 50-Day MA ($ 15.44 ) | 12.17 % |
| Price % Change (52-Week) | 26.40 % |
| | |
| --- | --- |
| irobot Corp. | $ 10.61 |
| IRBT | 0.09 |
| | |
| --- | --- |
| Short Interest (Shares Short) | 1,982,400 |
| Days To Cover (Short Interest Ratio) | 19.2 |
| Short Percent of Float | 10.30 % |
| Short Interest - Prior | 1,784,400 |
| Short % Increase / Decrease | 11.10 % |
| Short Squeeze Ranking™ | -55 |
| | |
| --- | --- |
| % From 52-Wk High ($ 17.62 ) | -66.07 % |
| % From 52-Wk Low ($ 7.00 ) | 34.02 % |
| % From 200-Day MA ($ 10.06 ) | 5.18 % |
| % From 50-Day MA ($ 12.72 ) | -19.89 % |
| Price % Change (52-Week) | -27.60 % |