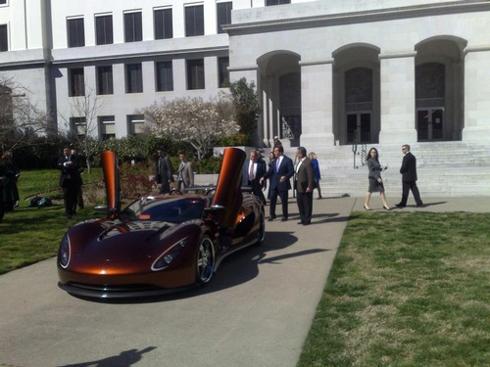 Click to enlarge
Governor Arnold Schwarzenegger of California shone a little of his celebrity luster on the Scorpion in 2009, a hydrogen-assisted supercar from the Ronn Motor Company of Texas.
Ronn Motor Company Scorpion will do 40 miles per gallon and have a top speed of 200 mph
The Governor had read an article in Men's Journal about the company and, being an auto enthusiast with solid environmental credentials, requested a test drive of the Scorpion. The governor was accompanied by company founder and CEO Ronn Maxwell.
Ronn Motor Company claims the Scorpion has a mileage rating of 40 miles per gallon (5.88 liters/100 km) and can reach approximately 200 mph (320 km/h). Those are pretty much all the performance details available right now.
As California governor, Schwarzenegger has implemented the strictest emissions code in the US, and some California rules are tighter than those in Europe (such as for NO-x gases). And he has previously been seen in a Tesla, an electric roadster from Tesla Motors, a California company. And he's a widely known star all around the world. His endorsement carries a lot of weight.
Based in Horseshoe Bay, Texas, Ronn Motor Company is an engineering firm that develops car technologies such as hydrogen fuel, fuel cells, and plug-in electric systems.
Disclosure:
Long RNNM