This week the precious metals had a positive week as the U.S. dollar fell during this time. Gold is still working on the breakout that so many are looking for. This week we will review the charts of platinum, gold, palladium, silver, and the U.S. dollar. Charts often give us an idea of where the metals are headed in price and time. They can also give us an idea of when to buy and sell our precious metals.
Platinum-Platinum is a metal that has been benefiting from the idea that the economy is rebounding. The challenge this week is that the auto industry bankruptcy of Chrysler showed the weakness of the auto industry that platinum depends on for much of its demand. As a result, it will largely trade on the image of the economy. If it is positive outlook, it will move up very similar to the move in the price of oil. If the economy looks to be slowing, platinum will pull back. Platinum has had a positive week but ran into resistance at it former support line or uptrend line. Platinum does look determined to move back in to its uptrend channel but must now break this moving resistance level at $1180. Platinum will find resistance at this $1180 resistance line followed by $1200 and will ultimately need to deal with the $1252 top line resistance. Support for platinum will be found at $1100 and $1050.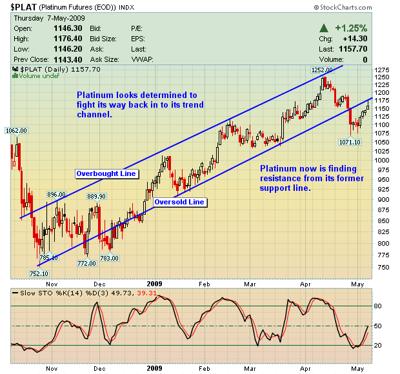 Gold-Gold shows a breakout on the gold daily graph but it is not a convincing break to the upside, disappointing those who chose to buy gold bars and coins. Gold will need to break through $920 and hold this on a closing basis to have any real conviction for gold to move higher. Gold now has resistance at $920, $960 and $1000. Support for gold will be found at $900 and $880.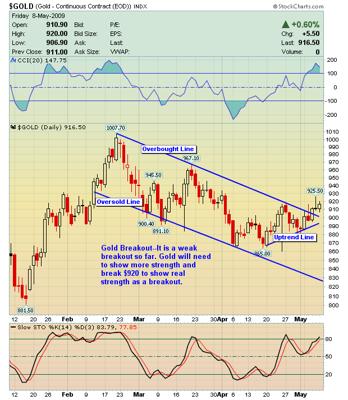 On the daily graph gold shows as very overbought when viewing the CCI and Slow Stochastics indicators. This could lead one to believe a pullback is coming up next, but when reviewing the weekly chart, gold shows a much different and very bullish picture. Gold shows a very well defined inverse head and shoulders formation. This formation gives a bullish target of $1300 for gold. (Neckline of $1000 less the head of $700. This figure of $300 is added back to the neckline figure of $1000 to give the $1300 target value.)  For this to come in to play, gold needs to get to $1000 first. That is showing to be a challenge by itself for gold.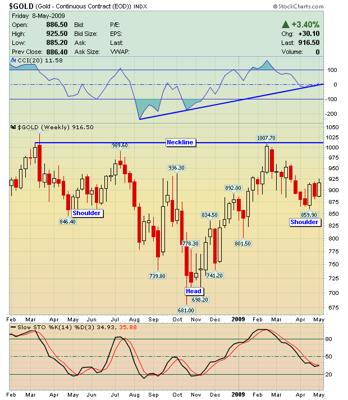 Palladium-Palladium had trouble following its big brother platinum last week. This week, palladium rocketed higher even going higher by 6% on Thursday. It got up near the top of its trend channel and fell back on Friday. Now, palladium is faced with resistance from above from its overbought line. Palladium will find resistance from this overbought line at $255, $260, and $300. Support for palladium will be found at $222, $215, and $207. Palladium will follow to an extent the economy like platinum and also is beholden to the auto industry.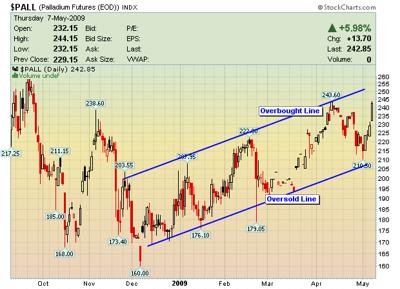 Silver-Silver rather than pulling back to the bottom of its channel as expected, broke out of its downtrend in convincing fashion. There are many in the gold market that only hope that gold can follow on what silver has done. Silver can now move higher to challenge resistance at $14.50 and later $16.00. Or, it still could fall back and back-test its breakout at $12.75. The answer most likely will come at $14.50 and how silver behaves there. That is the next significant resistance for silver. If silver falls back there, we should look to a possible back test. If it breaks easily through this level, the idea of the back test should be discarded. Silver will find support at $13.50, $13.25 and $12.75.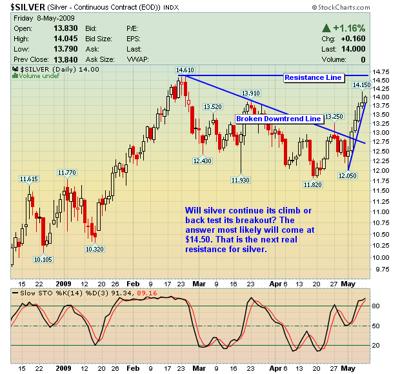 U.S. Dollar-The U.S. dollar today triggered its head and shoulders formation. As a result, the target for the U.S. dollar on the USDX index is now 76. This should be a great asset to all of the precious metals and oil as well. With that said, the dollar fell most of the week and the precious metals had a positive week but did not have the stellar week that would have been expected from the dollar falling most of the week. The dollar fell almost one full point on Friday and the metals barely moved. Had this been the reverse, the metals would have been falling. So though the dollar may fall in value, this does not guarantee a move up in the precious metals price.  The dollar and the precious metals relate to each other, but are now not as heavily dependent on each other as they once were.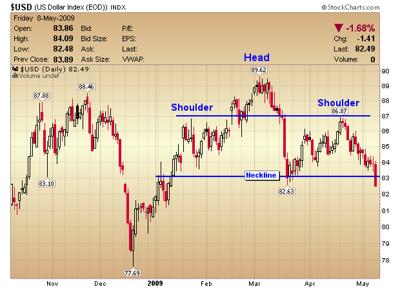 All Charts courtesy of Stockcharts and can be found at www.stockcharts.com.
Commentary by Steve Ebert 5/08/2009. Previous week's charts can be found here. Comments can be made to Steve@bullionpost.com.
The above represents the opinion and analysis of Steve Ebert, based on data available to him, at the time of writing. Steve Ebert's opinions are his own, and are not a recommendation or an offer to buy or sell precious metals or securities.

As trading and investing in any financial markets may involve serious risk of loss, Steve Ebert highly recommends that you consult with a qualified investment advisor and/or do your own due diligence and research when making any kind of a transaction with financial ramifications.