Bottom Line:
This could be a test of resistance that turns into a bearish divergence. That said, divergences are obvious in hindsight, but inconclusive during their formation. Failure to for the market to rally off this minor resistance would be a bearish sign.
Indicator Summary:
Bullish: 0%
Neutral: 70%
Bearish: 30%
Aggregate Interpretation: Most indicators have bounced off oversold levels, and at present appear to be failing to reach overbought levels, producing a possible bearish divergence. Bearish divergences need to be confirmed by price action.
Indicator Snap Shot:
Percentage of Stocks Above their 20 DMA: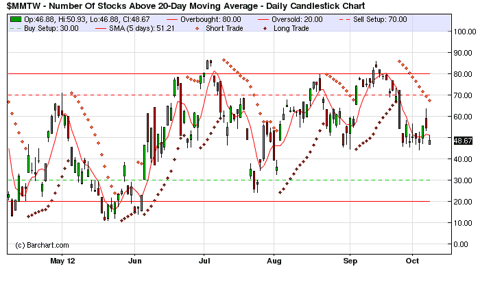 Notes: Interestingly enough, the recovery in the indexes has done little for overall breadth according to this indicator. The percentage of stocks above their 20 DMA has fallen back to the mean and looks to be threatening a continued path lower.
NYSE McClellan Oscillator: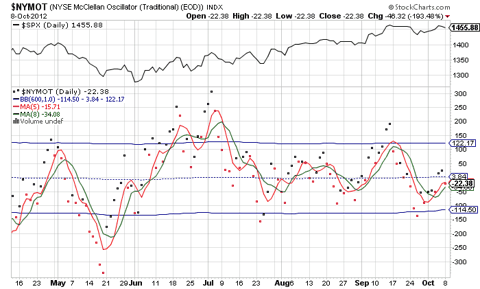 Notes: The McClellan Oscillators are at "neutral" though it's possible to interpret this as now rising from oversold. It would be unusual for a bearish divergence to start this low, though I've seen stranger things happen.
NYSE Advance - Decline Line: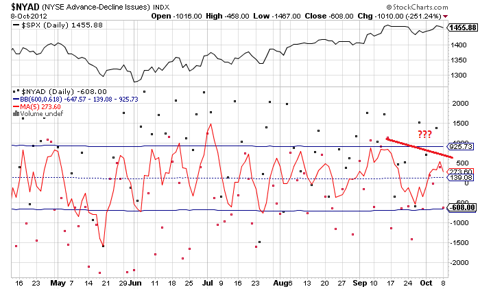 Notes: The NYSE AD line is the most indicative of the majority of the indicators I watch; bouncing from oversold, but apparently failing to reach overbought, producing a bearish divergence. Declines that start from setups like this tend to be stronger and faster.
NYSE Up - Down Volume: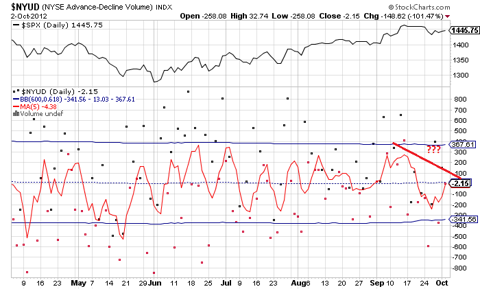 Notes: Similar to the NYSE AD line, a possible divergence forming.
NYSE TICK: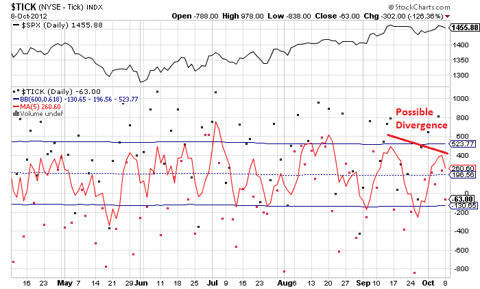 Notes: The possible divergence is much clearer in the TICK.
NYSE TRIN: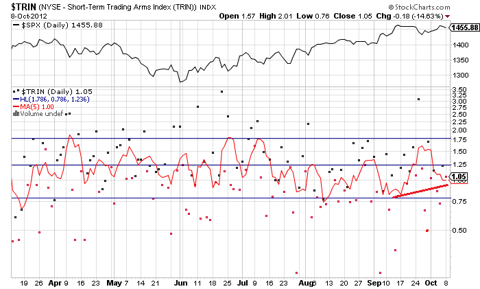 Notes: Another possible divergence.
Price Action:
SPX Short Term: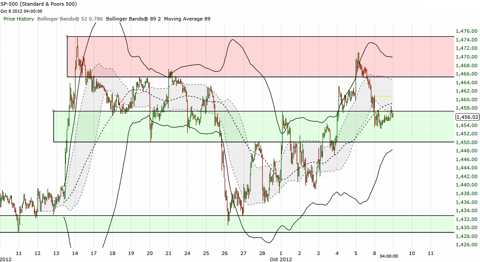 Notes: There's been two major tests of this resistance zone, the first peaking on September 14th, and the second peaking on October 5th. If you go back to the indicator charts, notice how these levels coincide with both of the peaks of the apparent bearish divergence. Prices failing to gain any traction in this current area of support would be a bearish signal.
Dow Industrial: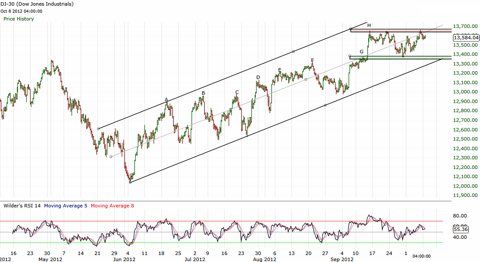 Notes: Between support and resistance. A breakout would clear the way to 14,000ish. A breakdown would lead to a test of 13,000 and could signal the start of a more significant correction (the bottom of the trend channel also happens to almost perfectly coincide with the 50 DMA).
Dow Transport Index: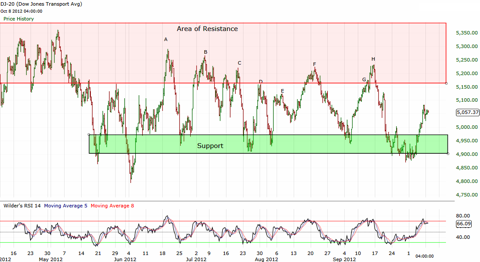 Notes: The transport index has fallen far short of reaching the area of resistance. I grade this as a negative, and this is indicative of the breadth indicators failing to rise to the September 14 highs. Short Term RSI is back at overbought.
Dow Utilities: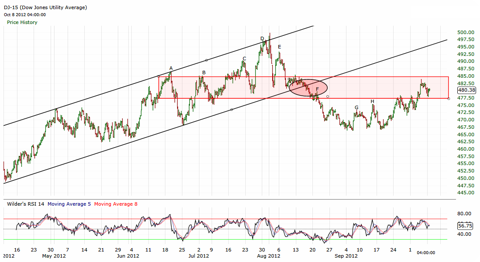 Notes: Utilities are testing the breakdown area and have failed to keep pace with the main index.
Summary:
While the main indices appear to be testing the previous September 14 highs, many of the secondary indexes, as well as most of the indicators I watch are not confirming the move. We could be setting up here for a bearish divergence and break down, though price action has yet to confirm. I'll be watching the price levels highlighted in the SPX short term chart carefully. Level 3 exam is coming up on October 20th, so the hard core cramming has started, I'll still try and get a few updates up as time permits.
Good luck trading,
-Bill L.
Disclosure: I have no positions in any stocks mentioned, but may initiate a short position in SPY over the next 72 hours.