Bottom Line: Sentiment is very mixed. After reaching an optimistic extreme, some measures have come off significantly while others haven't budged.
The Put/Call Ratio ($CPC):
The put call ratio measures the rate at which option traders are buying puts (bearish bets) compared to calls (bullish bets). This indicator is the most useful once it reaches extremes; when the market is topping investors are typically far too optimistic, and when the market is bottoming they are far too pessimistic.
click to enlarge)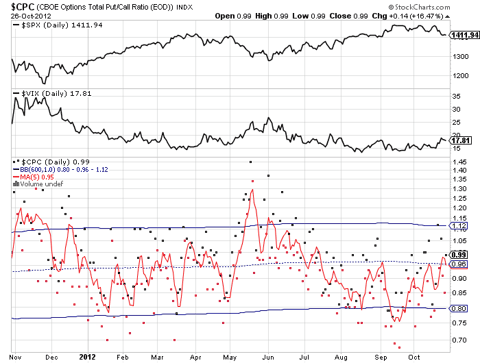 Click to enlarge
Source: Chart created at stockcharts.com
Notes: The put call ratio recently hit an optimistic extreme, though has moderated significantly. This indicator is now in neutral territory.
Grade: Neutral.
Investors Intelligence:
Investors Intelligence is a weekly poll that surveys newsletter writers. While they are professionals they too are subjected to group think, fear, greed, excitement and all the other broad range of emotions that can hamper objective market analysis. One interesting note; when the market is topping, peak optimism is generally reached before the final index price high. This indicator works best as a contrarian indicator when extremes are reached.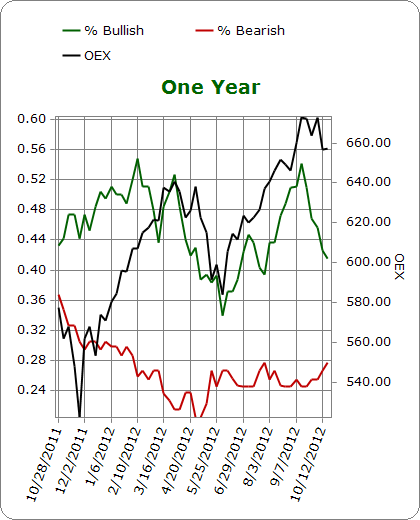 Notes: The percentage of bulls has declined somewhat, but the modest move up in percentage of bears reveals there really isn't much fear in the market either. It seems most people have just moved to the "correction camp."
Grade: Neutral / Slightly Bearish
The American Association of Individual Investors (AAII):
The AAII is a service that polls individual investors. Individuals tend to be more sensitive to price movements than the respondents for the Investors Intelligence survey, though the indicator works much the same way. This indicator works best as a contrarian indicator when extremes are reached. click to enlarge)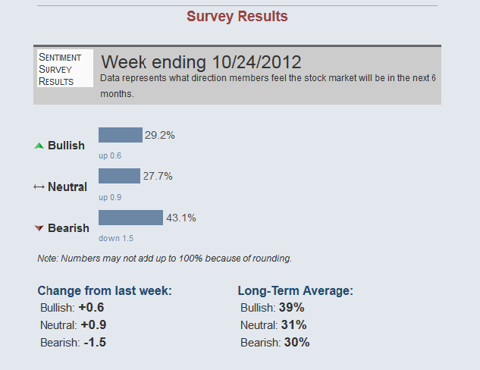 Click to enlarge
click to enlarge)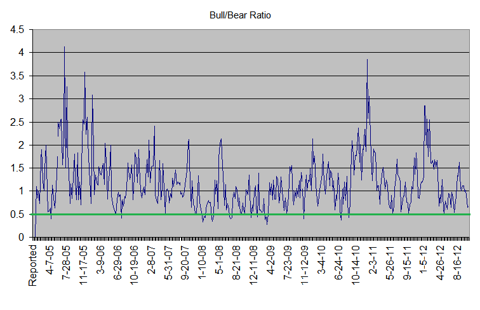 Click to enlarge
Source: www.aaii.com/sentimentsurvey
Notes: The bull/bear ratio illustrates just how quickly individuals have turned bearish. Typically, when the ratio gets low, it has been a bullish tailwind for stocks.
Grade: Bullish.
CFTC Commitment of Traders (S&P e-mini contract):
Every week the CFTC releases the aggregate futures positions of commercial hedgers, large traders, and small speculators. Since commercials and large traders tend to direct money flow, and small speculators tend to be terrible at market timing, it often pays to look at the juxtaposition of these groups.
click to enlarge)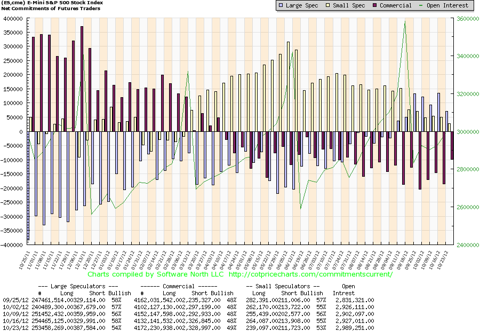 Click to enlarge
Source: Chart courtesy of www.cotpricecharts.com/
Notes: The "smart money" or commercial hedgers continue to hold a net short position in the S&P e-mini, while small and large speculators hold a net long position. Looking at the Dow, Russell, and NASDAQ full and mini sized contracts, commercial hedgers have a very large net short position built up.
Grade: Bearish.
National Association of Active Investment Managers (NAAIM):
The NAAIM polls active investment managers. While this poll hasn't been around very long, its short history tells us what we probably already suspected; professional managers tend to perform no better than most individuals, they're over-invested at tops, and caught short at bottoms. We can however turn their group think into something useful and use this data as a contrarian sentiment indicator.
click to enlarge)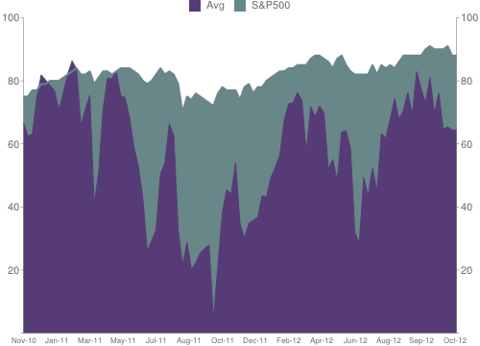 Click to enlarge
Notes: Similar to the Investors Intelligence poll, the Bulls have backed off since the market has stalled, though overall managers appear somewhat optimistic, and favor holding long positions.
Grade: Bearish.
Short Interest:
In the last few years ETFs have become a popular instrument for individuals and institutions alike to quickly and easily get long or short the market. Their overall popularity has skyrocketed, so it pays to pay attention to short interest in some of the most popular index ETFs.
Source: Courtesy of schaeffersresearch.com
Notes: Short interest hasn't changed much in the last few updates, and continues to hover near multi-year lows. Clearly ETF investors are not worried about declining prices in the near term.
Grade: Bearish.
Summary:
Grades:
Bullish:1/6
Neutral: 2/6
Bearish: 3/6
Overall Analysis:
Most of the measures of sentiment have only just moderated after reaching an optimistic near extreme just a few weeks ago. The sideways, to mildly downward market seems to have been enough to chase away individuals, but most other measures of sentiment haven't moved much. Individuals tend to be a bit more sensitive to price changes, so if I had to envision a scenario that accounts for the differences I would say sentiment paints a short term bullish, but longer term bearish picture. This fits nicely with the short term technical indicators, which have gotten oversold, while longer term technical indicators still have a ways to go before being considered oversold.
-Bill L.