Bottom Line:
Indicators are almost all unanimously oversold. Sentiment has plunged. Most bulls are losing their heads. Now that they're distracted with news that hasn't been news in over a year, it's time to go through their pockets.
Indicator Summary:
Bullish: 80%
Neutral: 15%
Bearish: 5%
Aggregate Interpretation: Most of the short term technical indicators are lined up on oversold territory. The shorter term/faster sentiment indicators have plunged. I haven't been a long term bull for months, but this is not the time to go short. If anything, the market looks poised for a short term bounce.
Indicator Snap Shot:
Percentage of Stocks Above their 20 DMA: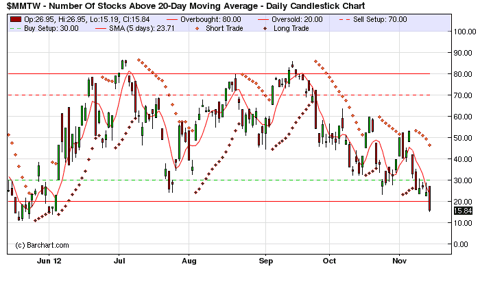 Notes: One of the most deeply oversold conditions since this summer's sell off. The first of many. Notice how when the market bottomed in June, it was during a similar reading.
NYSE McClellan Oscillator: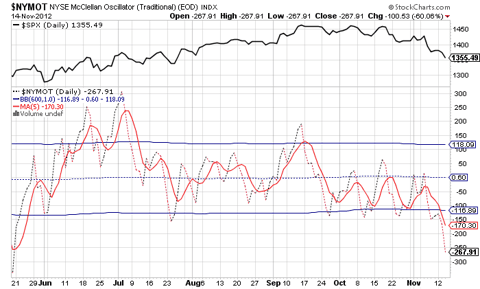 Notes: Another extremely oversold condition... Ideally though I'd like to see a new low or a test of a low with a McClellan divergence.
NYSE New Highs - New Lows: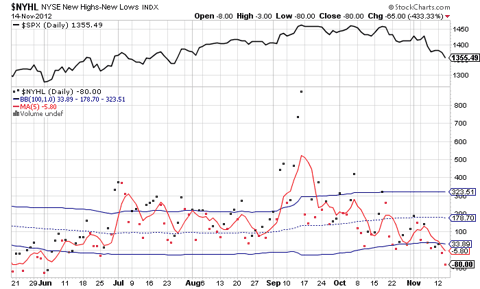 Notes: The 5 DMA has moved solidly below the 1 standard deviation mark, again, the first time since this summer's correction.
NYSE Advance - Decline Line: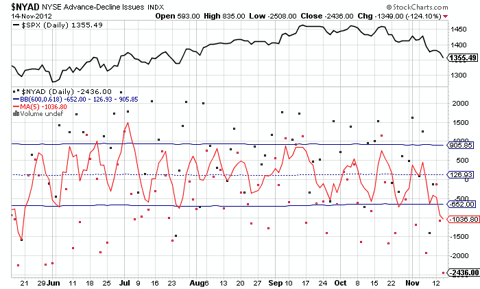 Notes: And the risk of sounding redundant, another, very oversold reading.
NYSE Up - Down Volume: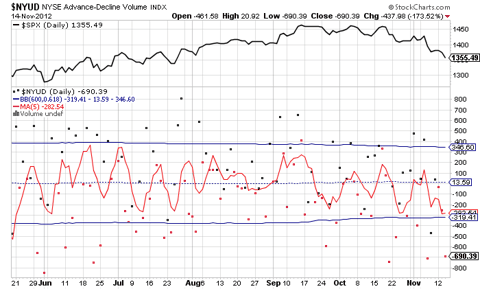 Notes: Etc.
NYSE TICK: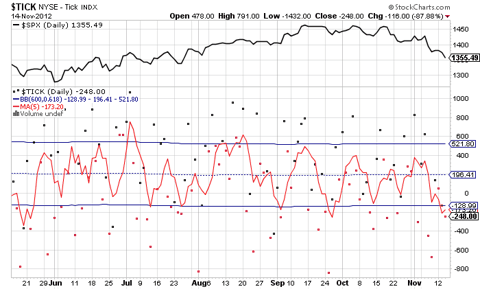 Notes:Etc...
NYSE TRIN: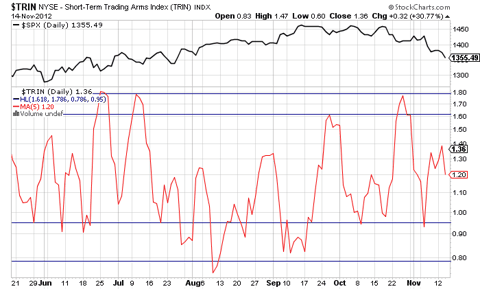 Notes: Interestingly, the TRIN hasn't gotten extreme, which could perhaps be a bullish divergence, meaning the market isn't as internally weak during this most recent leg down when compared to the first leg. Still, I'm grading this "neutral."
Put / Call Ratio: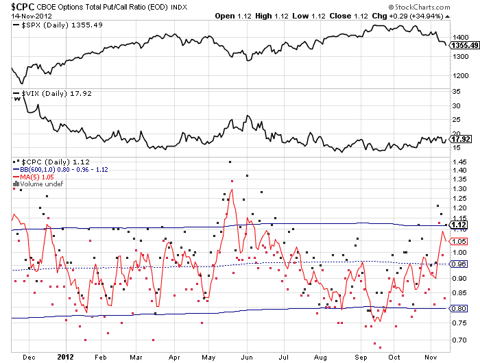 Notes: The 5 DMA of the Put/Call ratio is very close to the 1 standard deviation mark. Leave it to the option speculator to buy puts once the majority of the decline has already been booked.
Rydex Nova/Ursa NAV: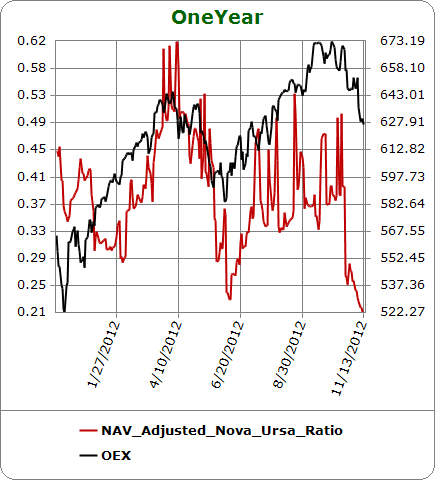 Notes: The NOVA/URSA ratio has sunk to it's lowest point all year, and a level generally only seen perhaps two or three times per year.
Other Notable Notables:
According to the most recent Hulbert, newsletter writers in aggregate are now advising readers to get short. Historically (and ironically), this has actually been a very bullish occurrence, with the market typically gaining about 5% over the 1-3 months when this has occurred.
The days ahead of Thanksgiving tend to have a bullish bias.
Both the Dow Industrial and the S&P 500 have closed in the bottom half of their perspective ranges for over 5 days in a row, this is a historically rare occurrence, and has almost always generated at least a few days of relief rally.
Summary:
The short term technical indicators I follow are almost all lined up for a bullish rebound, sentiment has tanked going from supreme confidence to chicken with their heads cut off territory. I purchased some SPY in the afterhours session, though in retrospect I should have waited for some sort of short term price reversal during tomorrow's day session. That said, just about everything I watched has lined up in the favor of the bulls (in the short term). Keep the stop tight, as similar failures have almost all occurred (looking back in recent history) in the 2000 and 2007 bear markets.
-Bill L.
Disclosure: I am long SPY.