The Put/Call Ratio ($CPC):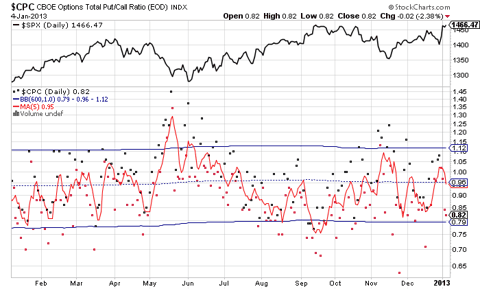 Analysis: One of the more short term sentiment indicators, the $CPC has had two days of call side bias, as one would expected with several strong rallies. The 5 DMA however remains in neutral territory and it would take several more days of intense call buying before short term option sentiment could be considered extreme.
Grade: Neutral
Investors Intelligence: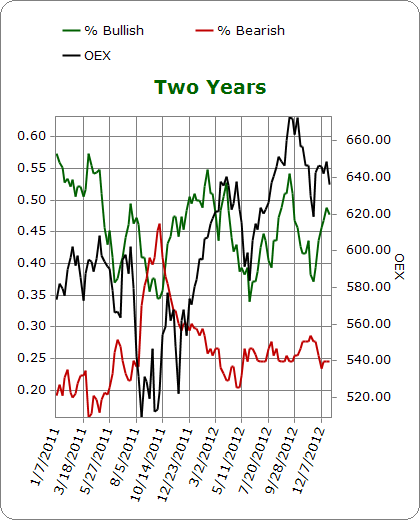 Analysis: Newsletter writers continue to lean towards the bullish side of the ledger. That said, using history as a guide, the spread between bulls and bears is not extreme enough to warrant a bearish outlook.
Grade: Neutral / Lightly Bearish
The American Association of Individual Investors (AAII):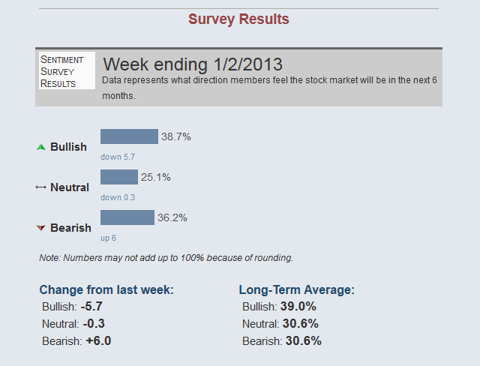 Analysis: Whether looking at the raw numbers, charting a spread, or ratio, they're all very close long term average. Which unfortunately means no high probability trade setup.
Grade: Neutral
CFTC Commitment of Traders (S&P e-mini contract):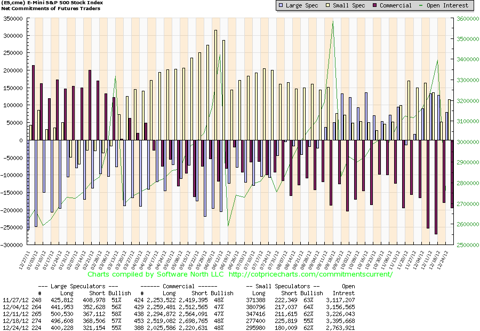 Analysis: Looking at the S&P e-mini speculators pulled back their long positions a bit, though they remain long while commercials are still short. Looking at the broad spectrum of index futures, both full and mini sized, commercials continue to hold a large short position.
Grade: Bearish.
National Association of Active Investment Managers (NAAIM):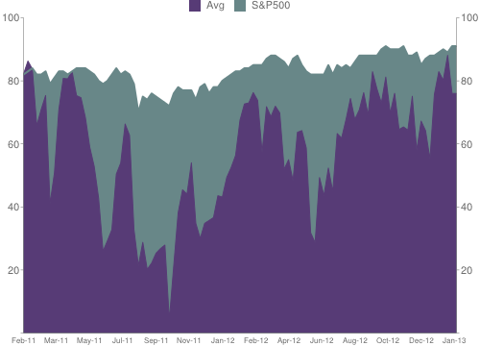 Analysis: Professional money managers pulled back a little bit since last week, presumably to see what resolution (if any) congress came up with. Clearly they are closer to the top end of the range than the middle or low end. Also interesting, the spread this week was huge; the biggest bear was -125% short while the biggest bull was +200% long.
Grade: Bearish.
Short Interest:
Probably one of the longest term indicators in the sentiment data. It is only update twice a month and the figures from the last report are still current. I've included the previous update's images below; according to the most recent data short interest continues to hover near multi-year lows.
Grade: Bearish.
Have a good weekend!
-Bill L.