Bottom Line:
The SPX had a small momentum breakdown today, filling in the final piece I was waiting for before initiating a short term trade on the short side.
Price Action:
SPX: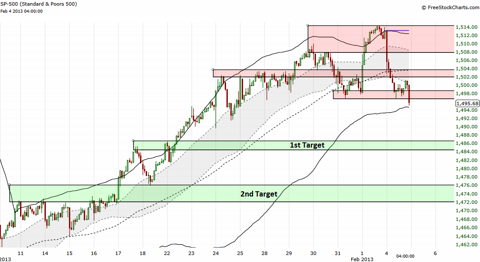 Notes: I use momentum bands to help identify the long term trend and when the trend may be changing. Lets say we have a break down by price below the bands. That could mean the trend is changing. Lets say we have a break when oscillators are overbought. That increases the odds that the trend could be changing. Lets says we have a break below the bands, the break down occurs on multiple time frames (15 min, 30 min, 1 hour etc), overbought oscillators, breadth divergences, volume divergences, and extreme sentiment... you get the idea. A break down below the bands isn't so significant, but when more and more things line up, the greater the odds that momentum in price changing directions is more than just a normal fluctuation, but the start of a new trend. That's the situation right now.
Indicator Summary:
Bullish: 9.1%
Neutral: 0%
Bearish: 90.9%%
Aggregate Interpretation: So most of the indicators are still best interpreted as bearish IF you allow of bearish divergences. So the actual indicators are evenly split 45-45 though if you read their exact position.
Indicator Snap Shot:
Percentage of Stocks Above DMA:
50: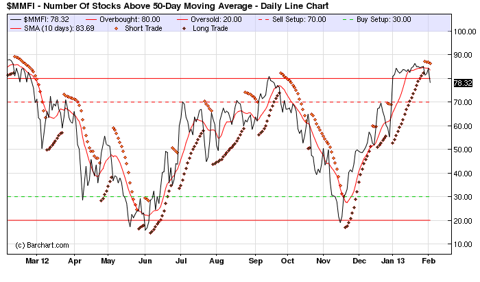 20: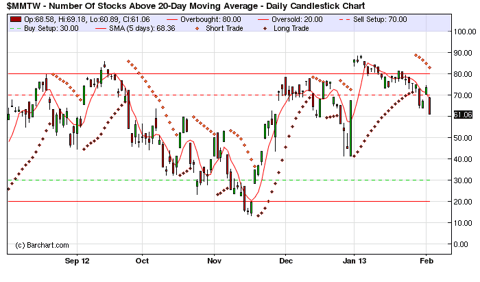 Notes: Both of these are longer term indicators that can have pretty long cycles, meaning if this is the start of decline it could carry on for some time. Regardless of the duration of a correction, as they stand today, both are overbought and would argue in favor of declining prices rather than continued gains.
NYSE McClellan Oscillator: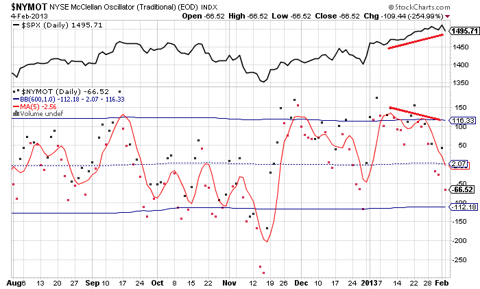 Notes: The McClellan oscillator started diverging as the top was reached, and has quickly declined to the mean. It's rare in my experience for a decline to just suddenly stop at the mean, and it's much more typical that it proceeds into oversold territory, especially when the decline starts with a divergence.
NYSE Advance - Line: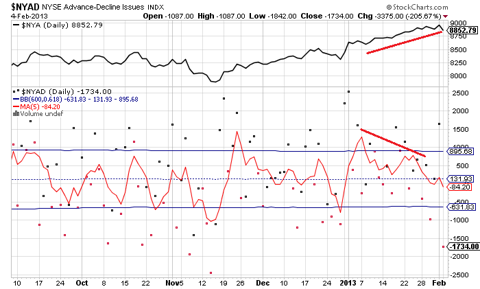 Notes: The AD line illustrates my point perfectly, if you just read the position, it's neutral. If you allow for divergences, it's a bearish setup (because of the declining internal strength as the top was reached).
NYSE Up - Down Volume: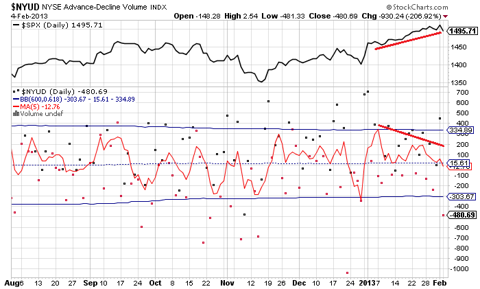 Notes: Up - Down volume follows the same pattern.
NYSE TICK: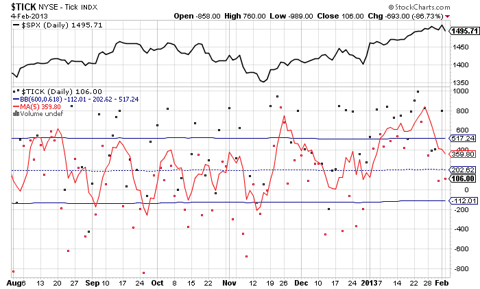 Notes: Cumulative TICK has just come off a massive overbought reading.
NYSE TRIN: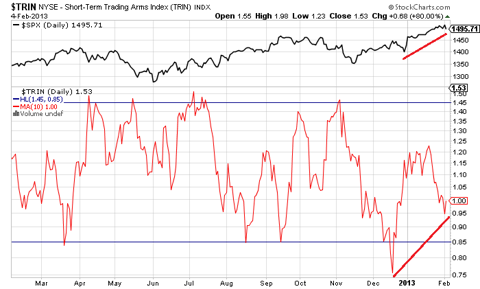 Notes: The 10 day TRIN also follows the divergence pattern. It didn't get quite as overbought on the second push to new highs. It's close to neutral now, but I think the best way to interpret this is a bearish divergence.
Summary:
Over all I think the setup here is bearish and today enough pieces came together to make me take a shot on the short side. As usual, the use of stops is pretty much mandatory. I always predetermine my stops based on price history, volatility, and how much risk I'm willing to take on. Then my stop is placed right after the trade confirmation flashes on my screen. Risk management is probably the most overlooked aspect of trading. Everyone wants to know how to spot entries, pattern, what to analyze, what's the best indicator. No on talks about what's the best way to take your losses. But it's just as, if not more important.
Good Hunting,
Bill L.
Disclosure: I am short SPY.