Last week I reported the NAAIM had seen some record breaking numbers regarding the bullishness of active managers. This week it looks like we have another record being broken, this time in mutual fund inflows by retail investors (from ICI, more on this below).
I've received a few questions regarding several recent articles about the surging insider sales, and my thoughts on the matter.
Insider sales is a statistic I track (data from Insider Insights), and my own research concurs with the above articles; the rats are fleeing the ship.
Things always get interesting when retail investors are doing (or being told to do) one thing, meanwhile corporate insiders are doing another. Sales by insiders have been rising throughout most of this rally. Many pundits have been dismissing this as normal year end tax selling. The thing is, selling has not dissipated with the start of the new year, and has instead been rapidly increasing.
If it was just "tax selling" it should have ended back in January, however insider sales have been surging. I've summed the largest buys and sales from insiders from the current month, both in numbers of shares, and in dollar amount. The results... insiders have been selling almost 11 shares for every 1 share bought, or have been selling $3 worth of stock for every $1 purchased.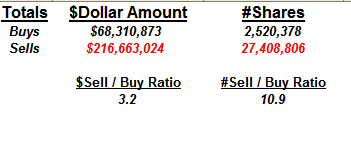 If graphed cumulatively, the results don't look any better... Thus far, there has not been a day this month that buy orders have even come close to matching the number of sell orders.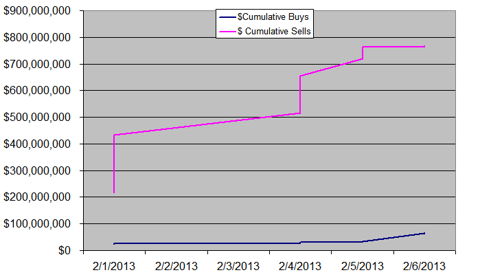 So what's the public doing? According to ICI the past rolling 4 week sum for mutual fund inflows has hit a new all time record high. And why not? They're getting lots of advice to. According the most recent Hulbert Financial Digest, the current net recommendation is 64% long stocks. This has only been exceeded twice in he last 5 years (both of which turned into tops shortly after). Regarding bonds the current net recommendation is to be 50% short bonds. Readings for this magnitude generally lead to intermediate term bottoms in bonds. The aggregate message: get very long risk, get very short safety.... Right as the people most in the know regarding their own company's performance are dumping their shares.
Regards,
-Bill L.
Disclosure: I am short SPY.