Bottom Line:
Sentiment has come in a bit more this week, though overall still remains very elevated, and even extreme according to some measures.
The Put/Call Ratio ($CPC):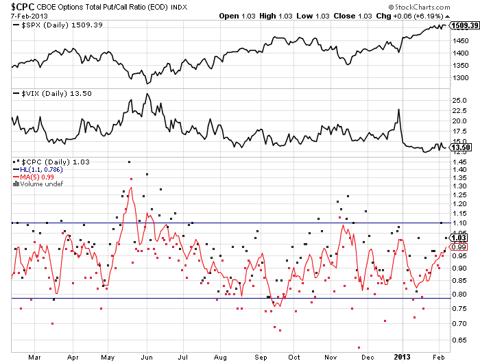 Analysis: The put call ratio reached an extreme as did the VIX last week, however since then it has slowly mean reverted as the market has been stalling. Now it is leaning towards the neutral/put side.
Grade: The put call ratio is showing a slight put bias, however the related VIX is still at very, very low levels. Taken together I think the best way to interpret sentiment through the lens of the options market is Neutral.
Weekly Blogger Sentiment: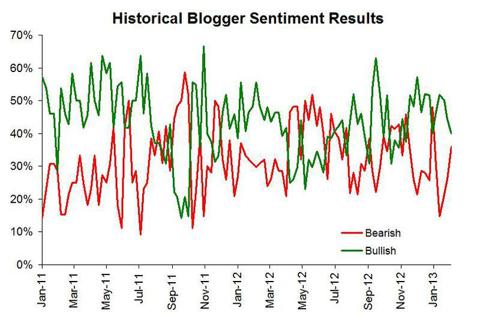 Analysis: Like the put call ratio, blogger sentiment appears to be mean reverting. Last week bloggers were very bullish but since the market has stalled, bloggers have been reigning back their bullish recommendations. Perhaps because insiders have been dumping their shares to the unsuspecting public?
Grade: Neutral.
Investors Intelligence: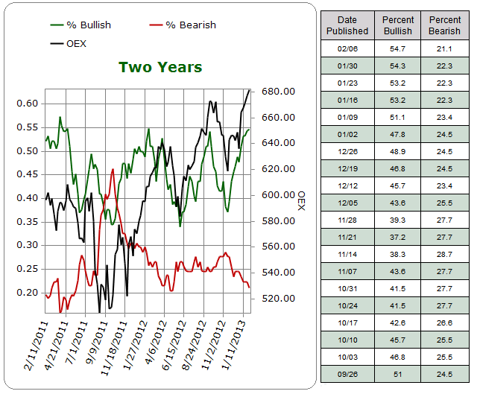 Analysis: News letter writers on the other hand continue to push the bullish message onto their readers. %Bulls increased slightly while the ranks of the bears continues to diminish, widening the spread to the highest levels since 2011.
Grade: Bearish.
The American Association of Individual Investors (AAII):
The Raw Numbers: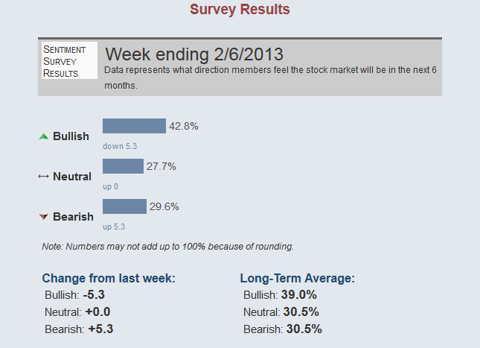 The Bull Bear Spread: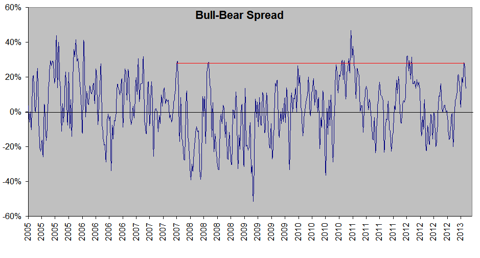 Analysis: Last week the Bull-Bear Spread spiked to a level only seen 5 times in the last 6 years. Since, the numbers have begun to mean revert though they are still elevated.
Grade: Bearish
National Association of Active Investment Managers (NAAIM):
Raw numbers: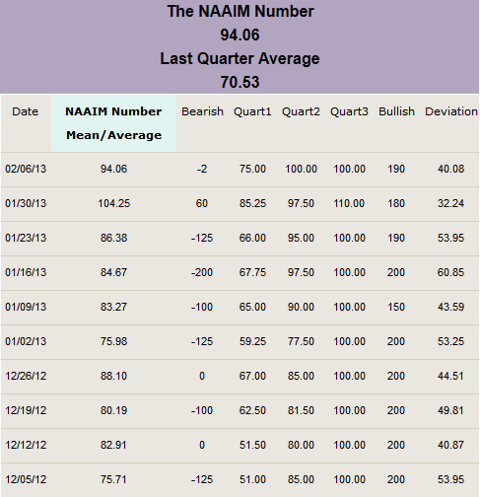 Chart: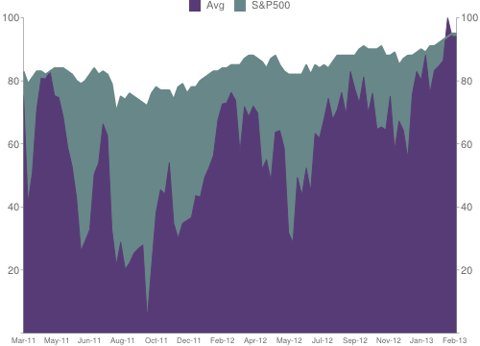 Analysis: Active managers have pulled back a little bit since last week's record breaking numbers, but are still holding historically extreme long positions.
Grade: Bearish
Short Interest:
Analysis: Note: Short Interest is only updated twice a month, so these are the same figures as last week's update. That said, the last reported position is at multi-year lows.
Grade: Bearish.
Summary:
So as always we've looked at the options market, bloggers, newsletter writers, individuals, professional money managers, and ETF investors.
Grades:
Bullish:0/6
Neutral: 2/6
Bearish: 4/6
Market sentiment has come in a bit thanks to the put call ratio and individual investors, but overall sentiment still remains very elevated. Even in the market continues higher for a little bit longer, whenever sentiment gets this extreme, those gains are typically completely erased in the following correction. Thus, I'm still advising caution.
-Regards,
Bill L.
Disclosure: I have no positions in any stocks mentioned, but may initiate a short position in SPY over the next 72 hours.