Summary:
While the stock market is off in la-la land, I've been looking for more reasonable risk reward setups, more specifically right now I'm long some GLD.
Originally this idea was flagged to me by Sundate36 in the comments section, here is the original article is recommended reading.
Commitment of Traders:
Looking at the most recent commitment of traders report, commercials have been going long gold for several weeks now as the GLD approached some decent looking horizontal support.
So clearly while the public has been losing faith, the bookies of the futures world had some faith in gold finding some sort of a foothold.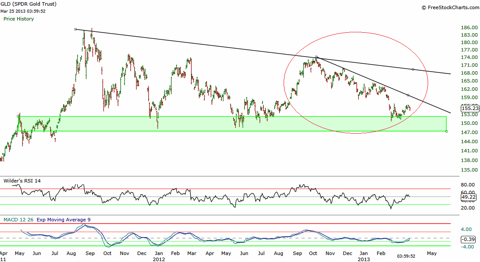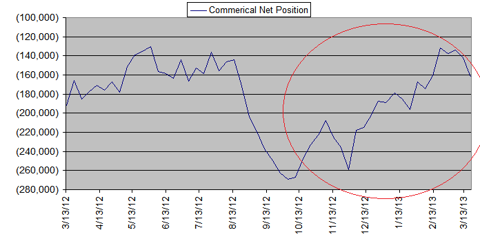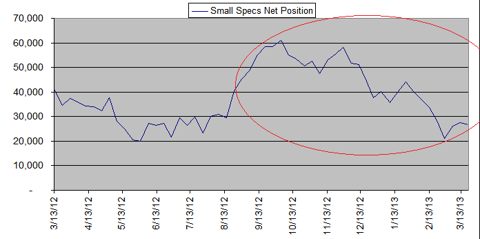 Notes: The basic oscillators hit oversold while price entered an area of horizontal support. Furthermore the Gold COT revealed that commercial hedgers had been increasing their net position, while small speculators have been giving up on gold.
Seasonality:
Furthermore, in terms of seasonality February tends to be very negative for Gold, with performance improving in March, and going positive into April. If we get another soft patch in the summer, that could present another good buying opportunity into the fall months.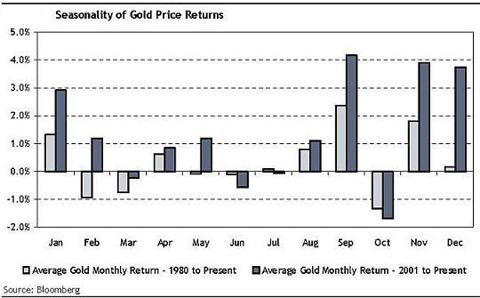 Other Notable Notables:
According to Sentimentraders public opinion indicator, public opinion recently dropped to the lowest level visible on the chart (going back to 2007). It has since improved a tad, but remains at very low overall levels.
According to Hulbert Financial Digest, news letter writers have also turned negative on gold, and are now recommending a net short position in gold. This however tends to work better as a contrarian indicator, and these low levels have historically been a bullish sign.
According to Rydex, the assets in precious metal funds has fallen to historically low levels.
Summary:
The risk reward in gold is skewed enough for me to try a long position in GLD, I'm long until we start to see some of these indicators reverse, and I'm out if we break below the green area of support in the first chart (around 147 in the GLD).
-Bill L.