Tuesday Recap: 
"It's pretty simple. Technicals are bullish + cycles are bottoming + sentiment is terrible = Buy. Long the SPY, risk adjusted stop is an hourly close below the 108 - 109 area"
Wednesday:
Risk appears to be back on. All the major indexes participated as well as the Euro vs the dollar. The TLT dropped and the VIX plunged. All in all, this is what we wanted to see as temporary bulls. Trading indicators have moved up from oversold to the low-neutral range. Swing indicators, namely the $NYMOT never got as low as I would have liked but I surmised it might be part of a bullish divergence. So far it looks like it may turn out that way.
$SPX / $NYMOT: bullish divergence?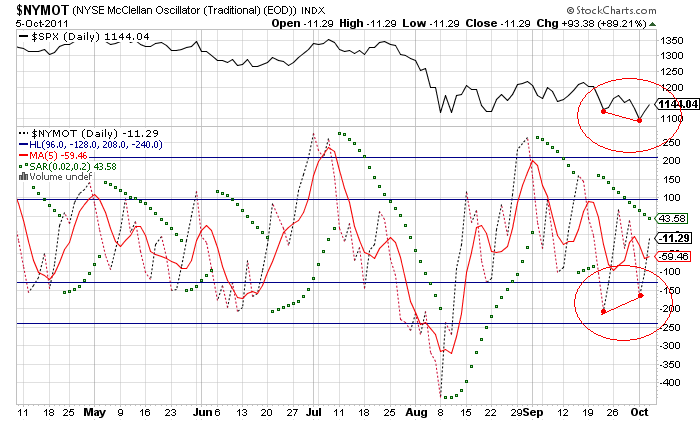 Notes: The 5 day moving average (red line) never got as oversold as I would have like. That said, we had several lows in the $SPX, with higher lows in the $NYMOT, producing a possible bullish divergence, which often occurs at swings.
Investor's Intelligence
latest survey was released this morning, showing percent bears continued to rise, and bulls disappeared. Which is what we want to see (at least while we are bullish). A friend asked me where the money was going to come from that could propel this market higher. A good question, had it been asked 4-5 months ago. This latest survey shows us that question to really ask, now that bears are in the majority is: Where are the short sellers going to come from that can continue to push this market lower? This doesn't guarantee success of course, but as temporary bulls, it's nice to have sentiment as a tailwind.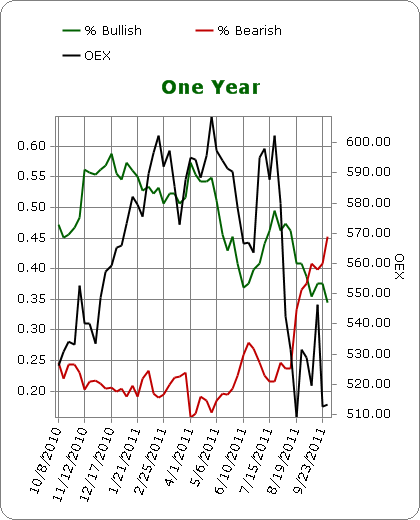 Notes: Bears (red line) take over.
Summary:Traders:
Stay long SPY, move stop up to 110. With an entry between 111 and 112, we are now only risking a 1-2 point loss.
For now, there isn't much to do except to continually raise our stops in an effort to continue to reduce risk, and preserve our capital, should the market reverse and fall. Once the first trading indicator gets overbought, profits should be taken on a portion of the trade. The rest can be left on should the market continue to run to even higher extremes, while again, raising our stops to protect any gains we may have accrued.
Investors:
The rally looks like it should continue higher. Once the first indicators start looking "overbought" I would recommend bailing out of remaining long equity positions.