December Performance Report
:
Trades generate from the blog generated a return of 6.4% for the month of December vs .08% return on the S&P 500 index. Since trading began in August 2011 the proprietary trading based from the blog analysis has generated a 49.9% return.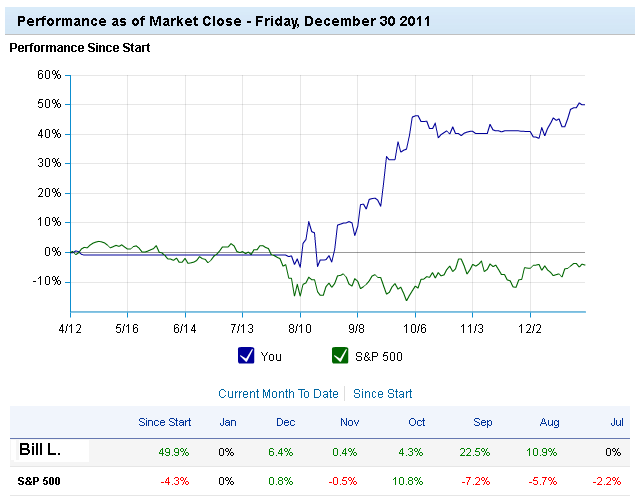 Long Term Trend Model
: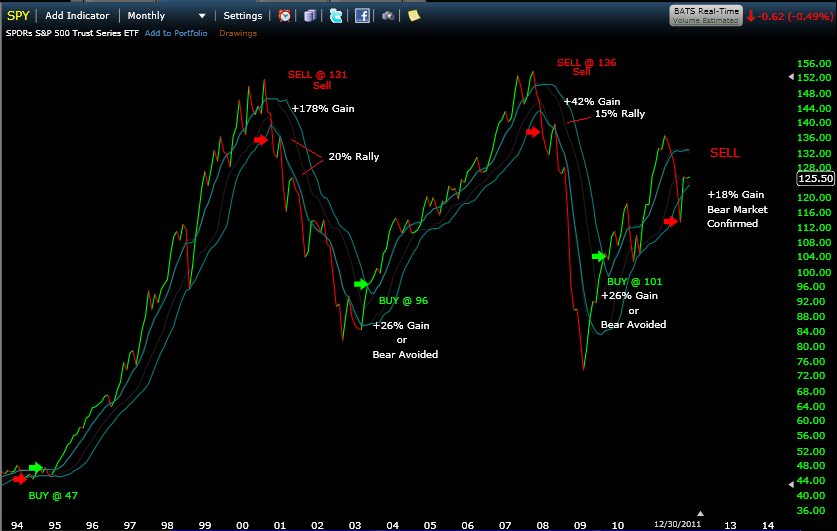 My Long Term Trend Model moved to sell in after the sharply negative monthly close in September 2011. Until the SPY proves we are no longer in a bear market with a monthly close over 133, we should assume we are in a bear market and temper our expectations accordingly. It is not unusual for a very sharp rebound once a bear market begins as those on the sidelines feel they finally have an opportunity to jump in at depressed prices. I believe this is what is happening now; I recently had a conversation with an associate at one of the major discount brokerages, he mentioned that after September '11 they had the largest jump in new accounts ever. It seems to me that after the S&P doubled in a just a year, retail investors could not resist buying stocks at exactly the time that a bear market has started. Ironically typical.

Swing Indicators
:
McClellan Oscillator
: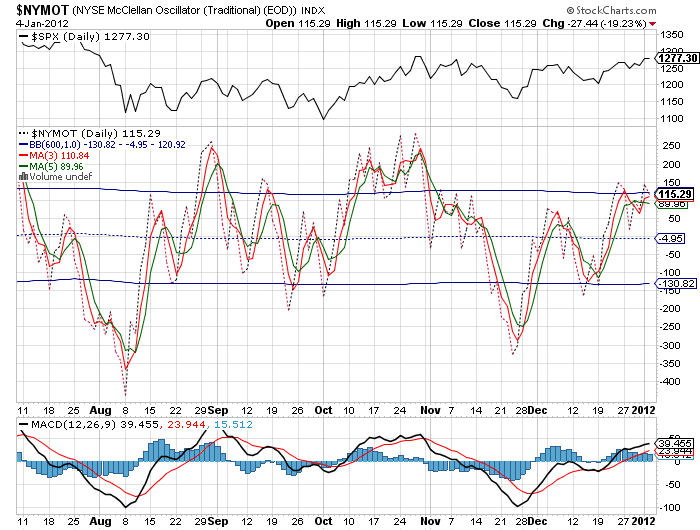 Notes: The McClellan is definitely indicating we are closer to a top than a continuation point of a trend. Possibly a double top non-confirmation in the indicator.
Sentiment
:
Put/Call Ratio
: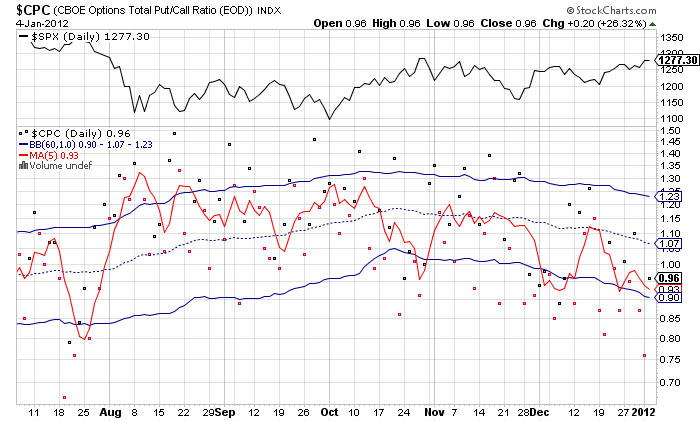 Notes: The 5 day moving average has swung strongly to the "call side," indicating that options traders have responded to the rally in that it has made them very optimistic regarding the near term future. This tends to be a strongly contrarian sign.
Summary
:
I'm not totally convinced yet that this morning sell off marks "the top," but in my opinion we are clearly closer to some sort of a top rather than a continuation point in a trend. The short term indicators I follow aren't quite as high as I would like them to be when going short, but are high enough that when taken all together I am interested. With the Euro/USD getting absolutely destroyed, bulls should be concerned that stocks will suddenly "re-correlate." If the Euro/USD is any indication, the Euro-zone is going off a cliff.
I hope everyone had a good holiday season, and I'm looking forward to the new trading year. Good hunting!
Regards,
-Bill L.