Bottom Line:
In my previous short term update I noted that some of the indicators that I watch had started to become overbought. Since then as the market has rallied some 100-150 points, the short term indicators that I watch have become even more overbought.
Recent Article(s):
1) The World Markets Teeter: seekingalpha.com/article/662601-the-world-markets-teeter-ahead-of-greek-vote
2) Market Valuations Look Expensive: seekingalpha.com/article/655331-even-after-the-recent-pullback-the-market-looks-expensive
Update:
If this most recent move higher is indeed a correction before heading lower, prices in the SPY have reached levels that are important on a technical basis.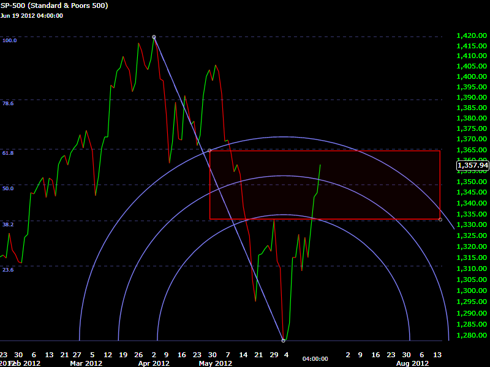 Notes: We can see from the chart above that the SPY has reached the important 61.8% retracement level. Elliott wave enthusiasts, as well as Dow market theorists both assigned significance to this value. Charles Dow noted that corrections tend to end after retracing approximately 1/3 to 2/3 of the previous decline (both Fibonacci relationships), and Elliott wave practitioners believe that an idealized ABC wave 2 correction ends at 61.8 or phi (the golden ratio).
Short Term Indicators:
The short term indicators that I watch have also reached levels where statistically a turning point is likely.
NYSE McClellan Oscillator:
Notes: Both the three in the five day moving average had exceeded one standard deviation from the mean. A subsequent crossover lower would be a strong confirmation that the turn is in.
NASDAQ McClellan Oscillator: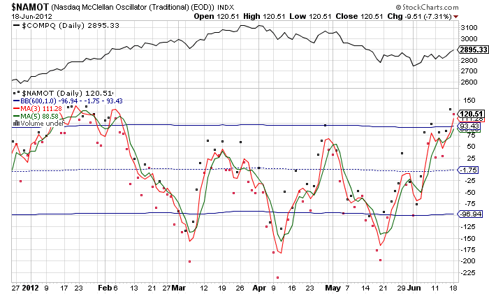 Notes: The NASDAQ Mcclellan oscillator is not quite as overbought, though it too is at levels that make me think that the next profitable trade will be on the short side.
Percentage Of Stocks Above Their 20 Day Moving Average: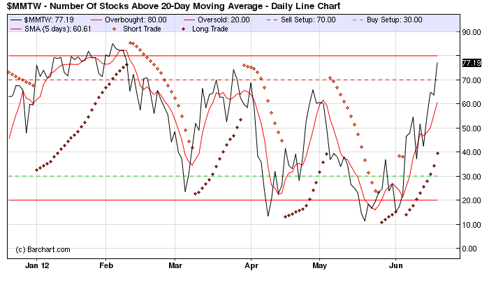 Notes: The percentage of stocks above their 20 day moving average has reached over 77%, while the five day averages its 60%. I would consider this an overbought reading. A one day close below 70% could indicate that the turn is in.
Advance-Decline Line: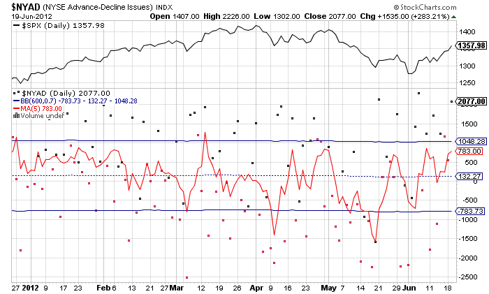 Notes: There was a very strong close in advancing vs. declining issues, though this is dragged the five day moving average close to an overbought reading.
Up-Down Volume: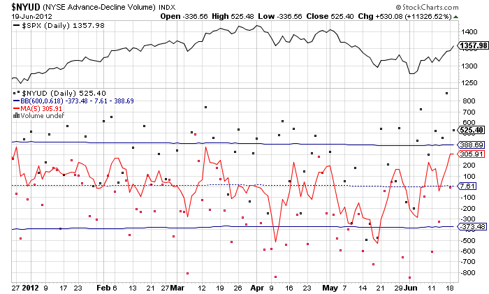 Notes: Similarly, the five day moving average for up vs. down volume has risen to one of the highest readings in last six months, and a reading that I would consider overbought.
Tick: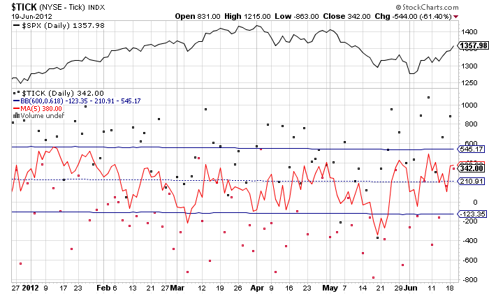 Notes:The NYSE Tech is not quite as overbought as I would prefer it when calling for turn, that said, the five day moving average is at the high end of the range for the last 5 to 6 months.
TRIN: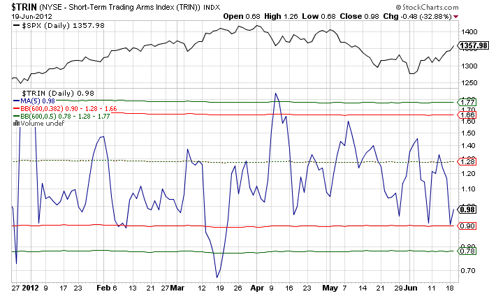 Notes: The the five day moving average for the TRIN index has been pushed down to overbought levels.
Summary:
The markets are in rally mode, for now. This partially appears to be the result of the expectations of Fed easing tomorrow. Whenever the Fed's decision tomorrow is sure to cause some short term volatility.
From my perspective, at the very least the markets appear to be short term overbought and ready to correct lower. Worst case scenario? If the global situation continues to decline, dragging down our economic data, a peak here could be the first stop on a journey much lower. One day at a time however.
Long-term investors may want to use this rally to raise cash, or use the low vix to buy puts against their equity positions. Short term traders should watch for a possible turn lower this week, possibly tomorrow after a pop following the fed decision.
Good luck trading, we'll talk again tomorrow.
-Bill L.
Disclosure: I have no positions in any stocks mentioned, but may initiate a short position in SPY over the next 72 hours.