Bottom Line:
Currently I'm bearish on equities but it always helps to adopt the opposite view as an analytical tool. From a bullish perspective, one could make a case for bounce starting near these levels. A failure to rally here would most likely put the rally from the June 4th lows in jeopardy.
Update:
The McClellan Oscillator is still far from oversold, with the 5 DMA only just today crossing back below the +1 standard deviation "overbought" mark.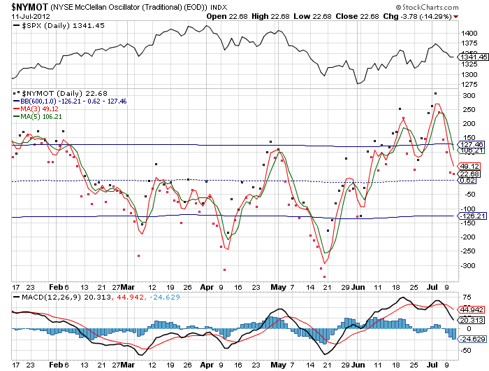 Notes: Looking at this chart it is difficult to make the case that the market is oversold on an intermediate term basis.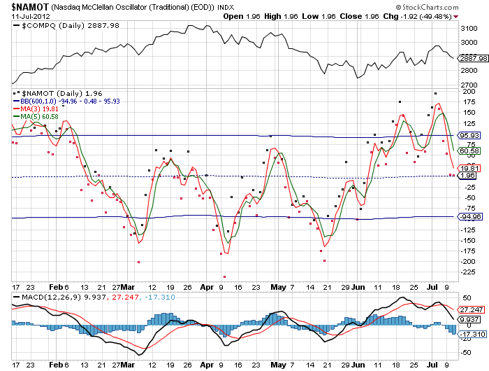 Notes: The NASDAQ Mcclellan oscillator relays the same message.
Looking at the percentage of stocks above their 20 day moving average, the five day moving average is about to close below the setup zone, a signal that the intermediate trend has changed directions.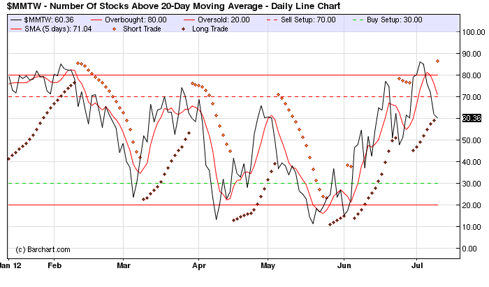 In my last update I noted the continued weakness in treasury yields, and I opined that soon we would see a new all time lows in the 10 year yield. Yesterday there was a 10 year note auction with very strong demand, so we may see these new all time lows sooner rather than later.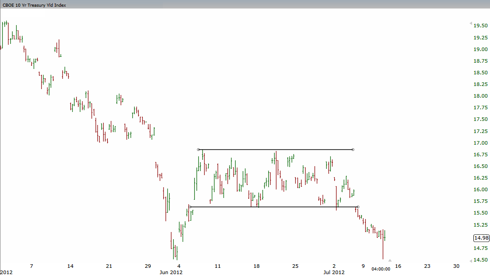 Notes: The basic message from this chart, bond investors are simply not buying (metaphorically speaking) this leg up in equities. If equities were moving into a linear correlative relationship, almost the entire rally off the June 4 lows would be retraced by now...
That said, if I were bullish I would be hoping for some resistance here.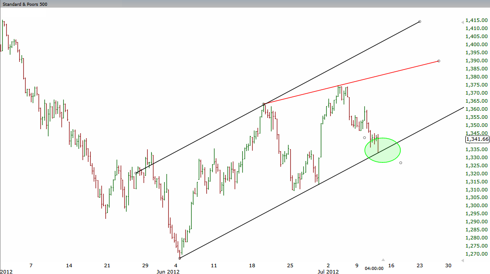 Notes: First note that the most recent peak failed to reach the top of the channel, a sign of deceleration. However, now we are testing channel support. Furthermore, we're testing support while most of the shorter term, more sensitive indicators are approaching oversold levels.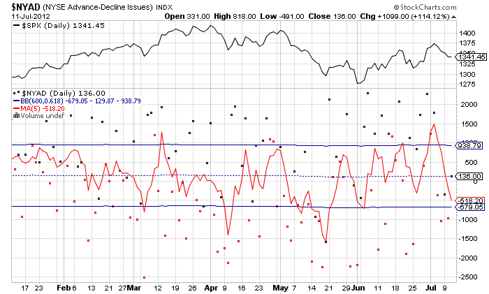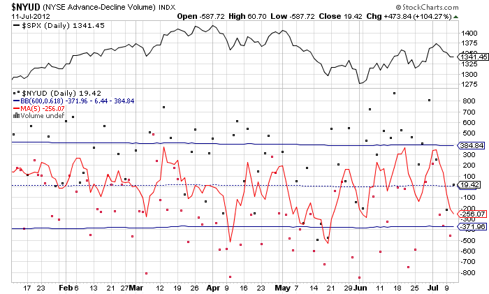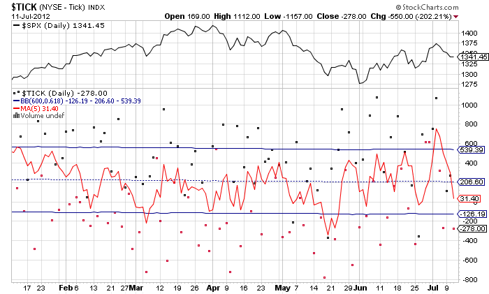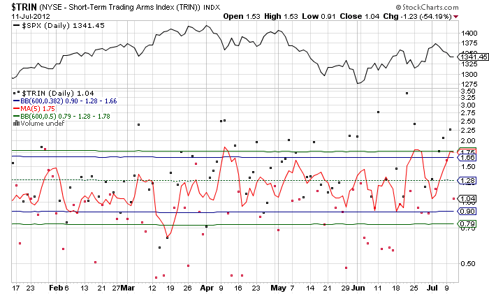 Summary:
There are reasons to be bearish, and there are reasons to be bullish (as always), personally I'm leaning on the bearish side, but it always helps to look at things from the opposite perspective. Some of the shorter term indicators are approaching oversold, however if this is a true trend and not just a correction lower, these signals will simply get overpowered by the larger trend and get pushed to even greater extremes.
It's important when trying to capture a trend, to give it a chance to develop. There always be bumps along the way and it is important not to get shaken out at the first sign of some contrary evidence. That's what our stop is for.
If I were a bull but I would be hoping for some support here, a failure to hold these price levels would make me throw in the towel and wait for the next level of support, the June 26-28 lows, and then (capitulation) the June 4 low.
Stay tuned,
-Bill L.