Bottom Line:
The market has been in a range for almost two weeks now. The price action in the secondary indexes as well as the position of the indicators argue against further gains, but they've failed thus far to produce the decline I've been looking for. Furthermore, if the cyclical indexes start leading, it could result in a much more prolonged push to the upside as money rotates out of defensive sectors. It's not clear yet that this is happening, but there is some evidence to support this.
Indicators:
Bullish: 1/20
Neutral: 9/20
Bearish: 10/20
Examples:
% of Stocks Above their 20 DMA: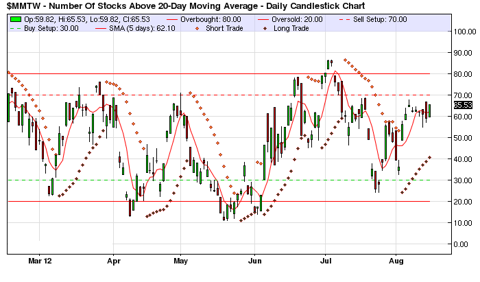 Notes: Nearly overbought, this could also be interpreted as a bearish divergence going back to early July.
NYSE McClellan Oscillator: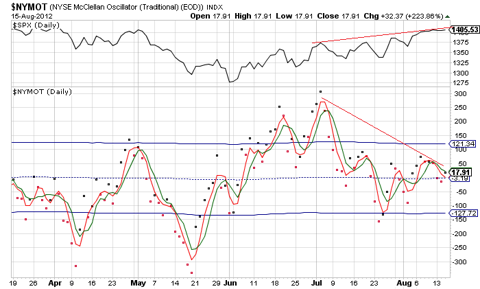 Notes: While it's possible to still read this as a bearish divergence, it becomes less and less likely as more time passes. There is currently a bearish MA cross over, though these signals tend to only really be reliable when they occur in the "overbought" or "oversold" range.
NYSE New Highs-Lows: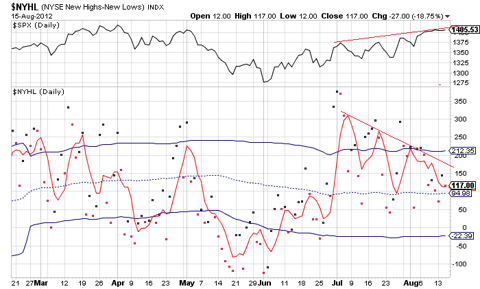 Notes: New highs-lows continues to diverge, indicating that each push to the upside is occurring with fewer and fewer new highs, and/or with more new lows. This could be a sign of the rally exhausting as money is flowing less freely into the broad array of stocks, and is instead focusing more on the large blue chip names that dominate the indexes.
NYSE Advance-Decline Line: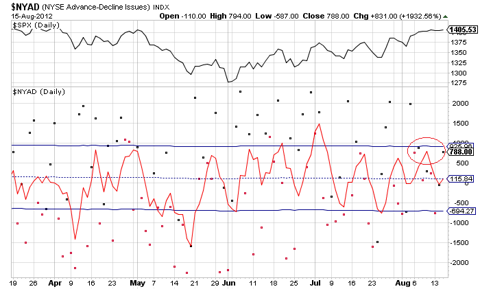 Notes: The 5 DMA has come very close to an overbought reading, but is falling back to the "neutral" area.
NYSE Up-Down Volume: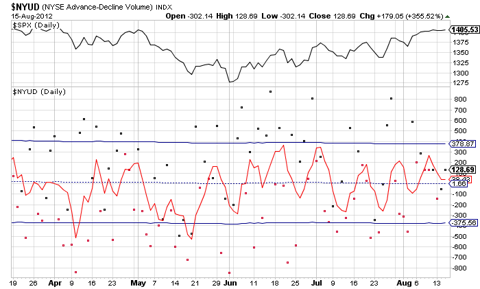 Notes: Similar, though not quite reaching the same height.
NYSE TICK: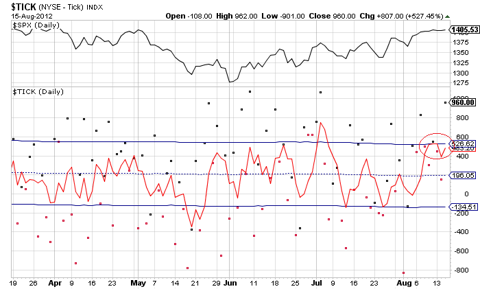 Notes: Overbought.
NYSE TRIN: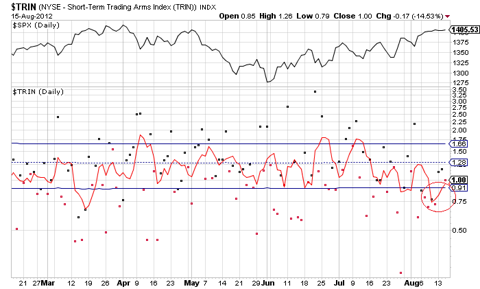 Notes: One of the more overbought readings in the last few months.
Put/Call Ratio: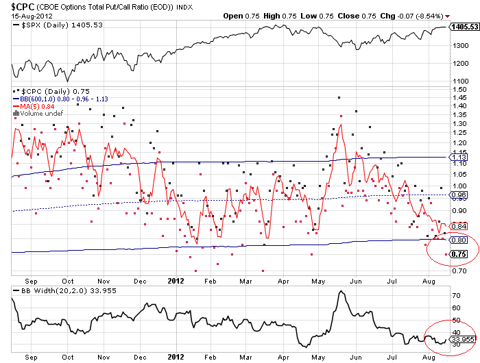 Notes: Very little fear in this market, as well as compressing volatility. Complacent low volatility periods are almost always followed by high volatility fearful periods.
Update, Price Action:
DJI: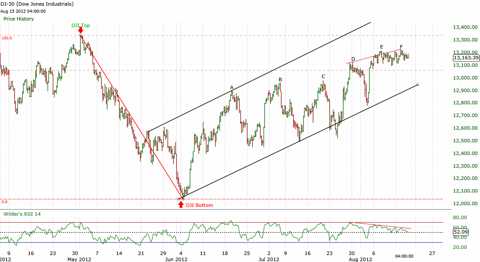 Notes: Stuck in a range for the last several days.
DJT: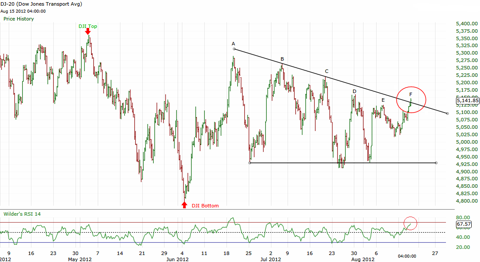 Notes: The last few days were significant in that the transport index was finally able to produce a higher pivot high.
DJU: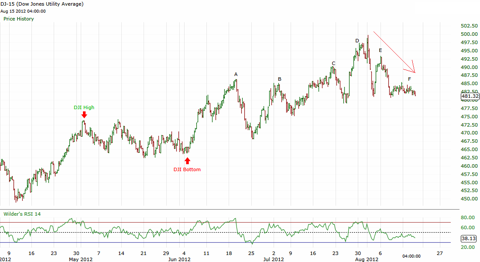 Notes: The defensive utilities sector on the other hand is losing steam.
JJC: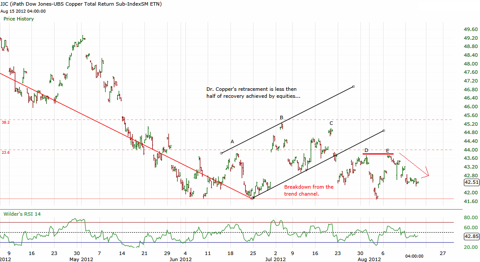 Notes: Copper is back near it previous lows.
$CYC/DEF: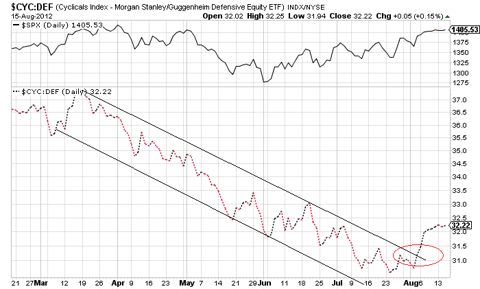 Notes: An example of the offensive/defense ratio perhaps starting to break out.
Summary:
It's a mixed picture. While the cyclical indexes and the transports still look far weaker overall than the primary indexes, in the last week their performance has improved. This could be a head fake, tricking investors to finally "get back in" the game, or it could be the start of a major rotation back into risk.
My interpretation at the moment favors the "head fake" scenario, seeing as how the market is overbought, with declining momentum, and general mood of complacency. That is not a recipe for a big bull move. That said, I still need to see price action confirm a down move, which we have not gotten. A good first start would be for the SPX to take out 1395, which has played as support multiple times.
-Bill L.