While many analysts ponder whether we are at peak energy and therefore perhaps peak production as a global society, others search in distant places for those valuable resources that we need.

While oil may not spring up in our backyards anymore, there are certainly still undiscovered quantities of it in places we have not looked before. Many of these places are remote and undeveloped, and therefore are not at front of investor's minds. But lo and behold, those resourceful companies are actively searching these remote locations for more of the black bubbling goo we call oil.

And when one of these companies finds it, investors have hit the jackpot. There is no finer moment than the realization that you picked a small cap exploration company when it was a penny stock, only to see it strike a large reserve and become a respectable stock play. The returns are rich, and the satisfaction is sublime.

I am speaking of course of Africa, the final frontier for Black Gold. Specifically, this article will concentrate on Namibia, one of the countries obvserse of Brazil.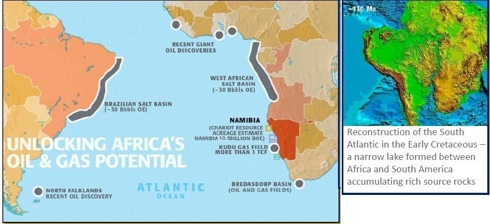 Source: Chariot Oil and Gas

Somewhere in our history, people laid a map of the globe flat on a table and noticed that South America and Africa look like they fit together. And sometime later, geologists looked at the same map and realized that if indeed these two continents were connected, then they must share common geological traits. In the case of Brazil and Namibia, that means oil and gas.

So quite a few companies have made some discoveries in Africa which include offshore developments. Some of the bigger names, such as PetroBras, Hunt Oil. Exxon Mobile, and BHP Billiton have begun exploration and drilling. If you are interested in these type of stocks, then you expect to see solid returns over time.

In other words, BORING!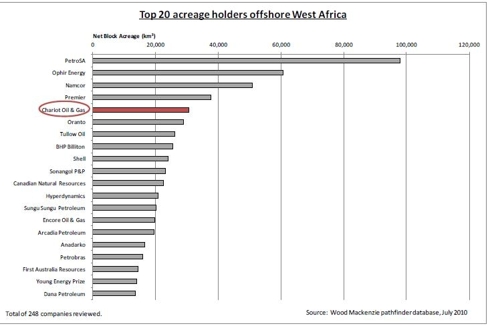 Source: Chariot Oil and Gas


But nothing of the magnitude we are hunting for. For that, we have to dig a little deeper.

Namibia is in the midst of great exploration and discovery. The country has some political risk, but nothing that is expected to prevent drilling. While the state oil company takes a share in licenses in exchange for exploration rights, they actively promote oil and gas discovery, especially since they have energy shortages.

I first heard about Namibia oil a few months ago during an investor presentation. I put a note in the back of my mind to research this tiny country. And, I am glad that I did.
I am not going to profile every country doing business off the West African coast. But I will provide information on a few potentials, with a heavier concentration on small stocks with big upside potential. That is our sweet spot, with returns potentially in the thousands of percent.

Chariot Oil and Gas

To understand the upside potential, we will start with Chariot Oil and Gas. This time last year, this stock was trading in the 25 GBP. Right now the stock is at 183 GBP. That is a 7-fold increase. What happened?

Well, Chariot discovered a potential of 10 billion barrels of oil, and is partnering with PetroBras to develop the 2714 block.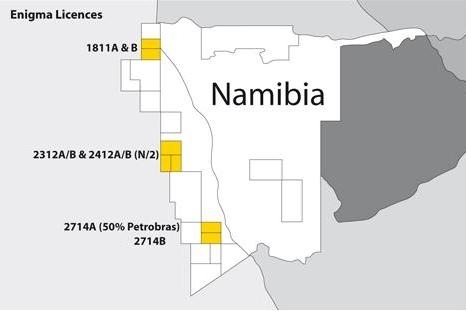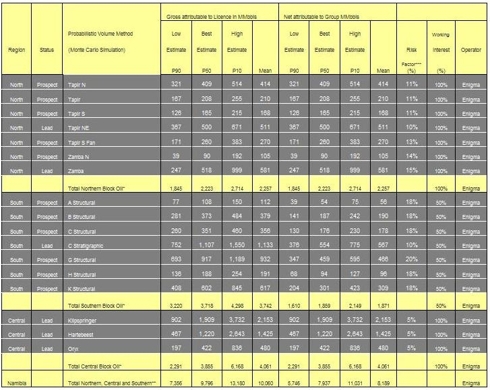 Source: Chariot Oil and Gas

After the announcement of potential reserves, the share price shot up. This is after the price gradually declined previously.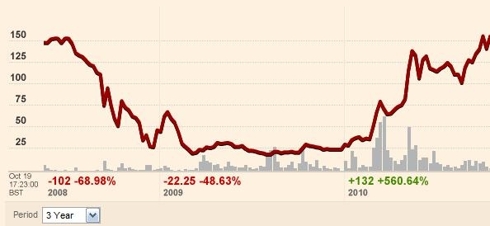 Don't you wish you purchased some last November?

This is the fairy tale in oil and gas exploration. It does not always work this way, but we can give ourselves reasonable chances at success by researching other potentials.

Tower Resources (TRP.L)

Tower estimates 10 billion barrels in License area 010. Arcadia Petroleum, a wholesaler and trader, owns 85% interest with Tower taking 15%. Tower's interest may yield 170 million barrels equivalent. That's not quite Chariot-like, but it's nothing to sneeze at either.

The great news about Tower is they have finished a 3D seismic imaging of the area. Processing this information should be done at the end of this year. When reserves are confirmed via this type of analysis, the share tends to move strongly with the news. Therefore, if the estimate of 170 million barrels is correct, owners of Tower could get a nice little profit. The stock is at 3.40 GBP at the moment.

They also have tons of management experience, which bodes well for their success.

There are a couple of downsides to Tower. They are burning about $2.5 million per year on reserves of $8.5 million ending 2009, so they probably have about 2-3 years before needing liquidity injection. They expect drilling to commence in 2012, which is probably just in time.

What is more concerning is they have issued 1 billion shares. That's a lot, and it will mute any stock gains resulting from resource finds and confirmations.




Source: Reuters

Verdict:  Strong resource potential, but dilution is too high to be considered home run material

Tullow Oil (TLW.L)

Tullow Oil is a global oil and gas company, headquartered in London. They have 85 licenses in 22 countries and produced 58,000 BOE in 2009. Africa is their largest area, and they have a play in the Kudu gas field. Namcor gets 10% of this, but Tullow currently holds the other 90%. Tullow holds significant plays both in Uganda and Ghana. Profits come primarily from Uganda, so this is by no means a small cap.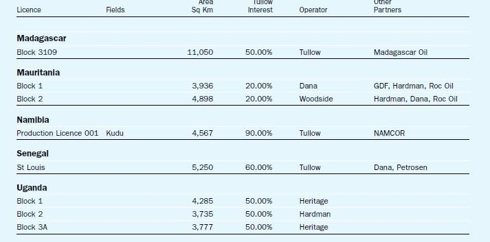 They are interesting, however, because of their Ghana assets which are estimated to have 1.4 billion barrels, of which Tullow owns 49.5%. And the Namibia play, located in the Kudu field, is expected to have significant oil and gas reserves. Announcements of confirmed discoveries in Ghana and Namibia could bring a nice boost to this stock, currently trading at $18.87 US.
 
Verdict: Solid stock with nice upside potential

Energulf Resources (OTC:ENGFF)

Energulf is located in Houston. Their Namibian interest is in Block 1711, which contains the highly regarded Kunene Prospect.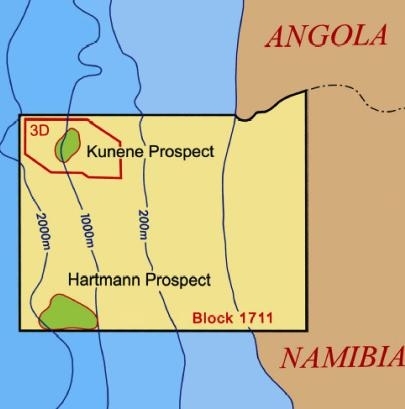 Tiny Energulf, trading at 49 cents at the moment, holds 10% of this block. It is estimated that this block contains 14 tcf of gas. There has been some exploration but detailed seismic mapping has not been conducted on the oil side. This is a long play stock with huge potential.

In addition, Energulf has an inland interest in the Lotshi block in the Democratic Republic of Congo, which has been 2D seismic mapped but further exploration is necessary.

This company has not diluted their stock as much as others, so any announcements should provide solid boosts to share price. The balance sheet is solid but they may need additional cash down the road.

Verdict: Risky stock, but upside potential is enormous. Sell after Block 1711 reserves estimates takes the stock higher. Take a new, smaller position for the longer haul.

UNX Energy (OTC:UPWRF)

The Company Formerly Known as Universal Power has announced estimates of 567 million to 2 billion BOE. They have a 90% interest in 5 blocks off the Namibian coast, a 40% interest in 3 other blocks, and a 2.7% interest in Block 1711 with Energulf Resources.

The holdings include a gas play next to Kudu gas field with potential reserves from 1.3 to 9 tcf of gas.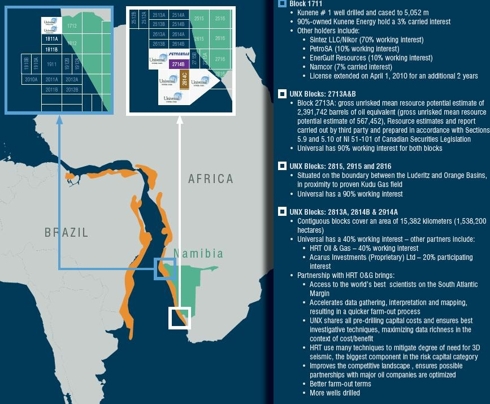 This is the stock that Byron King has touted for several months. When I first heard about UNX, the stock was trading at $1.50, and it is currently at 4.13. That's a nice boost upon the reserves announcements.

The company has recently announced a stock sale to boost cash.

The biggest upside to UNX is their huge acreage of assets that haven't even been explored yet. Given the rate of successes in this region, it is reasonable to expect more and more BOE estimates in the future. The sky could be the limit for this one.

Verdict:  Proven stock that should continue to grow for the next several years.
Disclosure:
UPWRF & ENGFF