CGA describes itself as a humic-acid based compound fertilizer manufacturer and supplier from China.

As you will notice, the name itself is already fishy, notice the company name.... "CHINA" and "GREEN". The company clearly wants to capture attention, in reality the real name of the company was Discovery Technologies, Inc, which was some obscure venture capital firm I presume. 

The company is getting superb results in its business, thanks to its small float, earnings are growing rapidly. The company capitalized on a capital injection from new shareholders and a recent flotation on the Amex. 

Now that the company is beating its estimates and raising guidance, Wallstreet strongly rewarded the company with a boost in its share price. And so far so good, everyone is happy.

What not everyone is aware is that amongst this ecstatic moment, insiders will find the opportunity to sell their 'bonus' shares. Did you notice that the past week the whole float was traded? A company that was trading at $3-4 and no one bothered too look at a few months ago, is now trading at $17, and everyone wants to get in.

The company is richly valued - according to latest shareholder count available, it has a market cap of nearly $400m, more than 10x Sales and trades at a PE of 20+ which is a high multiple (but bullish investors say the multiple is justified due to its potential superior growth rates).

Agreed, but what naive investors are not looking at is that the company has a potential of dilution of around close to 9m shares - 6.4m "free" shares given to friends and investors a year ago prior to the listing, and another 2.3m shares to be approved by shareholders in the coming month under the 2009 stock option investment plan.

All in all, these shares will dilute the current shareholders by 27%. The company engaged in wise techniques to find a way of how not to report the 6.4m shares, and the 2.3m shares are not yet accounted because they still have to be approved at the AGM.

All in all very wise from CGA's insiders.

Furthermore, Mr Li Tao, CEO of CGA was given 3.2m+ shares as a bonus money on top of his miserable pay package of $128,000. With the latest surge, Mr Tao is sure to have sold some shares to secure his financial position for life particularly now that the lock-up agreement expired.

On a technical analysis perspective, the company is trading at the upper trendlines (see chart), and volume is very high - signs of a climax top. The agro industry is lacking, and I have seen too many similar runs end up busted like what's going to happen to CGA - see COIN, AOB, BBCZ.pk 

I am not saying this company is not great, or badly managed, but I believe any long-term investors should read and study their SEC filings to uncover the truth behind this company's real future intentions. The current stockholders will be diluted to the insiders - remember the mastermind - Discovery Technologies, it is not a "real" Chinese company as they want us to perceive, but rather another US venture capitalist firm.

If the company is making a good profit why doesn't it return it to its common stockholders, why does the company want to enlarge its stockholder base so much, why does it give free shares?

Does no one think the 3.2m free MAKE GOOD for 2009 shares to the CEO is not an exageratedly excessive pay package - at current market value - these shares fetch $54m which is more than the current company's turnover!!!!

Conclusion: This stock has a great PR initiative so to maximize the return to the insiders. They don't care about you future bagholders.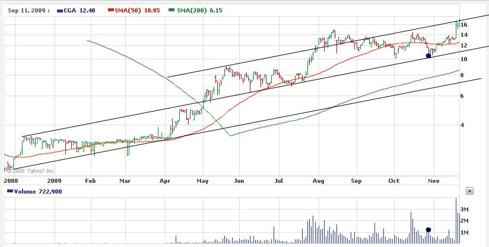 Click to enlarge