Please note that this article was denied by seeking alpha. Hence, why I am posting as an instablog.
A product that I use daily at my workplace is Keurig Green Mountain's (NASDAQ:GMCR) coffee machine. I believe their products are one of a kind, easy to use, easy to make and produce a wonderful coffee. I have studied this company for the past few years and have traded it in the past. Further analysis as explained in this article shows that the stock price is ready for a move higher. This article will explain the story, recent earnings, the future, together with technical analysis and risks investing in this company.
The company
GMCR is a leader in how it changed the coffee industry. It used to take me 6 minutes to prepare a cup of coffee at work, but with the Keurig machine, I can prepare a cup in a minute! The company has changed the way consumers prepare and enjoy their beverages at home. GMCR estimates that they have over 16 million Keurig Brewing Systems active in U.S. households to date, and surprisingly, this is only 13% of the total households in the U.S.
2013 was a very strong year for GMCR. Here are some key highlights:
1. Significant progress in strengthening long-term partnerships with leading companies including Starbucks (NASDAQ:SBUX) and a renewal agreement with Dunkin Donuts.
2. New partnerships like the coffee Bean and tea leaf brand, cinnabon, lipton, and Snapple to Keurig Brewing System while strengthening already great relationships with beverage partners such as the J.M. Smucker company and its Folger's Gourmet Selections and millstone brands, luigi lavazza SpA, newman's ownorganics, and celestial Seasonings as well as with appliance partners such as Jarden consumer Solutions and Mr.. coffeebrand, conair corporation and its cuisinart brand.
3. Working closely with the Campbell Soup company (NYSE:CPB), which allows the company to expand beyond beverages.
The picture below shows the current uses within the Keurig's system.

(Adapted from files.shareholder.com/downloads/GMCR/325...)
The future
I believe the future looks very bright for this company and I believe this is only the start.
GMCR will continue to expand and grow their Keurig hot Brewing system as I believe there is significant opportunity to raise awareness of the system in geographies where the company is under penetrated.
The potential for introduction of new systems is also another opportunity for growth. a Keurig cold system and a water system are 2 products we will see in the next year or so. The water system market is worth around $10 billion!
Latest earnings
The last earnings report that can be read here was very strong. There were a number of key highlights worth mentioning.
Delivery of double-digit revenue growth which was driven by 12% revenue growth from the Keurig system.
Non-GAAP earnings per share increased by 16% year-over-year.
Free cash flow increased 30% year-over-year to $263 million.
$800 million to shareholders this quarter and also ending the quarter with over $1.1b in cash.
New share repurchase authorization of up to $1 billion over the next two years.
These are all strong statements and show you the position the company is in.
Now let's look deeper into the numbers. As you can see in the chart below, numbers in the quarter and in 2014 and 2015 are increasing.

(Adapted from finance.yahoo.com)
The earnings history is also very strong. When I continue to see earnings numbers beating consensus, I find this is a very strong bullish sign.

(Adapted from finance.yahoo.com)
Technical analysis
When I started trading years ago, my mentor always taught me "But the best fundamentals when the technicals start to match". The chart in GMCR is a thing of beauty. The base continues to tighten. There is resistance around $123.60 so keep an eye on volume as this clears. The daily chart explains this. Volume has been increasing lately too.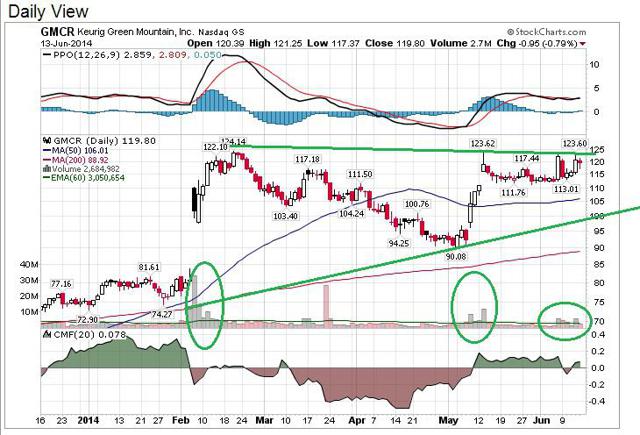 (Adapted from stockcharts.com)
The weekly chart also remains bullish as prices remain over the 20 and 50 day moving average, both trending up.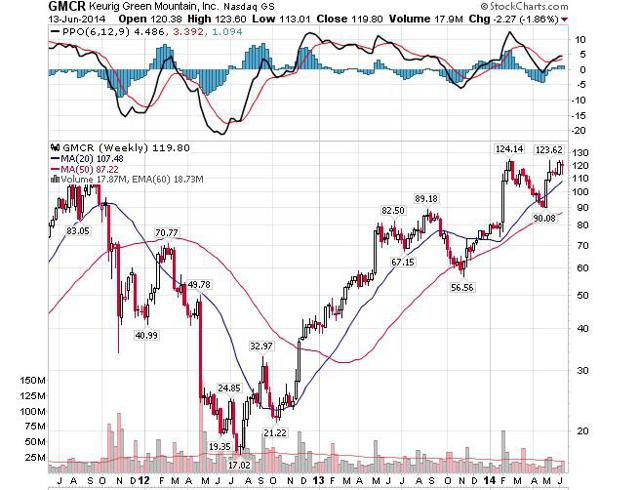 Risks associated with this trade
There are a number of risks worth mentioning here. Firstly, competition. Although GMC plans to enter the cold drink industry soon, one must remember that SodaStream International (NASDAQ:SODA) has been developing their system for years. So although the Keurig cold system can be a big boost to GMCR's bottom line, one must be careful of other products already in the market.
Secondly, 10% of the float is short. Is there something the shorts know that we don't? The bulls might see this as a bullish sign, as a short squeeze can push the stock to multi year highs too. Things that we have to consider.
Conclusion
I initiated a position in GMCR recently and I believe the stock is ready for new highs. The company is currently valued at around $19b, has over $1.1b in cash, and around $273 million in debt. The large cash position mitigates the risk of a secondary offering of shares.
I believe the future is bright for this company. Furthermore, on the 13th of May 2014, news came out that the Coca-Cola company (NYSE:KO) has purchased 16.7 million shares of GMCR, bringing the total to 26 million shares. This is massive, and a potential buyout is something to keep an eye out for.
Buy the best fundamentals when the technicals are right"
Disclosure: The author is long GMCR. The author wrote this article themselves, and it expresses their own opinions. The author is not receiving compensation for it. The author has no business relationship with any company whose stock is mentioned in this article.