By YCharts Staff
Google (GOOG) introduced its Nexus 7, the latest would-be Apple (AAPL) iPad killer. Its big debut came just days after Microsoft (MSFT) rolled out the Surface. It's unclear who will win this tablet war, but Google's entry has made one thing infinitely clear: Research In Motion's (RIMM) PlayBook is not a contender. Tablets are the future, and that means that unless the once-proud Blackberry maker has a surprise announcement up its sleeve for today's earnings call, the company's turnaround hopes are a thing of the past. It's expected to report its first quarterly operating loss in more than seven years. In that case, it could be time to take that company out to the recycling bin.
(click to enlarge)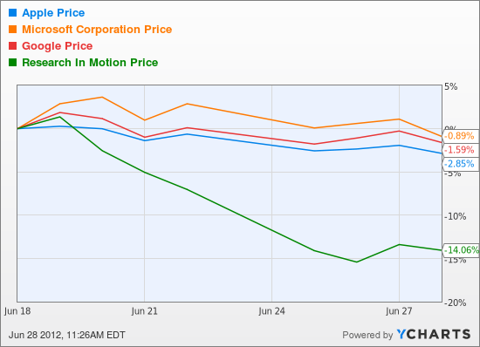 Click to enlarge
From the editors of YCharts.YCharts Pro Investor Service includes professional stock charts, stock ratings and portfolio strategies.
Disclosure: I have no positions in any stocks mentioned, and no plans to initiate any positions within the next 72 hours.