The dribbling out of the bad news surrounding derivative positions at JPMorgan ( JPM) has been disconcerting, but hardly surprising given the disclosure patterns that have characterized big banks and Wall Street for many years. Ever upbeat, finance executives often seem the last ones to spot the monster in the basement.
But the real question about all you following this story is this: was JPMorgan worth considering in the first place. Sure, it might produce a nice bounce, given that it had been trading at a discount to Wells Fargo ( WFC) and U.S. Bancorp ( USB), the non-Wall Street banking giants, based on PE ratio.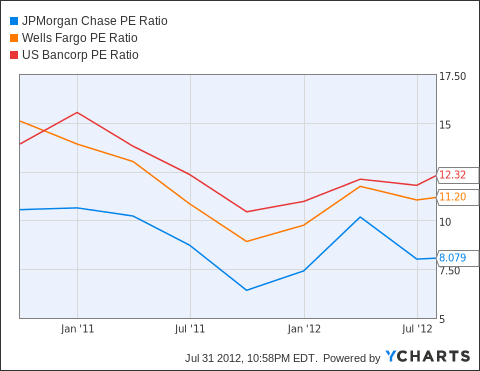 JPM PE Ratio data by YCharts
But long-term, it's hard to see JPMorgan becoming a top performer. Its return on assets - among the best way to measure banking performance - has always been weak compared to Wells Fargo and U.S. Bancorp.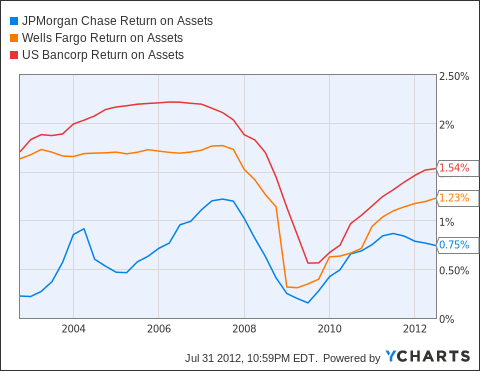 JPM Return on Assets data by YCharts
Blame the vagaries of the Wall Street trading business, less expert integration of its many acquisitions, or sheer size.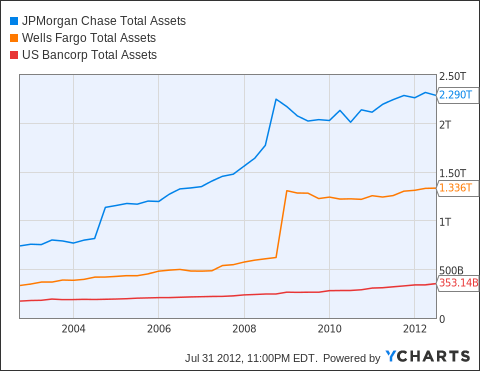 JPM Total Assets data by YCharts
High performance is something that has to be baked into the culture of a company. Jamie Dimon, true, did a masterful job of steering JPMorgan clear of the worst of the financial crisis. But he doesn't have a Wells Fargo-record of steady incremental improvement and fierce and narrow focus.
From the editors of YCharts.YCharts Pro Investor Service includes professional stock charts, stock ratings and portfolio strategies.
Disclosure: I have no positions in any stocks mentioned, and no plans to initiate any positions within the next 72 hours.