The goal of Joel Greenblatt's Magic Formula is to identify above-average companies at below-average prices. I would say my focus is a little bit different in that my intent is for my PA to be highly concentrated in 2-5 stocks at any given time (I'm currently fully invested in one company - Express Scripts (ESRX)), and so I am looking for a bit more than above average in terms of business quality and price. I want excellence on an absolute (as opposed to relative) basis in both areas. Of course these two are hard to find in the same place as they are normally highly directly correlated in a largely efficient market, however, there are select opportunities and since I am so concentrated, I don't need to find many. Though my focus is slightly different than Greenblatt's, I continue to find the Magic Formula Screener as an excellent starting place in the search for companies/stocks that fit my criteria. I recently ran the screen with a $147M minimum market cap (random small number to generate unique list). Alliance Fiber Optic Products (AFOP) was one of the results, so I figured I'd take a look.
Business
The first two sentences of the 10-K are as follows:
Alliance Fiber Optic Products designs, manufactures and markets a broad range of high-performance fiber optic components, and integrated modules incorporating these components, for leading and emerging communications equipment manufacturers and service providers. We offer a broad range of products including interconnect devices that are used to connect optical fibers and components, couplers and splitters that are used to divide and combine optical power, and dense wavelength division multiplexing, or DWDM, devices that separate and combine multiple specific wavelengths.
These words went WAY over my head and I knew it almost immediately, so I thought a better starting point would be to google the words "fiber optic." One of the first results was a HowStuffWorks explanation of the topic which was exactly what I was looking for and indeed, I found it very helpful. Apparently fiber optics are thin cables of optically pure (extremely clear) glass as thin as a strand of human hair that transmit digital information in the form of light (infrared and in some cases, red visible) over very long distances (transatlantic fiber optic cables exist!). These cables are used most commonly in the telecommunications industry for telephone, cable television, and internet data transmission. Fiber optic cables continue to replace traditional copper wires due to being lighter, cheaper, and more effective. This trend seems to be one of the most significant qualitative positives in the long AFOP thesis. Data and the internet are becoming ever more important. I recall in my preliminary research of China Mobile (CHL) a few months ago, I noted that the company is currently investing heavily in a 4G network rollout in China. The 10-K confirms all this:
Our future success depends on the continued growth of the Internet as a widely used medium for communications and commerce, and the growth of optical networks to meet the increased demand for capacity to transmit data, or bandwidth.
One concern I have is that I'm not tech-savvy and industries and technologies evolve very rapidly in tech. I don't know much beyond what I stated above about fiber optics or alternative technologies and I'm not confident that I would be able to detect the decline of fiber optics if and when it occurs.
I like that the company has significant intellectual property with 68 issued US patents. Needless to say, this is a critical source of competitive advantages for tech businesses.
I'm concerned with the company's customer concentration. 45.3% of FY13 revenue came from 2 customers and 75.6% of revenue came from the 10 largest customers. The company does seem largely globally diversified though. Only 56% of FY13 revenue came from North America with the remainder roughly evenly split between Europe and Asia.
My biggest concern is probably the nature of the business and the competition of the industry. The company's named competitors are JDS Uniphase (JDSU), Oclaro (OCLR), Oplink Communications (OPLK), Senko Advanced Components and TE Connectivity (TEL), and the company estimated that over 20 companies compete in the components market. The company warns several times throughout the 10-K that competition is intense and cuts to ASP are frequent. This is concerning, although the trend in gross margin has been quite positive to date: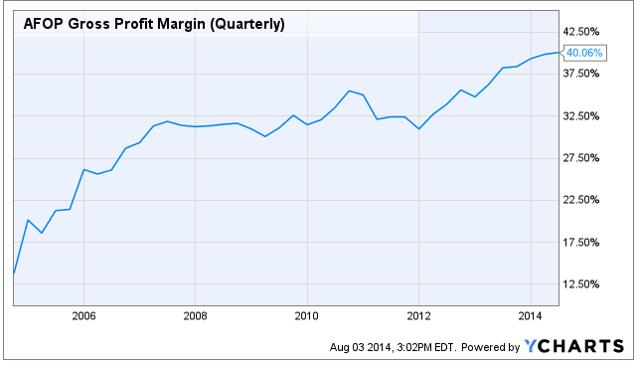 More often than not it seems, in manufacturing industries deep in the supply chain, pricing is based on cost rather than the value to product provides to the consumer. This almost always means lower margins. Further, I don't know that there are many different ways to make a fiber optic cable.
The company invested 4.9% of revenue in R&D in FY13. This seems in line with other small manufacturing companies I've looked at in the past.
The company's CEO seems to be paid excessively. CEO Peter Chang has been the company's CEO and Chairman since its beginning in 1995. I'm sure he is very talented, but it is hard to imagine that the $1.7M he made in FY13 - 2.2% of revenue, 9.9% of EBIT, and 20.9% of SG&A - is justified.
Though it is technically a US company, it has a much more significant presence in Asia:
As of December 31, 2013, we had 1,514 full-time employees, including 36 located in the United States, 358 in Taiwan and 1,120 in China.
The company has a substantial manufacturing presence in both Taiwan and China. I'm highly skeptical of Chinese companies due to the numerous instances of fraud of various kinds, so this is a major concern for me.
In situations where I draw uncertain conclusions about a company/stock, I give much more weight to insider activity and there's been a ton of selling of AFOP stock among insiders: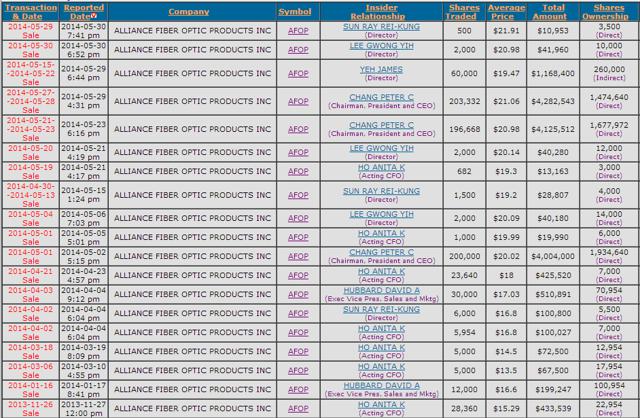 Source: SECForm4.com
Chang does still hold a $21M direct stake, however.
Overall, there are probably more qualitative reasons to dislike AFOP than like it and I can't say I was genuinely impressed. I would not be surprised if this company does well in the future as there are major secular tailwinds and the company has a lot of potential, but the risks and concerns would prohibit me from sleeping at night owning a significant position in this stock.
Valuation
I calculated ROIC here as EBIT / (Total Assets - Cash, ST Investments - LT Equity Investments - Current Liabilities). Using invested capital data from 12 months ago as I normally do, I got 111% pre-tax. Even using the most recent balance sheet data I got 86.2% pre-tax. In either case that's absolutely excellent. 15% or so pre-tax is probably average, meaning many companies don't even achieve that. Since I consider ROIC to be, by far, the best quantitative metric of business quality, this bodes very well for the long AFOP thesis. Normally the ROIC I calculate aligns well with the qualitative conclusions I draw, but that is not the case here. Maybe, I've been a little too critical in thinking about AFOP's business.
Over the last 5 years, the company has grown at the following CAGRs:
EBIT 85%
Revenue 25.2%
FCF 50%
The growth rates are outstanding, the growth has come rather consistently meaning few declines though there's been a big surge in the last 1-2 years, and there still seems to be a lot of potential for further growth with the current revenue base still <$100M and the aforementioned secular tailwinds. Indeed, analysts estimate 25% annual earnings growth over the next 5 years.
There's been some share dilution, but for a company with such ridiculous ROIC, growth, and growth potential, a very high multiple seems warranted. 20-30x could easily be justified as there are far worse companies (according to ROIC and growth) trading at such valuations. The stock actually trades at a much lower valuation at:
EV/EBIT 9.8
EV/EBITDA 8.9
P/FCF 15.8x
P/CFO 10.8x
P/E 12.2x
Such low teens multiples seem to drastically underestimate AFOP's quantitative profile. I believe the stock is very cheap.
Conclusion
I think AFOP stock is extremely cheap and would not be at all surprised if the stock delivers multi-bagger returns over the next 2-3 years, but I just cannot bring myself to hold a concentrated position in a business I qualitatively dislike so much. CEO pay seems excessive, the product is very tangible, meaningful competition is in place, there are customer concentration risks, companies with substantial Chinese ops scare me, there's been lots of insider selling of late, etc. There are just too many concerns I am unable to come to terms with.
Disclosure: The author is long ESRX. The author wrote this article themselves, and it expresses their own opinions. The author is not receiving compensation for it (other than from Seeking Alpha). The author has no business relationship with any company whose stock is mentioned in this article.