Let's jump right into the chart: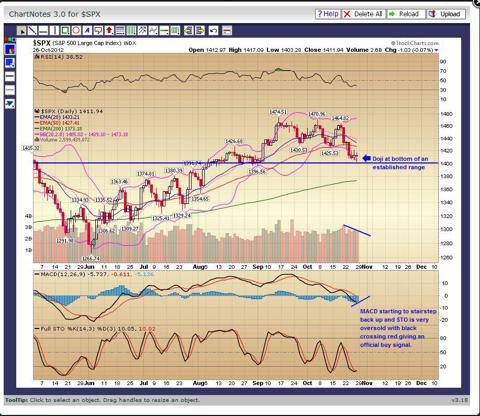 This is a daily chart of the $SPX. We are seeing 7 days of downtrend, to an established support at the 1400 level. From here I am expecting a rise, based on historical action at this level, the oversold state of the overall market and the stochastic positioning. We printed a long legged doji which is a sign of indecision, but in this instance viewed as a bullish reversal signal.
Projecting targets: We start from the base of 1400, as our low was actually 1403.28. Our first immediate resistance is 1425-1427 which is the 50 day ema, and a place we spent quite a bit of prior time at - that's a given but what happens after that? Assuming our first target is 1425-1427, that is only 12-15 points off of our close on Friday. Is that enough money to get the trillions of dollars back into the market to create a spectacular end of year rally? I don't think so. I think we need to get across the next level which is a little 10 point plateau between 1430 & 1440 - that was the "proving grounds". Look at the chart below - we have had "matching candles" or mirror action both up and down from 1400 to 1474.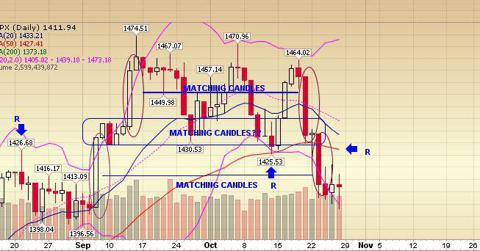 In my mind this tells me that if we can make it to the top range of the "proving grounds", we stand a good chance of seeing UPSIDE capitulation back to the old highs of 1474. Remember we are viewing this on a short daily timeframe. The weekly and monthly charts look horrible - so this is all short term positioning into the end of year.
I went long SSO Thursday based on my charts above, and added SPY calls in part based on this chart from my good friend Jeff Royston. This is an intraday of the 30 min $SPX.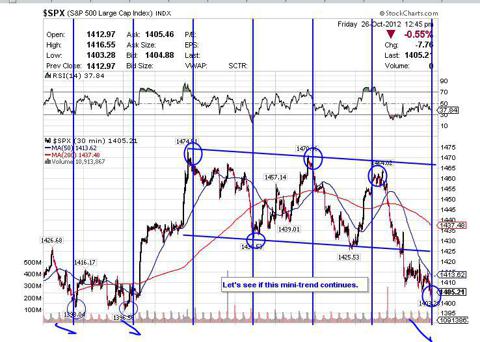 This chart summed up my the exact thoughts above - triple bottom at 1400ish and resistance at the bottom of the channel at 1425.
Our immediate task is to overcome 1425. We have been running in little mini cycles of 7-8 days, however in the larger study of peaks and troughs, we are at the BOTTOM of a larger trough so based on this, I am expecting the run to 1425 (1440) ending by next Friday, a small pullback (will be able to better pinpoint levels once we see where we top), then a harder run back to the former highs, ultimate rejection with end of the year tax selling.
Trade prudently, use stops and above all else protect your capital.
On a personal note, in my private accounts I am a short to intermediate term trader. In my professional accounts I am focused on income for the mid to long term. I am a voracious reader, and highly analytical. Over the past two years I've met some of the most amazing traders - EW specialists, candlestick specialists, energy traders, grain Traders, HFT Traders, futures traders & options traders for ALL styles of trading across multiple investment vehicles. These traders have formed a group called OptionsPro, a sister company to the wildly successful futures site MrTopStep IMPro. This is where I "trade with the desk". It makes no difference if you are a novice trader or a well seasoned veteran there is something here for everyone. They are having an open house where you can meet the lead contributors Dan Sheridan, Bob Lang & Henry Schwartz, tomorrow afternoon Oct. 29 at 3:30PM CT/ 4:30PM ET. I encourage you all to log in and check out this FREE webinar.
http://www.mrtopstep.com/mrtopstep-announces-the-launch-of-a-new-options-trading-community-and-education-service/
Suz
@suzyq76022
Suz@mscm.net
Disclosure: I am long SPY, SSO.
Additional disclosure: MSCM and/or I may or may not have a position in this stock which may or may not be exited without advance notice. Data is provided for informational and educational purposes only and is not offered as investment advice. Timing of transactions can be critical to the success of a position. MSCM, its employees or owners shall not be liable for any errors or delay in the content, or for any action taken in reliance on any content provided within. Opinions expressed here are the sole opinions of the author and not representative of any firm view.